LAX's long-term parking Lot E is handling Easter week demands so far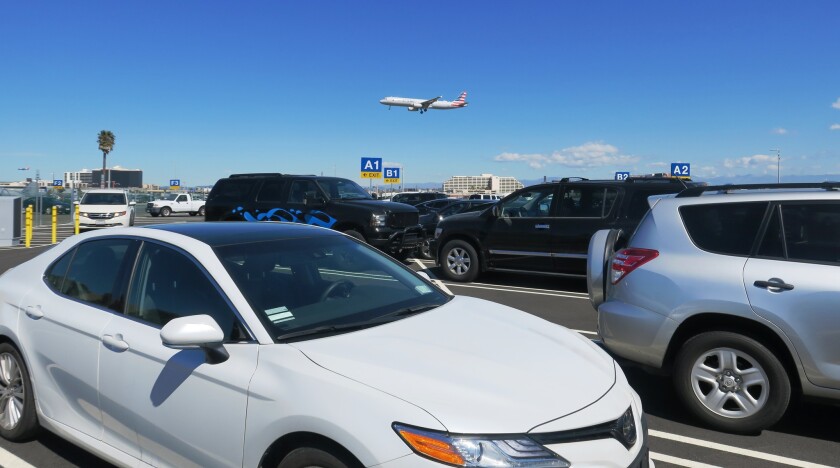 Yes, long-term parking seems to be available at LAX this holiday week, thanks in large part to the opening of the new Lot E, which offers more than twice the number of spaces as old Lot C, which has closed for long-term parking.
Cars still there must be removed by April 22 or face impoundment. Info: (310) 893-4676.
In its last months, Lot C was frequently maxed out, leaving travelers to scurry to private lots as the clock ticked down to their flights. At midday Thursday, Lot E was 84% full, with 304 spaces available.
Squeezed by the demands of the airport's $14-billion renovation, Lot C had dwindled to 800 spaces when it closed in late March. Lot E now holds nearly 2,000 vehicles and will add 700 more by mid-June.
The new Lot E, at 5455 W. 111th St., is near the Proud Bird Food Bazaar and Events Center. LAX reps say it was close to capacity last weekend but never full and has loosened up as the week progressed.
Check out this Times report card on the new lot's features — including grades on signage and shuttle service. In short, the new lot, although farther from the airport, offers a significant upgrade.
For real-time parking availability at LAX, check out the airport's parking info page.
On the short-term parking front, a quick survey showed those lots busy with holiday week traffic but with availability in the U-shaped terminal area. Parking lots 1 and 3 were only half-full Thursday, with 2B and 5 the busiest. At noon Thursday, Lot 5 had only 14 open spaces.
Note that Lot 7 info is unavailable as the site (flylax.com/en/parking-at-lax) undergoes an upgrade. It is at about half capacity, airport officials said.
Travelers should be aware that parking structures 3 and 4, those closest to the Tom Bradley International Terminal, now feature a kiosk-based payment system rather than cashiers, a first at LAX.
---
Get inspired to get away.
Explore California, the West and beyond with the weekly Escapes newsletter.
You may occasionally receive promotional content from the Los Angeles Times.