Are we recreational vehicle people? Hell, yeah!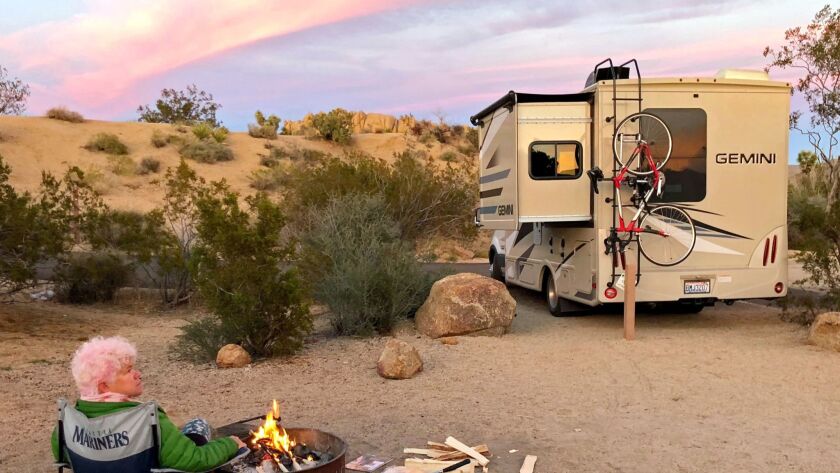 "Maybe you just aren't RV people."
The sales manager was playing hardball in September as my wife, Leslie, and I hemmed and hawed over whether we should buy our first recreational vehicle.
His snarky tone made it sound like a challenge. So we asked ourselves, "Are we RV people?"
"Hell, yeah!" I said at the time.
With that, we plunked down $80,000 to buy a 2017 Thor Gemini and began what has been a nine-month road trip. From the Pacific Northwest, we've traveled 16,000 miles, marveling at fall colors in the Rockies, basking in winter sunlight along the California coast and chilling with Willie Nelson at a spring music festival in Texas.
We've had so many culinary highlights it's hard to choose our favorites: crawfish in Louisiana, the best barbecue ever in South Carolina, tender Gulf Coast shrimp in Florida, amazing country ham in Tennessee.
But we still ask that basic question: "Are we RV people?" We still don't know.
For all the beautiful sunsets in all the beautiful locations, there have been struggles — in our fragile RV and our marriage.
Vehicle woes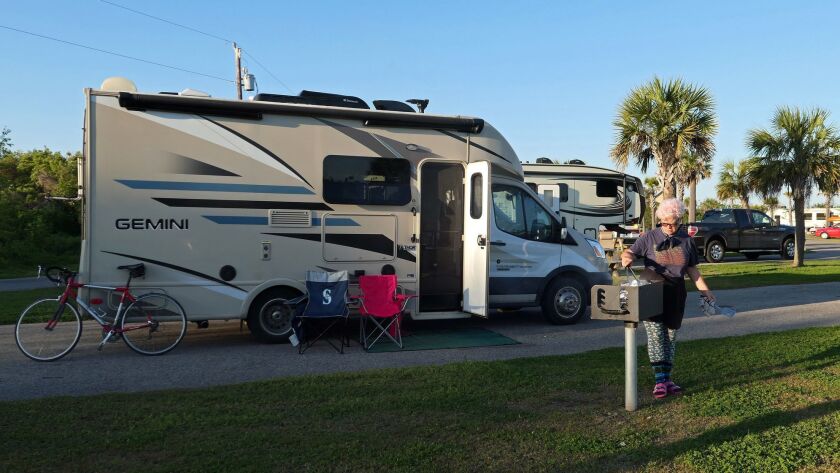 You can't possibly anticipate all the ways an RV can break.
Here's a list of what has gone wrong: a broken water heater, two faulty coach batteries, five broken cabinets, a bad water pump, two broken faucets, a malfunctioning generator and a broken shower head.
The slide-out for our bedroom broke the day we bought the vehicle, and the bed itself remains broken. We've pieced it together with duct tape and Styrofoam.
And then there's our sewage holding tank, which malfunctioned one day. In a nightmare scenario, the dreaded "black water" from our toilet spewed all over me when I was at the dump station.
"So you had what we call 'the sewer surprise?'" the jovial service manager at the New Braunfels, Texas, Camping World asked when we stopped to fix the problem. Ha-ha! Yes, that was me.
Not only have we seen America, but we've also seen what seems like every Camping World service center in America as we've attended to these many warranty repairs.
Following environmentalist Edward Abbey's footsteps in the Utah and Arizona deserts »
During yet another frustrating repair stop in Albuquerque, Leslie leaned over and said, "Let's unload this lemon when we get to Washington, D.C."
"Hell, yeah!" I agreed.
Give me some space
If you have a partner, you've probably said from time to time: "I just need some space." Unfortunately, "space" — the physical and emotional kind — is hard to come by in a 23-foot RV.
We've had fights about the most ridiculous things because we are crammed together all the time. The thing we've fought about the most is chaos in our living space.
"Your stuff is everywhere!" Leslie said one day in New Orleans after finding my dirty socks and underwear on the couch, my hairbrush on the kitchen counter and a couple of my shirts tossed on the bed. (She used a more colorful term for "stuff.")
If you ever start to feel disillusioned with our country, I suggest spending a few weeks on a national parks tour.
I offered an irritated defense, which prompted a cynical response, which led to a sarcastic rejoinder, followed by righteous indignation, igniting a full-on explosion about an unrelated dispute from the previous week when we went to that horrible restaurant YOU made us go to in Galveston, Texas.
In our worst moments, we've each threatened to quit what our friends keep telling us is a dream adventure.
"Do you want to give up on this trip?" Leslie asked during one fight.
"Hell, yeah!" I said angrily.
The lure of the road
Road trip: Oregon's Three Capes Scenic Loop surprises at every turn »
About 10.5 million Americans own recreational vehicles, according to the RV Industry Assn., a national manufacturers trade group. Most of the people I see on the road are my age (62) or older, but statistics suggest owners are getting younger.
The popular #vanlife movement has attracted active young adults, dropping the average age of RV owners to 46, according to RVIA.
Who doesn't dream of chucking it all and hitting the road? When I was commuting to my last office job in Bellevue, Wash., I had almost daily fantasies about skipping out and continuing down the highway in search of freedom.
It wasn't until Leslie was laid off from her job in Seattle that we decided to try life on the road. We took advantage of a booming real estate market, sold our house and used some of the proceeds to buy our RV.
Despite the struggles, it has been a great adventure.
We were fortunate to score tickets to Nelson's Luck Reunion, an annual music festival that takes place in March near Austin, Texas.
Leslie and I couldn't believe our good luck at the Luck Reunion.
There have been many highlights along the way, many courtesy of our national park system. If you ever start to feel disillusioned with our country, I suggest spending a few weeks on a national parks tour. We've seen more than 30 national parks and monuments along our way, and every one has been fantastic.
In Death Valley, we took a full-moon hike into the desert as foxes scampered nearby. In Zion National Park, I climbed a crazy knife-edge ridge line to Angels Landing, one of the best day hikes I've ever done.
In Big Bend National Park in Texas, we took a rowboat across the Rio Grande to Mexico, where we had a margarita, chips and guacamole at Jose Falcon's in the friendly village of Boquillas del Carmen.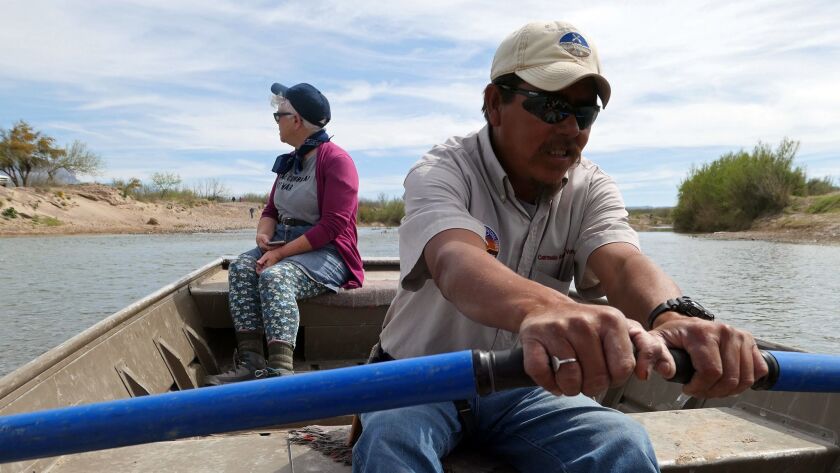 And, of course, there's the Grand Canyon. Nothing can prepare you for how big and wonderful it is until you see it in person, something I've done while camping on the North and South rims.
When Leslie asked me the other day about keeping our RV for another year of travel ("What if we went all the way down the West Coast from British Columbia to Baja?"), you must know what my response was.
"Hell, yeah!"
Looks like we truly are RV people — at least for another year.
Five favorite RV parks
We love national and state parks, but sometimes you need to stay in a commercial campground. Here are five favorites:
►Happy Traveler RV Park, Palm Springs. We spent a week at this park, within walking distance of downtown. The pretty pool serves as a lively meeting place.
►Rancho Sedona RV Park, Sedona, Ariz. This well-run facility offers easy access to hiking trails and the restaurants and shops in Sedona. It's in a shady setting along scenic Oak Creek.
►Monte Bello RV Park, Taos, N.M. We had two excellent stays here, one as a fall base camp and the other during a winter ski trip to nearby Taos Ski Valley. Just down the road from the Taos Mesa Brewing Mothership, a lively brewery and concert venue.
►The Vineyards of Fredericksburg, Texas. Who knew Texas had a wine region? This Hill Country RV park is in a lovely area and even hosts its own tastings. It has a nice pool and workout room.
►French Quarter RV Resort, New Orleans. It isn't cheap, but this top-notch facility is within walking distance of the French Quarter. Deluxe sites have screened gazebos.
---
Get inspired to get away.
Explore California, the West and beyond with the weekly Escapes newsletter.
You may occasionally receive promotional content from the Los Angeles Times.