Take a train-themed road trip through California and Nevada
Love trains? Here's a four-day road trip for train enthusiasts that explores some of the surviving rail systems through California and Nevada. Each stop gives you a chance to travel back in time — and let a conductor take over the steering for a bit. Total miles: 1,100 miles north through California and southeast through Nevada.
Day 1: Los Angeles to Sacramento
You'll do much of the driving on the first day of this trip. The most scenic part of the six-hour, mostly flat journey to Sacramento happens early on, when Interstate 5 winds through the rolling foothills of the Angeles National Forest north of Castaic.
First stop: California State Railroad Museum in Sacramento ($6 to $12 admission), which has a collection of locomotives dating to 1862, a high-speed train simulator and an exhibit about the evolution of the world's first transcontinental railroad.
The highlight is a 45-minute train ride, pulled by a vintage locomotive, aboard the Sacramento Southern Railroad. Soak up the scenery as the track rolls along the levees of the Sacramento River and a docent discusses the railroad's history.
Cost, info: Rides, $6 to $24, 11 a.m. to 4 p.m. on weekends.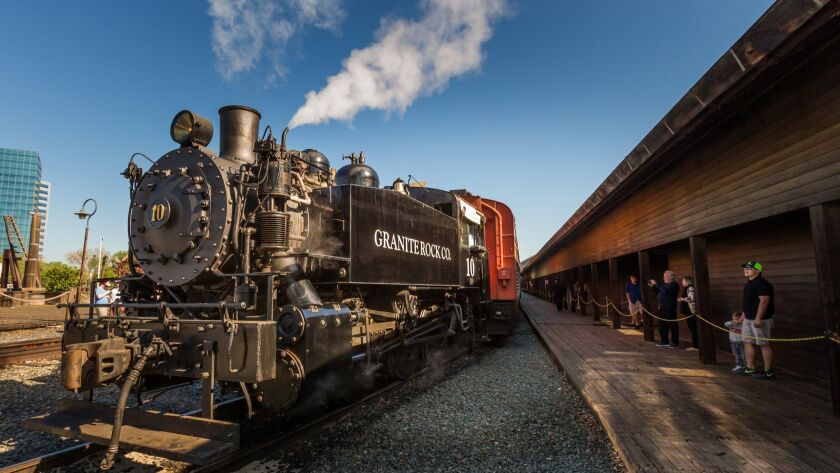 Day 2: Sacramento to Carson City, Nev.
You'll be happy to be back on the road as U.S. 50 zooms past the lush Eldorado National Forest, placid Lake Tahoe and towering pine trees toward another railroad.
Embark on a full-day theatrical excursion with the V&T Railway Commission, which takes passengers aboard the 150-year-old Virginia and Truckee Railroad from Carson City to Virginia City. Staff dressed in 1800s garb narrate the journey and point out historic tunnels, mining sites and, potentially, the wild mustangs known to hang out in the Virginia Range. You'll have three hours to explore Virginia City before the return trip.
Cost, info: Rides, $35 to $55, are offered at 10 a.m. Fridays through Sundays.
Still crazy for wildflowers? Colorado road trip leads to the summer bloom »
Day 3: Carson City to Ely, Nev.
Find sagebrush, high-desert scenery and a sense of peace and quiet as you head toward Ely on the stretch of U.S. 50 known as the Loneliest Road in America.
Things feel nearly as remote at Nevada Northern Railway, which was an integral route through the Central Nevada copper mining region in the early 20th century. Today, it takes visitors on 90-minute train rides — often using original steam locomotives — through rugged high-desert terrain toward the Ruth Copper Mining District. After the ride, tour the engine house and rail yard at the Ely depot.
Cost, info: Rides cost $15 to $31 (includes tour). Check the website for the schedule, which varies by season. General museum admission is $8.
Return: Ely to Boulder City, Nev., and L.A.
The eight-hour drive back to L.A. is a 511-mile shot down Nevada 318, U.S. 93 and Interstate 15. Break it up with a stop in Boulder City, a quick detour situated halfway through the route. There you'll find the Nevada State Railroad Museum, the site of a rail line built to carry heavy supplies to the Hoover Dam construction site in 1931.
See original railroad equipment from the project for free at the museum's open-air display pavilion. If you're ready for one last train ride, the museum offers 35-minute trips with views of the Eldorado Valley, McCullough Range and Mojave Desert.
Cost, info: Rides cost $5 to $10 and begin at 10 a.m. Saturdays and Sundays.
---
Get inspired to get away.
Explore California, the West and beyond with the weekly Escapes newsletter.
You may occasionally receive promotional content from the Los Angeles Times.