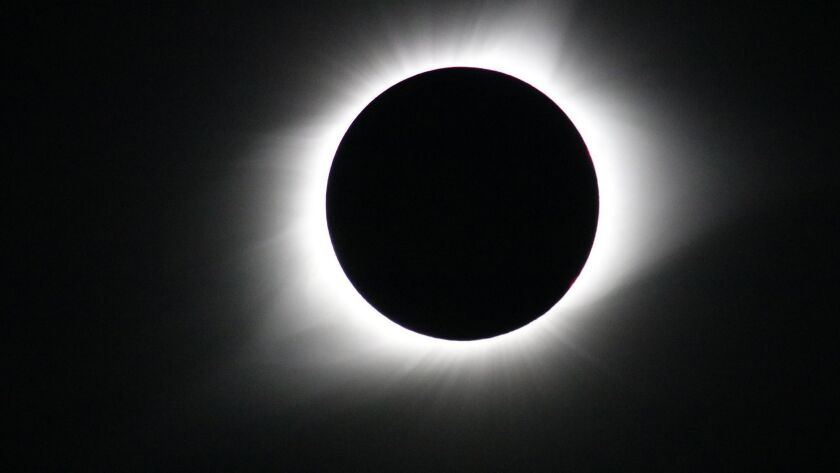 There's a total solar eclipse happening Tuesday, but don't run out and buy those eclipse-watching glasses just yet. Unlike the wildly popular Great American Eclipse of 2017, this one won't be visible in North America.
The best places to watch the dramatic sky event are far from Southern California: the South Pacific, Chile and Argentina. Second-best place to watch? Your laptop or phone.
The moon will come between the sun and the Earth and block out all light starting at 1:38 p.m. Pacific time in Los Angeles. That's the time to tune in, if you want to see it live.
The Exploratorium in San Francisco will stream live telescope feeds from northern Chile's Cerro Tololo Inter-American Observatory in the foothills of the Andes at 7,241 feet above sea level. You can watch between 12:23 and 2:45 p.m. Pacific time at the museum (admission costs $29.95 for adults, $24.95 for children ages 13 to 17) or on its website and mobile app.
NASA's website will stream live views from Chile between noon and 3 p.m. Pacific time and host one-hour programs with live commentary in English and Spanish between 1 and 2 p.m. Pacific time.
The eclipse will first pass over remote islands in the Pacific Ocean, missing Easter Island, where watchers will be able to see about 80% coverage of the sun, according to Space.com. Totality first makes landfall near La Serena, Chile, which will experience 2 minutes and 17 seconds of darkness, and then move southeast into Argentina. Many cities in South America, including Santiago, Chile; Buenos Aires, Argentina; and Montevideo, Uruguay, will see a partial eclipse.
Eclipse watchers who reportedly traveled to South America for the big moments of darkness include former President Clinton, Virgin Galactic founder Richard Branson, Microsoft founder Bill Gates and astrophysicist and guitarist Brian May of the band Queen, the Times of Chile reported.
When will the next total solar eclipse be visible in the U.S.?
Mark your calendars for April 8, 2024, when totality will sweep over Mexico, enter the U.S. at Texas, and continue on a diagonal to Maine and Canada's eastern Maritime Provinces.
Other total solar eclipses will happen Dec. 14, 2020, again best seen from Chile and parts of Argentina, and Dec. 4, 2021, moving across the Antarctic Peninsula.
Annular solar eclipses, when the moon blots out all but the edge of the sun, making it look like a ring of fire, will next happen Dec. 26, visible from Saudi Arabia, southern India and parts of Indonesia; and June 21, 2020, visible from parts of Africa, Pakistan, India and China.
Info: Space.com
---