When will Western ski resorts close? And once winter's over, what's up for summer?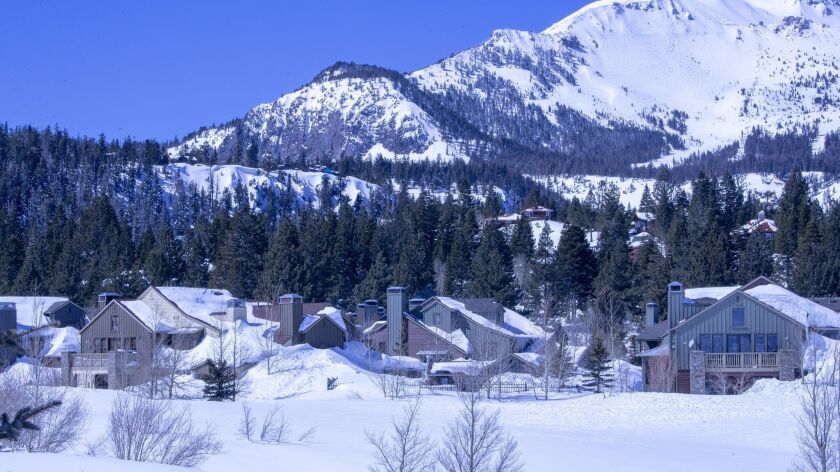 Skiers and snowboarders elsewhere may be lamenting the end of winter, but not Westerners. They're busy waxing boards and skis, eager for the next downhill run. But for how long? Here are some of the closing dates where you can shred some powder before summer comes along.
Mammoth Mountain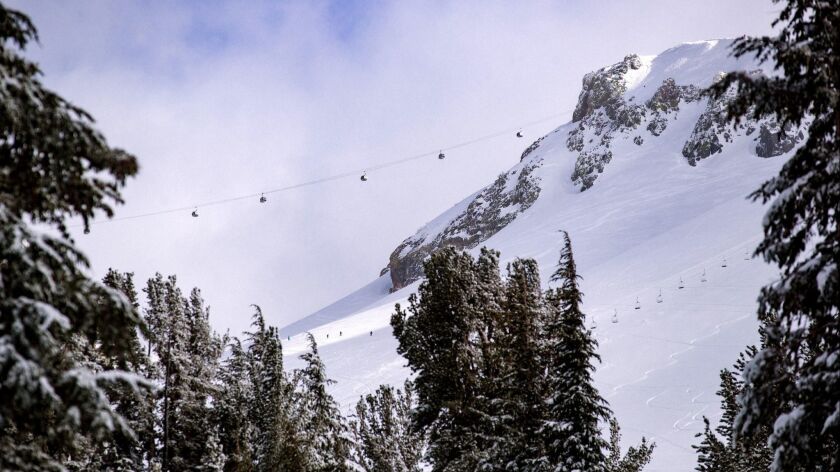 It just wouldn't quit snowing at Mammoth, and it hasn't stopped yet. This February was the snowiest on record. The Eastern Sierra resort got 3 more inches Wednesday and the forecast for Thursday is for snow.
The snow story: As of Wednesday, a total of almost 55 feet at the summit, almost 37 feet at the lodge.
Closing: The slopes will be open until July 4. The much-loved lodge will remain open until the resort closes.
Hours: 8:30 a.m.-4 p.m. but hours depend on conditions. Expect hours to shorten to 7:30 a.m.-1 p.m. as the temps warm.
Lift tickets: Pricing is dynamic and ranges from $79-$189 for adults and $32-$76 for children. Kids 4 and younger and seniors 80 and older ski free.
Post-snow season: Once the season's considerable snow has gone, Mammoth Mountain becomes a hiker's paradise; its terrain park has more than 100 acres of trails.
Info: Mammoth Mountain, 10001 Minaret Road, Mammoth Lakes; (800) 626-6684
Diamond Peak, Incline Village, Nev.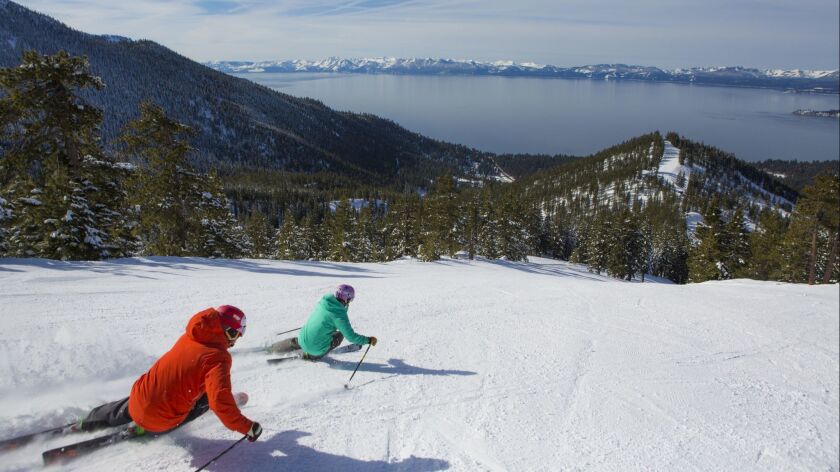 Above Incline Village on the north shore of Lake Tahoe is the largest concentration of ski resorts in North America. Diamond Peak, now in its 52nd season of operations, offers skiers majestic views of Lake Tahoe from elevations of 6,700 to 8,540 feet. The best views are from Crystal Ridge and Snowflake Lodge, but beginner slopes also offer a bird's-eye view of the legendary lake.
The snow story: Diamond Peak has received 35 feet of snow this season with a base depth of almost 7 feet.
Closing: April 13
Hours: Lift operations 9 a.m.-4 p.m. daily, weather permitting.
Lift tickets: One-day adult ticket is $89 for a weekday, $99 for a weekend; free lift tickets for kids 6 and younger and seniors 80 years and older. Discounted multiday tickets include a "bring-your-other-pass-ticket" deals for season pass holders from other resorts.
Post-snow season: Diamond Peak morphs into a terrain park with 655 acres of fitness trails, plus areas for hiking, mountain biking and disc golf.
Info: Diamond Peak, 1210 Ski Way, Incline Village, Nev.; (775) 832-1177
Heavenly Mountain, South Lake Tahoe, Nev.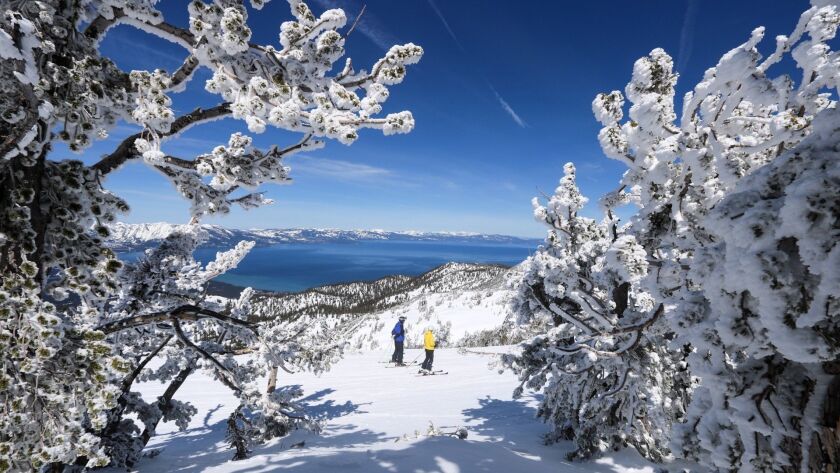 Part of the fun at this ski destination is crossing from California to Nevada and back on the slopes. Twenty-eight chairlifts lead you to 4,800 skiable acres.
The snow story: Heavenly received almost 37 feet of snow this season.
Closing: End of May, thanks to three more weeks of recently added spring skiing
Hours: Open seven days a week through April 28, then weekends through May 27. 9 a.m.-4 p.m. Mondays-Fridays and 8:30 a.m.-4 p.m. Saturdays and Sundays.
Lift tickets: Adult daily lift passes are $136; teens 13-18 and seniors 65 and older ski for $112 and children 5-12 $75. Children 4 and younger ski for free. Guests can use remaining buddy tickets for $50 or ski with a friend tickets for $89 starting April 22.
Post-snow season: Heavenly Mountain's Epic Discovery package offers a ropes course, zip lines, mountain coaster, climbing walls, tubing and guided hiking tours, among other active outdoor adventures.
Info: Heavenly Mountain; 4080 Lake Tahoe Blvd., South Lake Tahoe, Nev. (775) 586-7000
Mt. Bachelor, Bend, Ore.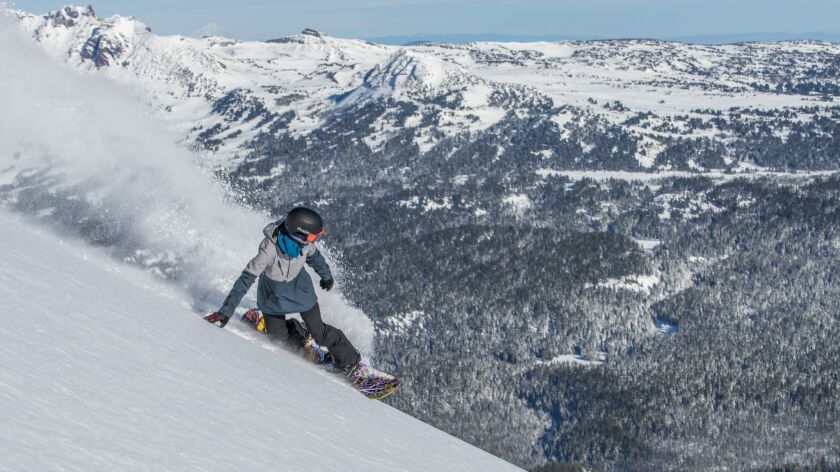 Oregon's Mt. Bachelor, one of the larger U.S. ski areas, is set against the backdrop of dramatic national forest scenery. Its seven high-speed lifts make quick work of getting to the top of the mountain.
The snow story: Mt. Bachelor has had more than 28 feet this season and has a depth of about 9 feet.
Closing: May 26
Hours: 9 a.m.-4 p.m. April 1-28, then 8:30 a.m.-1:30 p.m. April 29-May 26. Sunrise Lodge and parking are open until April 21. Ticket holders then have access from the primary West Village base area.
Lift tickets: One-day adult ticket costs $99 online and $109 at the window. A Sunchaser Spring season pass is good for 58 days for the cost of three days beginning March 30.
Post-snow season: When winter officially says goodbye, Mt. Bachelor welcomes adventurers to experience chairlift rides from 6,300 feet to Pine Marten Lodge, sights of the Three Sisters volcanic peaks, Broken Top Crater and Cascade Lake.
Info: Mt. Bachelor, 13000 S.W. Century Drive, Bend, Ore.; (541) 382-1709
Mt. Hood Meadows, Mt. Hood, Ore.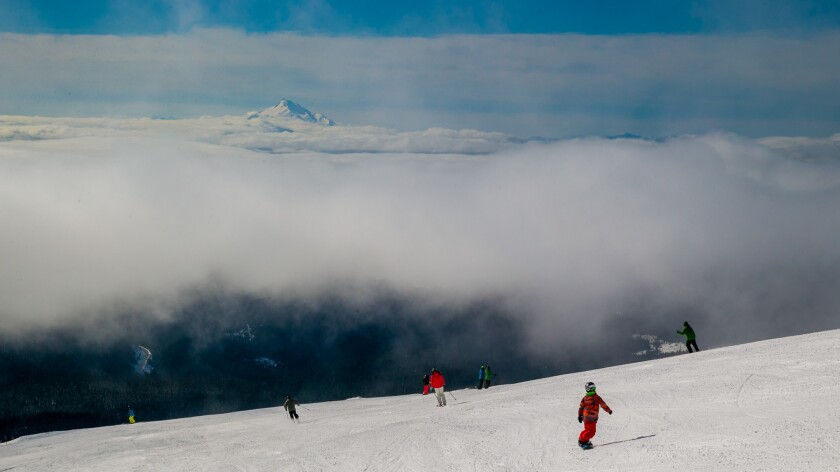 Mt. Hood Meadows has a special use permit in the Mt. Hood National Forest. This destination, about 90 minutes from Portland, attracts skiers and snowboarders who like the seclusion of a wilder expanse.
The snow story: Mt. Hood Meadows has received 29½ feet of snow with a base of almost 9 feet.
Closing: April 28
Hours: 9 a.m.-4 p.m. through April 21; 9 a.m.-4 p.m. April 26-28. The last two days are May 3 and 4.
Lift tickets: Daily lift tickets cost $49-$79 for adults, depending on the date of visit; young adult, junior and senior lift tickets ranging from $29-$69 based on age and date of visit. The Spring Pass for ages 25-64 costs $149; ages 65-74, $139; ages 7-24, $99. All are valid every day of operations through the rest of the season.
Post snow-season: As the last snowflake melts, Mt. Hood Meadows opens its 2,150-acre terrain park to welcome scenic chair and hiking experience guests for guided hikes, games, specialty events and live music.
Info: Mt. Hood Meadows, 14040 Oregon 35, Mt. Hood, Ore.; (503) 337-2222
Alta Ski Resort, Alta, Utah
You won't be able to snowboard at the family-friendly Alta Ski Resort; it's barred from the resort, which is about an hour southeast of Salt Lake City.
The snow story: The resort received about 43 feet of snow this season.
Closing: April 21, but reopening April 26-28
Hours: 9:15 a.m.-4:30 p.m. (Times subject to change.)
Lift tickets: From $110,decreasing as the season comes to a close; $57 for children 12 and younger.
Post-snow season: The 2,614-acre terrain park is also open in the summer, but the best time to visit is in July when wildflowers blanket Albion Basin in the Wasatch Range. Last year, for the first time in eight decades, Alta reinstated the Sunnyside Lift, which carries visitors to hiking nirvana.
Info: Alta Ski Resort, 10010 Little Cottonwood Canyon Rd, Alta, Utah; (801) 359-1078
Aspen Mountain, Aspen, Colo.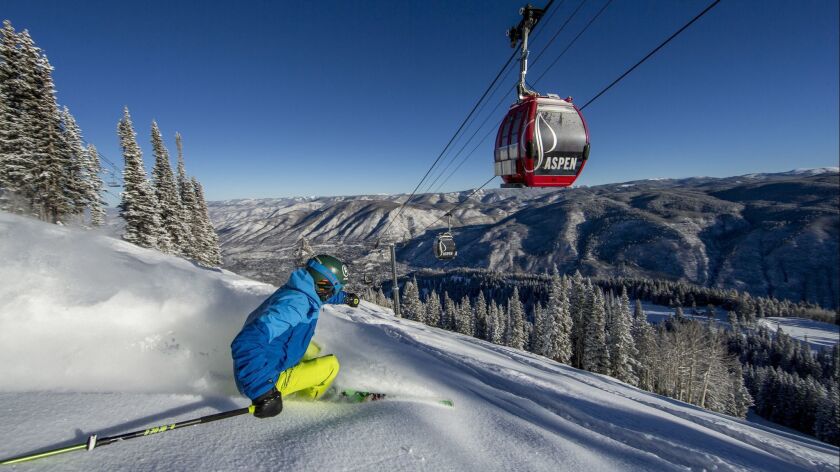 Aspen Mountain has 675 skiable acres of terrain at 3,267 feet of elevation and has often been considered the playground of the rich and famous. It hosts the World Cup Finals and is for serious skiers. Neighboring Buttermilk and Snowmass have trails and instruction for all levels.
The snow story: This iconic mountain received almost 21 feet of snow this season.
Closing: April 21
Hours: 9 a.m.-3:30 p.m., sometimes 4 p.m.
Lift tickets: From $174 a day for adults and $116 for children 7 to 17; children 6 and younger ski free.
Post-snow season: Aspen Mountain transforms into a singer-songwriter-inspired wildflower utopia when summer arrives offering unspoiled views, nearby mountain festivals and culinary events rolled into a classic Rocky Mountains vacation spot.
Info: Aspen Snowmass, 601 E. Dean St., Aspen Colo.; (800) 525-6200 or (970) 923-1227
---
Get inspired to get away.
Explore California, the West and beyond with the weekly Escapes newsletter.
You may occasionally receive promotional content from the Los Angeles Times.