Can VR zombies give Las Vegas an edge with millennials?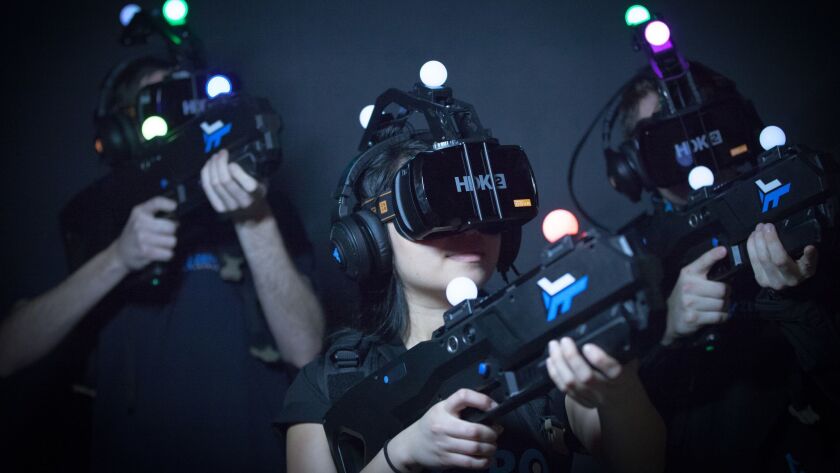 If you're headed to Las Vegas this month to catch some March Madness basketball action but want more action than a sports book and a sleepover, two new virtual reality experiences will get your adrenaline pumping like a sidelined college basketball coach.
Level Up
MGM Grand has added a 2,000-square-foot virtual reality arena to its Level Up gaming lounge, a venue whose skill-based games are designed to attract the under-35 demographic but whose appeal is universal.
Virtual Reality Powered by Zero Latency offers an array of bleeding-edge multiplayer games that range from shooters to fantastical family-friendly walking adventures. The arena is the Australia-based VR game developer's first near the West Coast.
How cool is Las Vegas? You can ski an hour away from the Strip »
"You don't have to have any videogame experience to enjoy shooting zombies," said 24-year-old Austin Wiley, one of Level Up's employees and a fan of Zombie Survival, an intense, zombie-themed shooter that's popular among millennials. "People my age love shooting zombies."
The 30-minute, $50 game pits up to eight players against a computer in a heart-thumping, totally immersive virtual reality experience.
Once you've strapped on a set of VR goggles, a stereo headset and a computer backpack, your world is a neon battlefield littered with life-like obstacles you must navigate — ramps, walls, elevator shafts, abandoned buildings, helicopters — all while battling 6-foot zombies who pop up out of nowhere and try to kill you. Computers steer each player through the virtual space in different ways.
The two millennials I played with moved with the ease and grace of seasoned game veterans. I felt like I had been dropped into a tub of electricity. The experience proved so intense for me, I pulled out of the game early to catch my breath, slow my pulse — and prove to myself it was just a game.
And then I wanted to do it again. Together we killed 614 zombies (my take was 186), which ranked our team 2,335th in the world for slaying zombies. Bottom line: Good luck in the coming apocalypse. We're not going to be much help.
Info: Level Up
The Void
On the other end of the Strip — but bumping into the same end of the adrenaline spectrum — check out the Star Wars: Secrets of the Empire VR experience at the Void, located inside the Venetian Grand Canal Shoppes.
The $33 VR experience outfits you with wireless VR goggles and a computer backpack, then leads you and a team of up to three others through a universe of spaceships, foreign planets and stormtrooper battles.
The virtual space is digitally mapped onto the physical space, so as you move around and interact with the others in your group, computers sync your precise location with objects you can touch, feel and see. It's as close to jumping onto the set of a "Star Wars" movie as most of us are going to get.
Not that into Star Wars? The Void offers similar immersive VR experiences based on popular movies such as "Ralph Breaks the Internet" and "Ghostbusters." Can't snag a reservation? The Void also operates three locations closer to home in Anaheim, Glendale and Santa Monica.
Info: The Void
HyperX Esports Arena
Prefer something less virtual and more real? Check out the new HyperX Esports Arena Las Vegas at Luxor Resort & Casino. The 33,000-square-foot gaming arena is equipped with video arcade games, stadium seating, a 50-foot LED video wall and a state-of-the-art digital production and broadcast facility for professional tournaments. An hour of standard game time at the arean runs $10.
If you're not familiar with esports games League of Nations or Dota 2, take notice: esports market research firm Newzoo says the global esports audience, whose enthusiasts are predominately 35 years old and younger, will soon reach 380 million and ring up $1.4 billion in revenue by 2020.
Info: HyperX Esports Arena Las Vegas
Other casinos want a piece of the esports action, too. Later this year, the Linq plans to announce a move into esports, and Caesars Palace will debut a "Bleacher Report"-branded television broadcast studio inside its sports book. The studio will produce video content for "Bleacher Report's" website, whose 250 million fans tune in for stories on sports and sports culture.
---
Get inspired to get away.
Explore California, the West and beyond with the weekly Escapes newsletter.
You may occasionally receive promotional content from the Los Angeles Times.