Military stages coup in Myanmar, detains Aung San Suu Kyi and other civilian leaders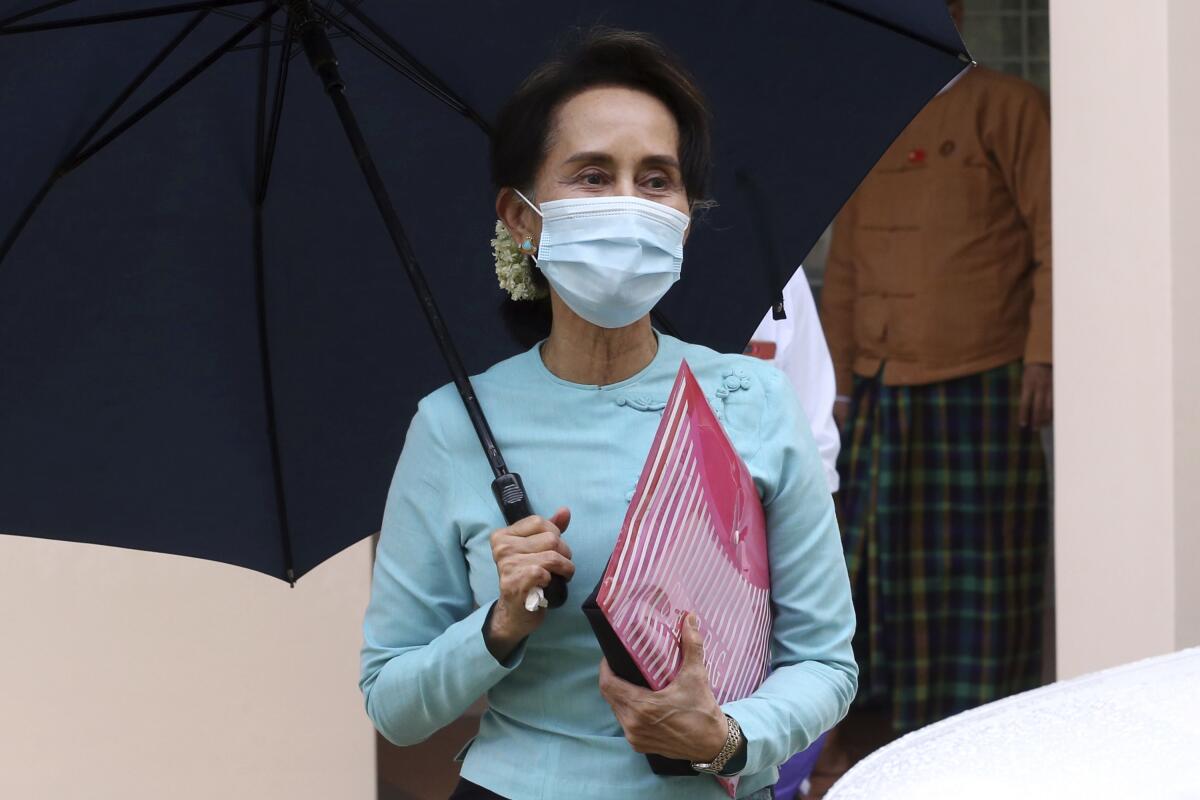 YANGON, Myanmar —
In an early morning coup Monday, Myanmar's military seized control of the government, detaining State Counselor Aung San Suu Kyi and other civilian leaders.
An announcer on Myanmar's military television confirmed the coup and said the armed forces would remain in power for one year under a state of emergency.
Speculation of a takeover had been mounting for days after tensions had grown between Suu Kyi's ruling National League for Democracy party and the military, which had argued without evidence that election results giving the NLD a landslide victory in November were fraudulent.
Television, phone and internet communications were cut across parts of the country Monday, leaving reports of the military's actions scant.
Representatives for the NLD and Myanmar's military, known as the Tatmadaw, could not be reached for comment, though civilian President Win Myint was believed to be among those detained.
Soldiers and armored vehicles could be seen stationed in parts of Yangon, Myanmar's biggest city. Banks were closed, and all passenger flights were halted, media reports said.
Myanmar's military has expressed anger for months over the results of the Nov. 8 general election, which gave the NLD an even bigger landslide victory than the one it achieved in 2015.
The Tatmadaw's leadership has claimed widespread fraud in the polls, though the country's election commission said there was no evidence of voting irregularities.
The poll was only the second free general election since the end of nearly five decades of military rule in 2011.
Myanmar's lower house of parliament had been due to convene later on Monday to mark the start of the NLD's second five-year term as the ruling party.
Five years after emerging from military rule, optimism over Myanmar's future is sinking over a troubled economy, a tarnished international image and an election that observers say won't be free or fair.
In Washington, the White House issued a statement accusing Myanmar's military of undermining the country's democratic transition.
"The United States opposes any attempt to alter the outcome of recent elections or impede Myanmar's democratic transition, and will take action against those responsible if these steps are not reversed," White House Press Secretary Jen Psaki said in a statement.
Though Suu Kyi's reputation overseas has been tarnished by the massacre and displacement of Myanmar's Muslim ethnic Rohingya, the 75-year-old Nobel Peace Prize laureate remains widely popular in the country of 54 million.
The relationship between the NLD and Tatmadaw has deteriorated as Suu Kyi sought to expand civilian control by amending a constitution that guarantees the military one-quarter of representation in the country's parliament.
That lock on seats ensures that the military through its political party, the Union Solidarity and Development Party, can block amendments to the constitution.
"The military considers the NLD a threat to its constitutional privileges," said Hunter Marston, a doctoral candidate at the Australian National University researching great power competition in Southeast Asia, who expects NLD supporters to take to the streets in mass protest.
The party released a statement on Facebook saying the military takeover was unjustified and unconstitutional and urged people to oppose the "coup."
Despite giving way to a civilian government, the Tatmadaw still dominates swaths of everyday life in Myanmar, including major business interests such as mining.
Get breaking news, investigations, analysis and more signature journalism from the Los Angeles Times in your inbox.
You may occasionally receive promotional content from the Los Angeles Times.
Early reports suggest dissidents and critics of the military were among those seized Monday, setting off recriminations from rights groups.
"We are especially concerned for the safety and security of activists and other critics of the military who may have been taken into custody," Brad Adams, Asia director at Human Rights Watch, said in a statement. "The military should recognize that it will be held accountable for its actions, including any mistreatment in custody and excessive use of force. We urge concerned governments to speak out forcefully against the military's actions and consider targeted sanctions against those responsible."
Fears are now growing that Myanmar could return to a brutal military rule less than a decade after President Obama made history as the first sitting U.S. president to visit the country — a trip aimed at rewarding Myanmar's burgeoning democracy.
"History repeats and we are so disappointed," said Yangon-based activist Thinzar Shunlei Yi. "We demand [the military] restore freedom for all."
A prominent democracy activist in Yangon said he and colleagues had been watching since Friday for signs of mass arrests, worried that they could be swept up in a possible military takeover. On Monday, he awoke to a call from a friend with news of the arrests of civilian leaders.
He quickly grabbed a few things and left his house for a safer location. "We're all at risk," said the activist, who did not want his name published for fear of attracting authorities.
Evangelist David Lah was charged in April after holding a religious gathering, where he purportedly claimed Christians were immune to coronavirus.
The Biden administration now faces one of its first foreign policy crises less than two weeks after taking office.
Newly confirmed Secretary of State Antony Blinken called on Myanmar's military to release "all government officials and civil society leaders" and to "respect the will of the people of Burma as expressed in democratic elections." (Myanmar was formerly called Burma.)
Washington already maintains sanctions on some of Myanmar's military leaders, including Senior Gen. Min Aung Hlaing.
The military chief warned in a speech last week that the constitution could be revoked, setting off alarm bells about a possible coup.
A nationalist Buddhist monk in Myanmar noted for his inflammatory anti-Muslim rhetoric has surrendered to police seeking his arrest.
The political crisis comes as Myanmar is struggling with the COVID-19 pandemic and surging rates of poverty amid a sinking economy.
"We're afraid of running out of food. We can't know what will happen the next day," said a 67-year-old retiree who declined to give his name and was rushing to buy vegetables and eggs at an increasingly crowded street market in Yangon.
"I am so sorry about my country," he added. "It's a hopeless future. In the very near future things will be much worse."
Times staff writer Pierson reported from Singapore and special correspondent Nachemson from Yangon. Times staff writer Shashank Bengali in Singapore and the Associated Press contributed to this report.
Sign up for Essential California for news, features and recommendations from the L.A. Times and beyond in your inbox six days a week.
You may occasionally receive promotional content from the Los Angeles Times.