Australia anti-terrorism raid underway with more than 800 police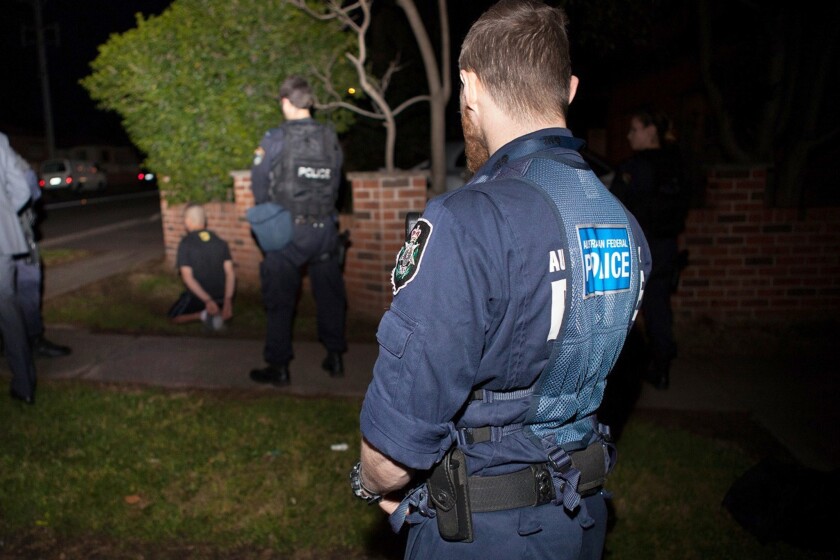 Australian police are conducting what they called the largest counter-terrorism operation in the nation's history, with more than 800 police officers participating. Officials announced early Thursday that 15 people had been detained and one person charged "with serious terrorism-related offenses" allegedly related to plans for at least one beheading.
The action comes less than a week after the Australian government raised its National Terrorism Public Alert level to "high" from "medium." Officials did not immediately offer details about what prompted Thursday's mass operation in the northwest suburbs of Sydney and in Brisbane.
The suspects were planning to grab a random person off the streets of Sydney, drape him in an Islamic State flag and behead him on camera, the Australian reports.
Prime Minister Tony Abbott confirmed that intelligence indicated the order for the beheading came from an unidentified Australian, who is high up in the ranks of Islamic State, the Australian reported.
Australian Federal Police Commissioner Andrew Colvin told reporters the effort was aimed at "disrupting the potential for violence against the Australian community."
The suspects planned to commit random violent acts against members of the public, he said.
"Police believe this group ... had the intention and had started carrying out planning to commit violent acts here in Australia," he said.
Colvin said the investigation was ongoing, so he would not specify the planned acts of violence.
Andrew P. Scipione, commissioner of the New South Wales Police, said the joint raid thwarted a plan involving "serious violence on a random member of the public here on the streets of New South Wales."
Both commissioners declined to provide details about the person being charged, but they said information would emerge when the person makes a court appearance later in the day.
There was a counter-terrorism operation in Queensland last week, but "it's too early to speculate about links" between that threat and the one disrupted Thursday, Colvin said.
Scipione said the decision to raise the terrorism threat level Friday was not based on any single event; rather, it reflects the national and global climate.
Videos posted on YouTube by the New South Wales Police showed scenes of Thursday's predawn arrests.
For more news of all kinds, follow @raablauren on Twitter.
---
Must-read stories from the L.A. Times
Get all the day's most vital news with our Today's Headlines newsletter, sent every weekday morning.
You may occasionally receive promotional content from the Los Angeles Times.