Daughter of 'disappeared' Hong Kong book publisher won't be silent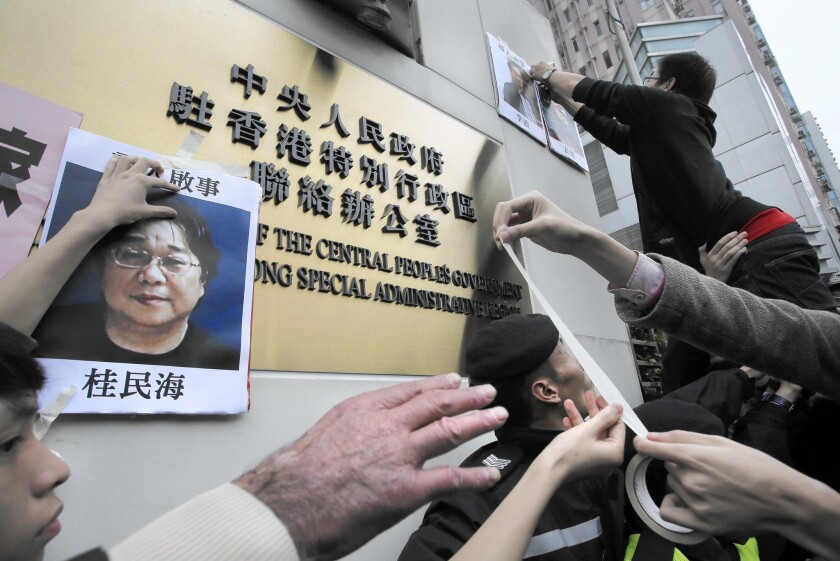 reporting from LEAMINGTON SPA, England —
Angela Gui always heard from her father on her birthday, even as he was busy running a booming book publishing business in Hong Kong.
But when she turned 22 last week, there was only silence.
Her father, Gui Minhai, a naturalized Swedish citizen, had been missing for more than four months, along with his four business associates in Hong Kong. They had found a successful niche publishing books about political intrigue among China's Communist Party leaders; now they are in the custody of mainland Chinese authorities, apparently charged with selling illicit books.
In mid-January, Gui gave a morose confession on Chinese state-run TV, saying he had fled China while on parole for a 2003 vehicular homicide of a young woman in his hometown.
This was too much to bear for Angela Gui, the lone voice protesting her father's innocence in the drunk driving case. Much as she has missed seeing her father's face, she still can't bring herself to watch the TV footage.
"It was quite a shock," Angela Gui said in a recent interview in the small English town where she lives while commuting to university to finish her senior year. "I do believe he was disappeared because of his work, and nothing else."
On Sunday night, Gui and his three missing colleagues were featured on a mainland Chinese TV newscast admitting to having shipped banned books to customers across China.
On Monday, Hong Kong police were allowed to meet with the fifth missing bookseller, British national Lee Po, who was believed to have been snatched from his Hong Kong office and taken to a mainland Chinese city just across the border. Police, however, said Lee insisted he traveled there of his own volition.
Born and raised in Sweden, Angela Gui spoke with a British accent and a demure demeanor, while putting forth a brave face. Her jet black curls shaded full, round cheeks that take after her father's. Her voice was hoarse from months of fielding endless media queries, even as families and friends of the other detained booksellers have been cowed into acquiescence.
Her parents divorced when she was 5. She stayed with her mother in Sweden, while her father moved back to China and then settled in Germany, with frequent trips to Hong Kong to oversee his business.
In recent years, Angela Gui said she's grown closer to her father and sees him as a friend. Soon after the disappearance, she appealed for help from Swedish authorities. Her mother, despite her estrangement from Gui, has been keeping the pressure on from Stockholm, where she lives. They receive weekly updates from the Swedish government, but so far Swedish consuls in China haven't been allowed to visit Gui.
"In my opinion," said Angela Gui, "they have been working quite hard on this case."
Sometime around mid-October, just a few days after father and daughter had their last biweekly Skype chat, Gui was apparently taken from Thailand to mainland China. Thai authorities confirmed Gui had entered on his Swedish passport on Oct. 6, but had no records of his departure, leading to speculation that he had been taken to China by extrajudicial means.
NEWSLETTER: Get the day's top headlines from Times Editor Davan Maharaj >>
His disappearance was followed by those of his two fellow co-owners and two employees of the business, Causeway Bay Books, which specializes in titles that irritate China's leadership and are banned on the mainland.
Hong Kong, a former British colony turned semiautonomous Chinese territory of 7.3 million people, has enshrined a range of civil liberties, including freedom of the press and publication, under its own constitution, which is to remain in force for 50 years after the 1997 transfer of sovereignty.
The territory's freedoms, coupled with tightening controls just across the border, have fueled a cottage publishing industry churning out explosive exposes on China's politics, past and present.
Since 2007, Gui has thrown himself into writing political tomes, putting behind an academic career in cultural history and literature. He first learned at the feet of more established publishers but soon struck out on his own. Causeway Bay Books is known for its prodigious output, with Gui completing as many as 10 titles a year on his own while commissioning authors to generate others.
"I know the competition is very cut-throat," said his longtime friend Bei Ling, a Chinese poet who splits his time between Boston and Taiwan. "He's always very excited [that] he could publish titles that others couldn't. He hopes to become a prominent publisher and more successful than the longer-established ones."
By some measures, Gui had been doing well. Around 2010, he bought an apartment in suburban Hong Kong and two years ago a beachfront condo in Pattaya, Thailand. He found the peacefulness of the Thai coast conducive to writing, his daughter said. It was there that he was last sighted.
He also shared a home in Germany with his current wife, Jennifer.
Bei, as current executive director of the Independent Chinese PEN Center, an advocacy group for freedom of expression, has taken it upon himself to investigate Gui's case. Last month, he inspected the Pattaya condo and found that both Gui's laptop and the hard drive of his new desktop computer were missing. He said that a group of four Chinese and Thai men had gained access to the unit days after Gui vanished.
Angela Gui said she received a Skype text message from her father's account a day or so after his TV confession on Jan. 18, when she was widely quoted in foreign media as saying she had never heard of the vehicular homicide case he cited. The message told her to "please keep silence." Judging from the grammatical errors, Gui said she didn't believe her father was the author.
Even as she vowed not to be silenced until her father is released, she also didn't hold out hope that he will get to see her when she graduates from university in July.
"There seems to be a lot about this story that is yet to unfold," she said.
Special correspondent Law recently reported from England.
ALSO
Pentagon wages cyberwar against Islamic State
Student activists in Hong Kong expect justice as they face charges over protests
Trial in Japan will delve into 'the hidden truths' of the Fukushima nuclear meltdown
---
The stories shaping California
Get up to speed with our Essential California newsletter, sent six days a week.
You may occasionally receive promotional content from the Los Angeles Times.