Myanmar's top court rejects appeal of jailed Reuters journalists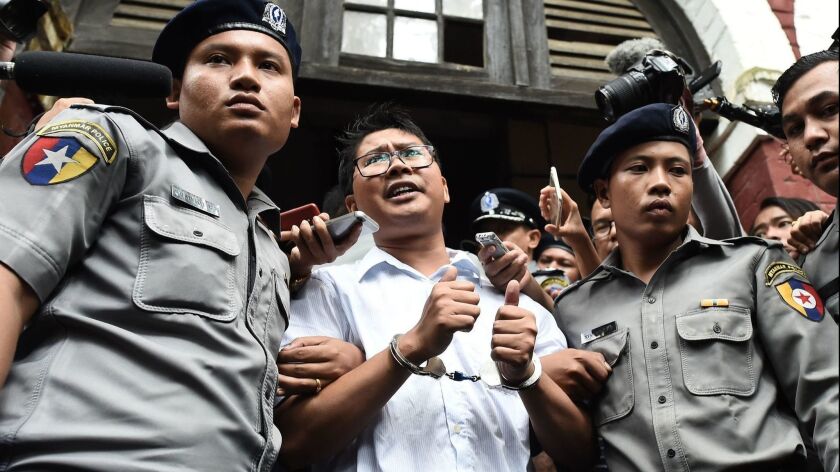 Reporting from Singapore —
Myanmar's Supreme Court on Tuesday upheld the verdicts of two Pulitzer Prize-winning journalists for Reuters who were jailed while reporting on the country's violent suppression of Rohingya Muslims.
Wa Lone, 33, and Kyaw Soe Oo, 29, have been imprisoned since December 2017 and are serving seven-year terms for violating an obscure colonial-era state secrets law.
The two are accused of obtaining secret documents, though lawyers for the reporters appealed by arguing there was insufficient evidence. A policeman also testified in a lower court that the documents had been planted.
That wasn't enough to persuade Justice Soe Naing to overturn the convictions.
"The appeal is rejected," he said in a terse statement.
Reuters strongly disagreed with the decision and vowed to continue seeking the reporters' release.
"Wa Lone and Kyaw Soe Oo did not commit any crime, nor was there any proof that they did," Gail Gove, Reuters' chief counsel, said in a statement. "Instead, they were victims of a police set-up to silence their truthful reporting. We will continue to do all we can to free them as soon as possible."
The decision by Myanmar's top court comes more than three months after the journalists' appeal was rejected by a lower court.
The case has brought widespread international condemnation of Myanmar's government and cast doubt on the country's commitment to democracy and the rule of law.
The journalists were part of a team at Reuters that was awarded a Pulitzer Prize for international reporting last week for coverage of the brutal expulsion and slaughter of Rohingya from Myanmar.
Both Wa Lone and Kyaw Soe Oo have young children and wives who are struggling to adjust to life without their spouses.
"Both of us were hoping for a lot," said Chit Su, Kyaw Soe Oo's wife. "We're desperately sad it didn't happen."
Myanmar sentences two men to death for murder of prominent Muslim lawyer »
Khin Maung Zaw, a lawyer for both journalists, said all judicial options have now been exhausted and his clients' best hope for freedom is a presidential pardon or a judicial review by parliament.
"I am greatly disappointed," he said from outside the court in Naypyidaw, the nation's capital. "This has damaged our country very much."
The country formerly known as Burma had only recently emerged from decades of military rule when a civilian government won a parliamentary majority in 2015. Led by pro-democracy icon Aung San Suu Kyi, there was optimism that the country of 53 million would open up to the world.
But ethnic strife has undone much of that hope after the majority Buddhist government permitted widespread murder, rape and torture of Rohingya by the military and police. Much of Reuters' reporting detailed aspects of the campaign, which has led to 700,000 members of the minority group fleeing for neighboring Bangladesh.
Phil Robertson, deputy Asia director for Human Rights Watch, condemned the continued imprisonment of Wa Lone and Kyaw Soe Oo, which he said highlighted the failure of Myanmar's democracy.
"Sadly, when it comes to media freedom, both Myanmar's military and the civilian government seem equally determined to extinguish any ability to question their misrule and rights violations," Robertson said. "These two journalists are just the most prominent victims of this pernicious campaign against freedom of expression that is rapidly spreading in all parts of the country."
---
Must-read stories from the L.A. Times
Get all the day's most vital news with our Today's Headlines newsletter, sent every weekday morning.
You may occasionally receive promotional content from the Los Angeles Times.