China rankled by the Taiwanese president's visit to NASA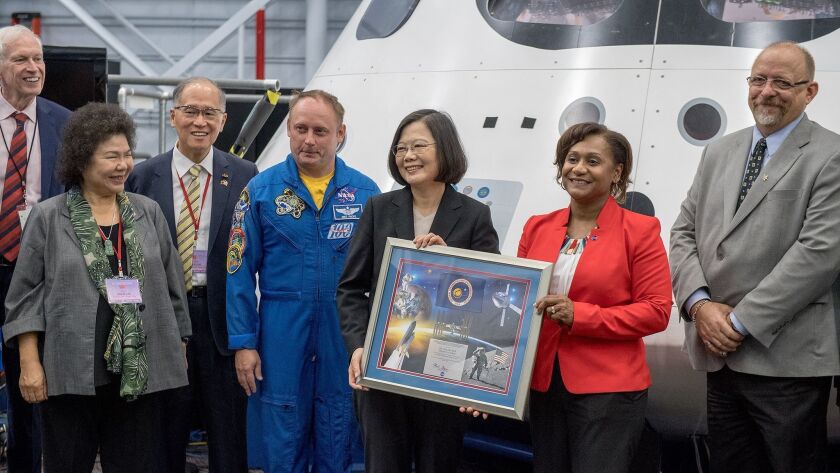 Reporting from TAIPEI, Taiwan —
China has protested a visit Taiwanese President Tsai Ing-wen made Sunday to NASA's Johnson Space Center in Houston.
The visit, made on a stopover from a trip to Central and South America, marked the first time a Taiwanese leader has been to an official U.S. government facility. It was widely viewed as a sign of deepening ties between the U.S. and Taiwan — much to the delight of many Taiwanese and the dismay of China.
An official in Beijing, where the Communist government sees Taiwan as part of its territory rather than a state free to engage in its own diplomacy, accused Tsai of trying to split her island from China.
She is "finding excuses to visit foreign countries to engage in activities aimed at splitting China," Chinese Foreign Ministry spokesman Lu Kang said Monday.
The Taiwan government's Mainland Affairs Council called the remarks "crude" and said they would have "absolutely no persuasive power among Taiwanese and even less help the positive development of two-way relations."
China had implored the United States to block Tsai's latest trip there.
But the Trump administration has been strengthening the U.S. relationship with Taiwan. Last year, the U.S. agreed to sell arms to Taiwan and allow defense contractors to start the process to sell Taiwan submarine technology.
In March, President Trump signed the Taiwan Travel Act, which encourages more high-level visits.
This month, Tsai spoke at the Ronald Reagan Presidential Library in Simi Valley. Last year she met a Texas senator and the state's governor.
"I think the relations between Taiwan and the United States are moving ahead further," said Liu Yih-jiun, professor of public affairs at Fo Guang University in Taiwan. "The relationship between Taiwan and China was under great, great stress. And mainland China wants to push its political agenda one step further."
In Taiwan, Tsai's visits to the U.S. have helped her party ahead of pivotal midterm elections in November, said Wu Chung-li, a political science research fellow at the university Academia Sinica in Taipei.
The party's chief rival advocates a closer relationship with China, but government opinion polls in Taipei show most Taiwanese prefer autonomy.
Washington does not recognize Taipei diplomatically but considers it a staunch ally in the Pacific Rim. Some experts in Taipei fear Trump is using Taiwan as a bargaining chip in the 6-month-old trade dispute with China.
China has claimed sovereignty over Taiwan since the Chinese civil war of the 1940s, but both sides have been self-ruled since then. Tsai rejects Beijing's conditions for dialogue about the Chinese goal of unifying the two sides.
China resents the U.S. for giving her limelight that suggests legitimacy for the Taiwanese government. Washington says it lets Taiwanese presidents stop over for their comfort and dignity.
Tsai returned to Taiwan on Monday after an eight-day trip that included visits to Belize and Paraguay, two of the island's remaining 17 diplomatic allies. Since Tsai took office in 2016, five countries have broken ties with Taiwan — including El Salvador on Monday.
---
Must-read stories from the L.A. Times
Get all the day's most vital news with our Today's Headlines newsletter, sent every weekday morning.
You may occasionally receive promotional content from the Los Angeles Times.