In Thailand, longtime king's death opens country to political turmoil, instability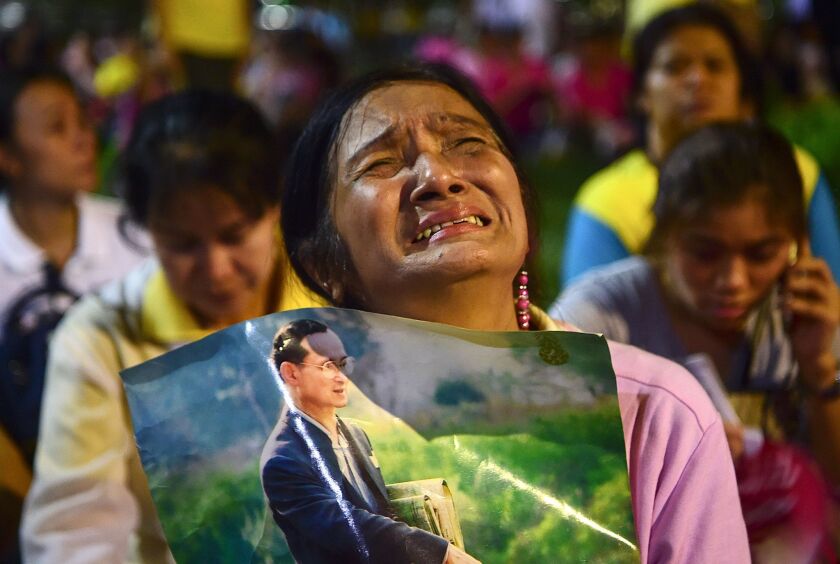 Reporting from Hong kong —
The death of Thailand's beloved king slammed the country to a near-halt Thursday, sending the stock market reeling and thrusting Thailand into deeper political turmoil as citizens contemplated the loss of the world's longest-ruling monarch.
Hundreds of supporters gathered outside the Bangkok hospital where King Bhumibol Adulyadej, 88, was being treated in the days before his death, dressed in auspicious pink and yellow. Bhumibol — who ruled for 70 years — served as a unifying figure in a country staggered by coups and political turbulence. A military junta seized power two years ago vowing stability, but has done more to cement its own rule. And the king's successor, Crown Prince Maha Vajiralongkorn, is wildly unpopular and remains largely a mystery.
The junta leader Prayuth Chan-ocha, in a televised address Thursday evening, said the country would hold a one-year mourning period, where civil servants will need to wear dark clothes. He asked the public to "tone down" celebrations for the next month. Some entertainment venues will close.
Prayuth also confirmed the succession of the 64-year-old crown prince, dispelling rumors that leaders might find a way to replace him with his sister. But much remains vague, largely because a strictly enforced law makes it illegal to insult the royal family — so few talk openly about succession plans.
Thais resist discussing it in public, but on social media and in whispered conversations, Vajiralongkorn is regarded as a joy-riding playboy. The crown prince has divorced three times and spends much of the year in the German countryside. Leaked video in 2007 showed the prince throwing an elaborate party with his then-companion, who wore only a G-string and heels. The other guest was Foo Foo, the prince's well-coifed poodle. The dog, according to a diplomatic cable published by Wikileaks, held the rank of chief air marshal before his death last year.
Concerns over instability, coupled with business closings, could also cripple the Thai bhat and threaten one of the worst performing economies in Asia.
The king "should be seen as a symbol of a system, and now it's the biggest test of that system," said Bill Hayton, an associate fellow with the Asia Programme at Chatham House, an international affairs think tank.
The Massachusetts-born king had blessed the latest junta, a win for elites but a defeat to a growing populist contingent.
Thais voted for a new constitution in August, which the military advocated and banned opponents from campaigning against it. The measure limits the power of political parties, a move the junta says will prevent corruption but opponents fear will threaten democracy.
This sets the stage for a turbulent election next year, which could further undermine stability in the kingdom.
Divisions have rippled through Thailand for a decade. The military seized power after years of street protests and violent clashes related to a 2006 coup that ousted former Prime Minister Thaksin Shinawatra. Many farmers and rural poor — labeled the red shirts — applauded his social policies and have remained loyal to the former leader.
Elites and urban middle class, or the yellow shirts, have decried him as corrupt and fought efforts to hasten his return. The junta took over from his younger sister, Yingluck Shinawatra, who tried to pass am amnesty bill that would allow her brother's return.
Condolences for the king came quickly, fas world leaders appeared to mourn alongside the country.
United Nations Secretary General Ban Ki-moon praised the king's commitment to universal values and human rights. Indian Prime Minister Narendra Modi called him "one of the tallest leaders of all time." President Barack Obama referred to him as "a tireless champion of the country's development."
During his seven decades on the throne, the king witnessed 10 coups, more than two dozen prime minister transitions, and almost 20 constitutions.
"In 70 years, everything else in the country changed," Hayton said, "but he was a symbol of stability."
Meyers is a special correspondent.
MORE WORLD NEWS
U.S. warship launches retaliatory missile strikes on radar sites in Yemen
21 Nigerian schoolgirls released by Boko Haram will receive medical treatment, trauma counseling
Terrorism suspect turned in by fellow Syrian refugees found dead in German jail cell
---
Must-read stories from the L.A. Times
Get the day's top news with our Today's Headlines newsletter, sent every weekday morning.
You may occasionally receive promotional content from the Los Angeles Times.