Death toll nears 100 in bomb blasts at peace rally in Turkish capital
An ambulance carrying leaves the scene as smoke rises from the scene after a pair of explosions at a peace rally in Ankara, Turkey.
(Defne Karadeniz / Getty images)
A wounded man is treated after a pair of explosions in Ankara, Turkey, on Oct. 10, 2015.
(Depo Photos / Associated Press)
A bomb technician investigates a suitcase at the blast scene in Ankara, Turkey.
(Defne Karadeniz / Getty images)
A survivor hugs a man after a pair of explosions during a peace march in Ankara, Turkey.
(Defne Karadeniz / Getty images)
Forensic investigators gather evidence after a pair of explosions at a peace rally in Ankara, Turkey.
(Gokhan Tan / Getty images)
An injured person is lifted away using a rally banner after explosions at the main train station in Ankara, Turkey.
(Adem Altan / AFP/Getty Images)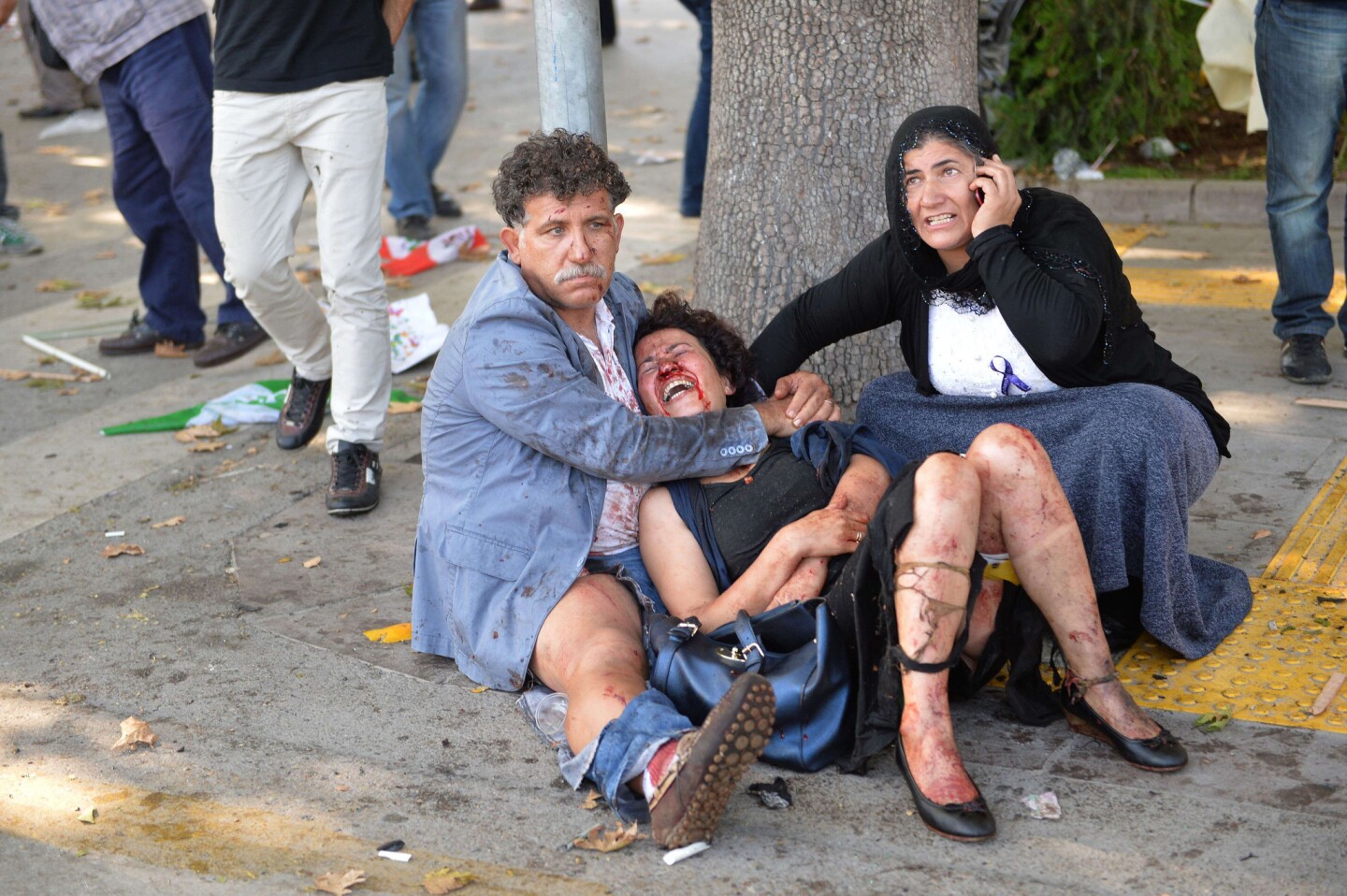 An injured woman is comforted after an explosion at the main train station in Ankara, Turkey.
(Adem Altan / AFP/Getty Images)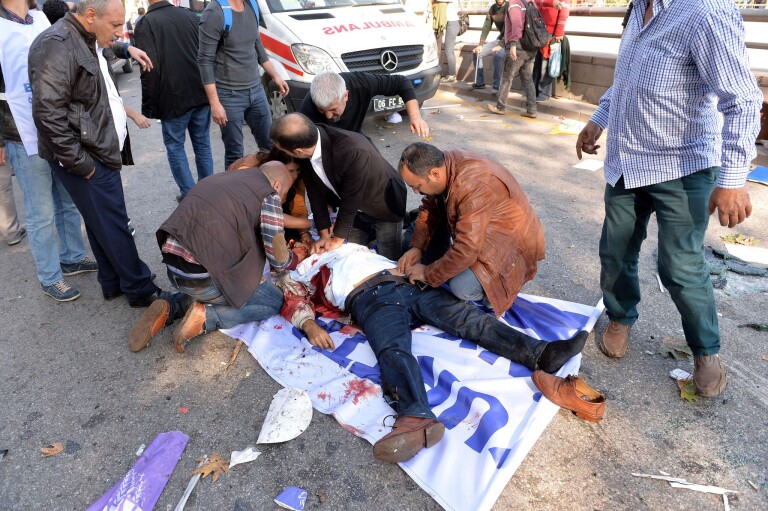 A victim is given first aid after explosions at the main train station in Ankara, Turkey.
(Adem Altan / AFP/Getty Images)
Turks gather to participate in a peace march before a pair of deadly explosions in Ankara.
(Defne Karadeniz / Getty images)
Reporting from Sanliurfa, Turkey —
Dual bomb blasts on Saturday targeted a peace rally in the Turkish capital of Ankara, killing at least 95 people and wounding more than 240 others, the prime minister's office said.
The devastating attack, coming just three weeks before a general election, was described by authorities as among the deadliest terror strikes in Turkey's modern history.
Two suspected suicide bombers were believed to have detonated bombs packed with ball bearings in the vicinity of hundreds of demonstrators who had converged on a rally site near the city's main train station. Witnesses described powerful explosions that occurred about 50 yards and seconds apart, leaving a trail of bloodied, charred corpses and screaming wounded.
Video broadcast on CNN Turk showed a group of demonstrators singing and dancing just before a large explosion sent shooting flames and shrapnel through the crowd. Images of dead bodies on the ground, covered by flags of a pro-Kurdish political party, quickly circulated on social media.
NEWSLETTER: Get the day's top headlines from Times Editor Davan Maharaj >>
"There is chaos everywhere," said Dogan Karagoz, reached by cellphone in Ankara. He said he had three relatives killed in the attack.
Turkey has been roiled by tensions over the government's broad military offensive against Kurdish rebels and encroaching complications of the civil war in neighboring Syria. Under U.S. pressure, the NATO ally agreed to play a greater role in the fight against Islamic State militants.
Saturday's rally, organized by civil society groups, had been convened to urge democratic reforms and a negotiated end to the Kurdish conflict.
Those in attendance, who had traveled from across Turkey to take part, were drawn largely from labor unions and supporters of the pro-Kurdish Peoples' Democratic Party, or HDP, which entered parliament for the first time in June.
"There were body parts everywhere," said Ayhan Bingol, who attended the demonstration with a trade union. "The police came 30 minutes later and told us to leave because there may be another bomb."
Local media reported that Health Minister Mehmet Muezzinoglu said emergency services responded promptly but "the extent of the attack and panic" may have contributed to a "rise in death toll."
Authorities were trying to determine whether the explosions had been caused by suicide attackers, the semi-official Anatolia news agency reported.
Prime Minister Ahmet Davutoglu called for national unity in the face of the devastating attacks, but the events almost immediately set off furious political infighting. The prime minister declared three days of national mourning and vowed that the perpetrators would be punished.
"It is our duty to seek justice," he told a news conference.
Questions about security at the event quickly rose, with witnesses claiming that there was a minimal police presence before the attack.
Political violence has risen sharply since July, when Islamic State bombed a rally in the frontier town of Suruc, killing 34 activists. The peace process between the government and the separatist Kurdistan Workers' Party, or PKK, swiftly collapsed.
Since then, much of the country's southeast has been turned into a war zone. The PKK believes that the ruling Justice and Development Party facilitated the Suruc attack to stir up nationalist support after losing its parliamentary majority in June's national vote.
In Washington, the White House issued a statement condemning the bombing, calling it a "horrific terrorist attack."
"The fact that this attack occurred ahead of a planned rally for peace underscores the depravity of those behind it and serves as another reminder of the need to confront shared security challenges in the region," said the statement by National Security Council spokesman Ned Price.
Johnson is a special correspondent.
Times staff writer Laura King in Cairo contributed to this report.
ALSO:
The night the hospital in Kunduz became a U.S. military target
'Not Welcome' sign: Europeans take steps to head off economic migrants
North Korea marks ruling party's anniversary with some tough talk for the U.S.
---
Must-read stories from the L.A. Times
Get the day's top news with our Today's Headlines newsletter, sent every weekday morning.
You may occasionally receive promotional content from the Los Angeles Times.