Ukraine arrests journalist for Russian news agency, ramping up tension with Kremlin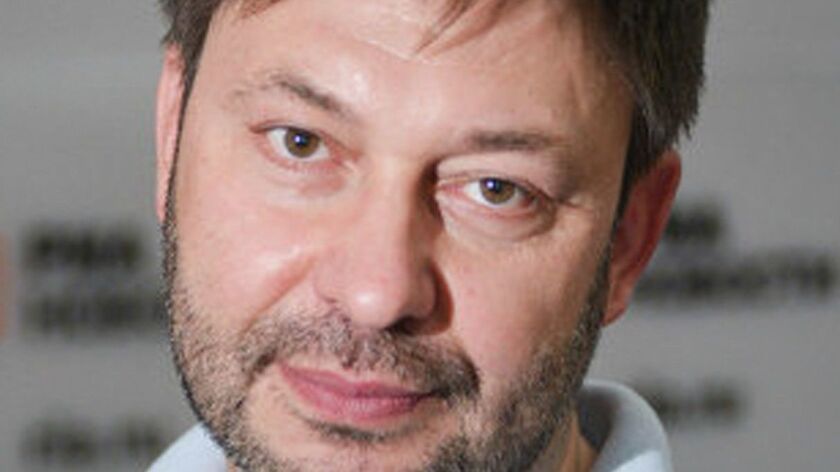 Reporting from Kiev, Ukraine —
Authorities in Ukraine have arrested a journalist with a Kremlin-funded news agency who they said "justified" Crimea's annexation, "supported" pro-Russian separatists and now faces up to 15 years in jail for treason.
The arrest of Kirill Vyshynsky, a Ukrainian national and head of the Ukrainian branch of RIA Novosti, Moscow's lavishly funded propaganda arm that broadcasts in dozens of languages, is widely seen here as a response to Russia's information campaign that began after pro-Western protesters ousted Moscow-friendly President Viktor Yanukovych in 2014.
A court in the southern city of Kherson said Thursday that Vyshynsky does not qualify for bail and will be subject to the standard pretrial detention of 60 days.
He has not been formally charged, but prosecutor Valery Kharaim said in televised remarks that an expert who analyzed Vyshynsky's reports found "evidence of treason."
Vyshynsky was detained Tuesday after the SBU, Ukraine's main security agency, searched his apartment here in the capital and found a Russian state journalism award for covering Crimea's annexation and large amounts of cash.
Vyshynsky was part of "subversive media structures" working in Ukraine, the security agency's deputy director, Viktor Kononenko, said in televised remarks.
He said that 47 people will be questioned as part of the investigation.
Yuri Lutsenko, Ukraine's prosecutor general, said that a wider network of Russian journalists has waged a "disinformation war" against Ukraine and that investigators had found that Ukrainian nationals who were involved had accepted Russian citizenship. Dual citizenship is illegal in Ukraine.
Vyshinsky admitted in televised remarks that he secretly received a Russian passport in 2015.
Russia condemned the arrest.
"We see this as outrage, a crackdown on the freedom of speech and an attempt of the Kiev regime to stifle any manifestations of objectivity and an unbiased view on the developments in the country," Russia's Foreign Ministry said in a statement Thursday.
Russian President Vladimir Putin has called the ousting of his ally Yanukovych a "fascist coup" and claimed that the subsequent annexation of Crimea followed a "referendum."
But even Russia's staunchest allies have not recognized the annexation that led to Moscow's increasing international isolation.
Russia also unleashed a propaganda campaign claiming Ukrainian servicemen wear swastikas, government-paid doctors harvest organs from detained pro-Russian separatists and that in July 2014 Ukrainian servicemen crucified a 3-year-old boy in the eastern town of Slovyansk.
This reporter was in Slovyansk the day after the execution supposedly took place and found no evidence of it.
Mirovalev is a special correspondent.
---
The Latinx experience chronicled
Get the Latinx Files newsletter for stories that capture the multitudes within our communities.
You may occasionally receive promotional content from the Los Angeles Times.