Facing mass protests, Algeria's president agrees to resign
Reporting from Beirut —
Algerian President Abdelaziz Bouteflika will resign before the end of his fourth term, state media said Monday, the latest in a series of moves aimed at mollifying millions of Algerians who have protested his rule in recent weeks.
The ailing 82-year-old will step down before April 28, the official Algeria Press Service reported, citing a statement from the president's office. Bouteflika had announced last month that he would seek a fifth term, but when that met with immediate and massive protests, he backed down.
Monday's statement followed a wide-scale government reshuffle the day before that replaced 21 of the Cabinet's 27 ministers, state TV reported.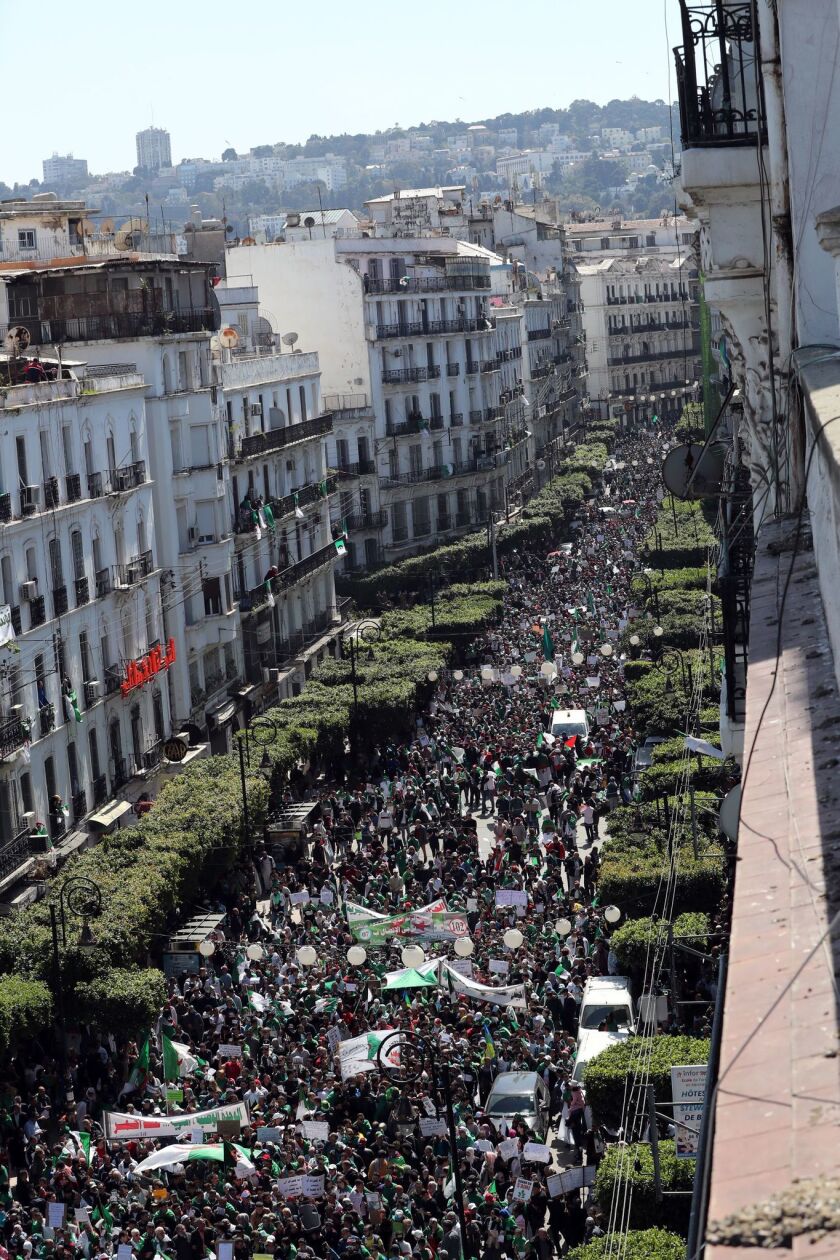 Bouteflika will make "important decisions … in order to ensure the continuity of the functioning of the state institutions during the transition period," the statement read.
The president has ruled the country for almost 20 years but was so incapacitated by a stroke in 2013 that he has not spoken publicly since; in rare appearances he is never seen without a wheelchair and seems barely able to register what is before him.
Many believe the real power in the country lies with a cabal of military and business elites, known as "Le Pouvoir," or the Power, which includes the president's younger brother, Said Bouteflika, and Lt. Gen. Ahmed Gaid Salah, the 79-year-old army chief.
When Bouteflika announced he would run for a fifth term in elections set for April 18, tens of thousands of people across the social spectrum flooded city streets nationwide in protest. Bouteflika had been too ill to announce his candidacy and had to have an official confirm he was still alive.
Since then, the president — or the group behind him — has offered a series of concessions, to little effect.
First, he said he would serve only one year of his term if reelected. Then he canceled his reelection bid but said he would reshuffle the government and extend his fourth term so he could manage the drafting of a new constitution.
But those moves didn't contain people's rage; demonstrations grew to more than a million strong in Algiers.
Meanwhile, a bevy of political and military figures, including from the ruling National Liberation Front party, began to turn on Bouteflika. Salah called for the enforcement of an article in the constitution that would see Bouteflika declared unfit to serve.
And yet it's unclear who would take over.
Algerian protesters to longtime president: 'Leave means leave' »
Algeria's political system has been dominated by veterans of the war of independence from France that ended in 1962. Bouteflika and his allies are credited with navigating the country out of its civil war in the 1990s; they have long billed themselves as a bulwark against further strife.
But in a country where an estimated 70% of the 42 million people are younger than 35, few remember the "Black Decade" of the civil war.
And the long-running social contract underpinning the post-civil war stability — the government using revenue from hydrocarbons for lavish handouts and subsidies in exchange for autocratic rule — has been eroded by a slump in oil prices.
Algeria's Constitution mandates that the head of the upper house of parliament would become interim president until elections are held within 90 days.
---
Must-read stories from the L.A. Times
Get the day's top news with our Today's Headlines newsletter, sent every weekday morning.
You may occasionally receive promotional content from the Los Angeles Times.