Floods and mudslides kill 6 as storm leaves Rio de Janeiro in state of emergency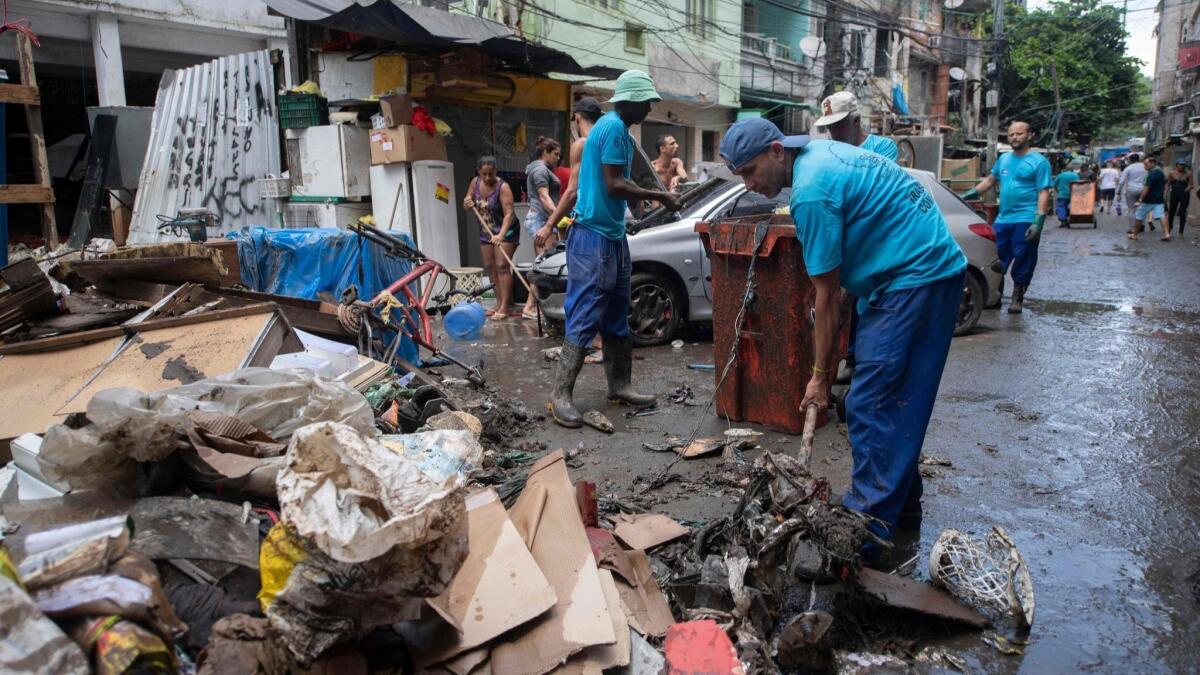 Reporting from SAO PAULO, Brazil —
A torrential storm in Rio de Janeiro killed at least six people as it tore through the city Wednesday night, with rain flooding neighborhoods on its south side, wind felling trees and a mudslide burying a bus.
Rio Mayor Marcelo Crivella declared a state of emergency as gushing water invaded homes and businesses and swept away parked vehicles.
Nearly 5½ inches of rain fell in four hours, surpassing the amount expected for all of February, according to Rio's Secretariat of Civil Defense. Winds that hit 68 mph left several neighborhoods without power, the agency said.
Crivella warned that the danger continued. He asked residents to stay indoors because more rain was expected.
"We have several areas of risk in the city; the ground is soaked and more trees may fall," he said. "I urge people to stay away from these areas and to make way for public transportation. And if they can, they should avoid leaving the house later this afternoon."
Wednesday's heavy rainfall led to several mudslides, mostly in Vidigal and Rocinha, favelas that sit between neighborhoods west of Ipanema known for luxury homes and hotels.
Video taken by a Rocinha resident showed a man being carried away by rushing water; another showed wicker chairs floating in the lobby of the beachfront Sheraton Hotel in Vidigal as water poured through its front door.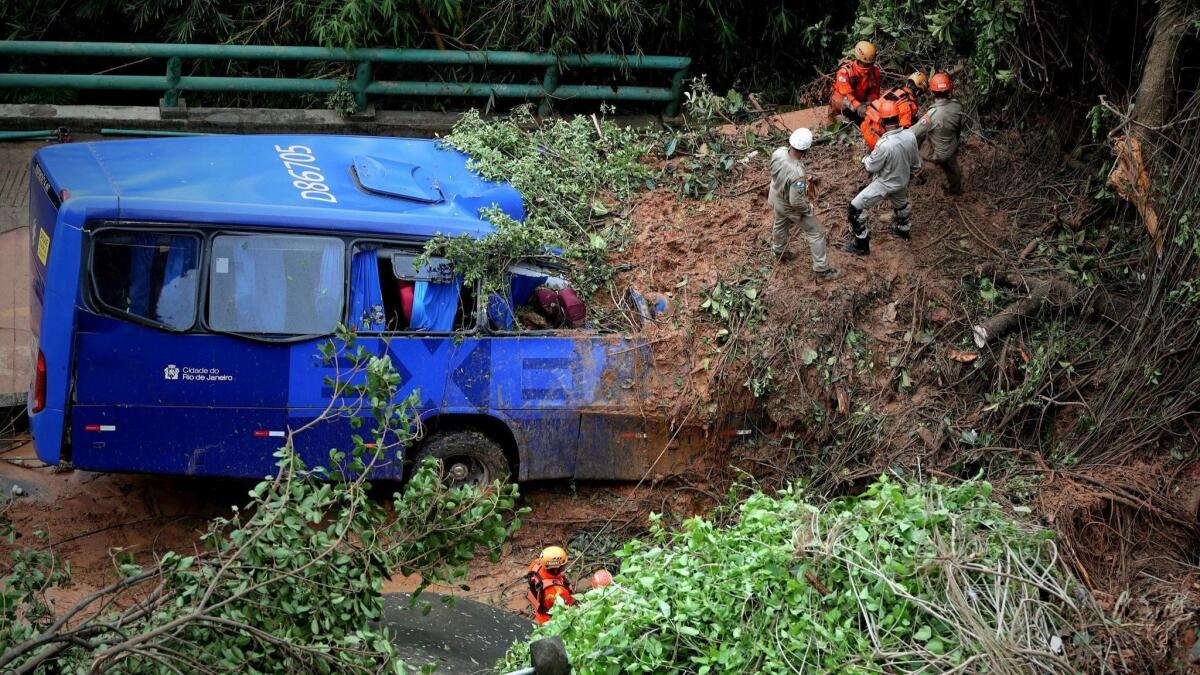 Firefighters say two people died when the bus they were on was hit by a mudslide. The bus, traveling through Vidigal on a roadway between hillside and ocean, was smashed by a tree propelled by the slide, then partially buried. The driver managed to escape.
A third person was killed in Vidigal when a wall crumbled under the heavy rain, and another woman was killed by a mudslide in Rocinha, Crivella said. A mother and son were killed in the west end neighborhood of Barra de Guaratiba when their house collapsed, the woman's brother-in-law told local news station Globo and Crivella confirmed.
After flying over the area affected by the storm, governor of the state of Rio de Janeiro, Wilson Witzel, blamed the post-storm chaos on negligent municipal governments, saying 80,000 people currently live in high-risk areas across the state.
"Every mayor needs to take responsibility and not allow construction in high-risk areas," he said, referring to homes built in precarious areas of hillside favelas. "These are years of neglect, abandonment and a lack of responsibility taken on by mayors."
Of the 6.3 million people in the city of Rio, 1.5 million live in one of its more than 1,000 favelas.
The favelas were started in the hills and outskirts of Rio in the late 19th and 20th centuries, many just years after the abolition of slavery in Brazil.
The oldest, Providencia, founded in 1897, is located next to the port where 2 million enslaved Africans were brought into the country. Today, residents of the working-class neighborhoods still predominantly self-identify as black.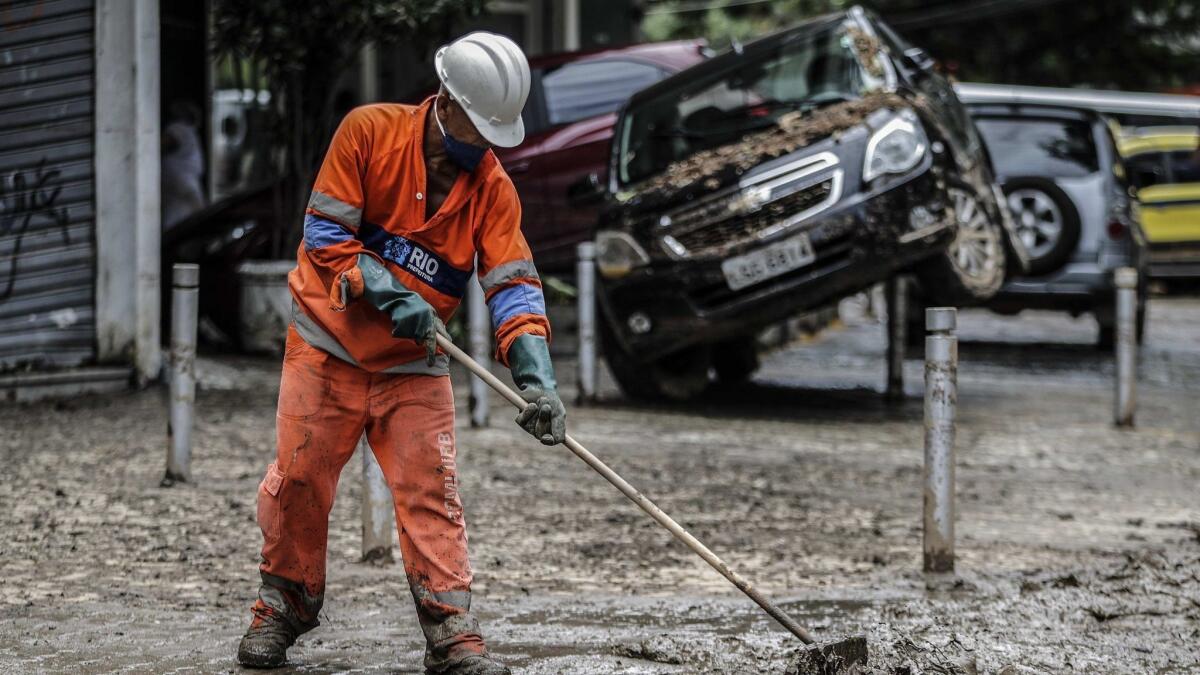 Many favelas are controlled by drug traffickers, putting residents in the crosshairs of police violence and daily shootouts.
And because the homes and businesses that make up the favelas were built without permits — government deciding not to oversee expansion of the new settlements — many residents still struggle to receive consistent services from the city.
They lack proper sanitation systems and drainage that can handle Rio's heavy rains.
The storm destroyed a portion of the elevated Tim Maia Bike Path, which runs along Niemeyer Avenue by the ocean and was built in preparation for the 2016 Olympics.
This is the third time the path has collapsed. It first buckled three months after it was built when it was hit by a massive wave, killing two men. It fell again in February 2018, this time taking no victims.
Langlois is a special correspondent.
Sign up for Essential California for the L.A. Times biggest news, features and recommendations in your inbox six days a week.
You may occasionally receive promotional content from the Los Angeles Times.