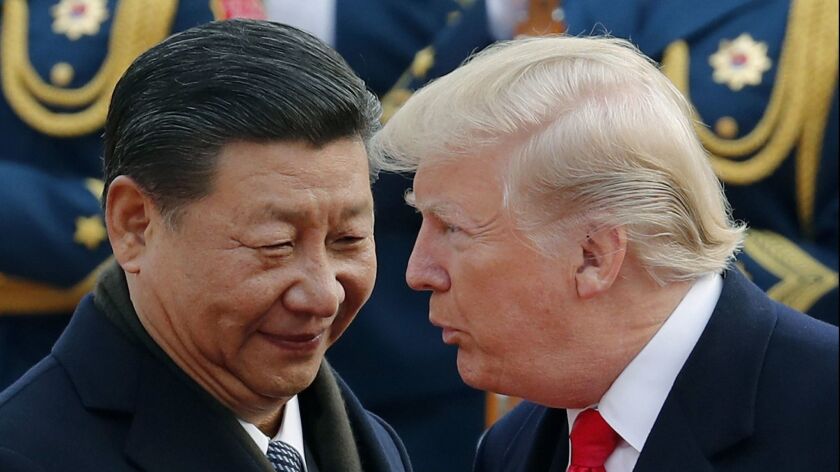 Reporting from Beijing —
When news broke that President Trump and Chinese leader Xi Jinping had talked again by phone, Chinese state-owned media swiftly pointed out that the White House made the call, not Beijing.
Trump announced Tuesday he had "a very good phone call" with Xi and would meet him later this month on the sidelines of the G20 summit in Osaka, Japan. He told reporters that China wanted a deal.

"The meeting might very well go well and, frankly, our teams are starting to deal, as of tomorrow," he said. "China wants to make a deal."
The two agreed to restart trade talks after a hostile month-long standoff, but with the short window for preparation before the meeting, many experts believe that hopes for a major breakthrough in Osaka are slim.
After months of fruitless negotiations, Chinese officials are increasingly cautious, and appear unwilling to make the kinds of major compromises on industrial policy that U.S. officials demand.
Still, news that the talks would resume was enough to cheer global markets with the hope of progress toward ending a conflict that has dragged on China's economy and hurt U.S. companies and farmers.
Trump's mercurial style — tweeting about his friendship with Xi one minute and slapping tariffs on China the next — initially rattled Chinese leaders.
They were caught off-guard when Trump imposed tariffs on $200 billion in Chinese goods last July as punishment for trade practices that the U.S. believes are unfair. He hiked those from 10% to 25% last month and has threatened 25% tariffs on more than $300 billion more Chinese exports.
Also concerning to Beijing is Trump's abrupt decision to cut short February's summit with North Korea's Kim Jong Un in Hanoi last year, with no agreement on nuclear weapons reached. The worry is that Trump could humiliate Xi in a similar way.
The trade war with the U.S. has reinforced China's determination to develop its own high-tech products, including semiconductors, to break free of dependence on the United States in those fields and emerge as a global leader.
In recent weeks, Chinese officials have toughened their stance, raising the threat that they could ban rare-earth exports — used in smart phones, military equipment and myriad other high-tech products — to U.S. companies. China controls the bulk of global supply.
State media in China reported that officials there were preparing a list of "unreliable" U.S. companies that could be targets for retaliation after Washington's recent ban on U.S. companies from supplying Chinese tech giant Huawei with components and software.
Xi said Wednesday that any deal would have to be reached "through dialogue on even ground" and that the trade conflict was in neither side's interest, People's Daily reported.
He said the key was for both sides to "accommodate each other's legitimate concerns" and added that China hoped the U.S. side could treat Chinese firms fairly.
The newspaper also reported that President Trump told Xi the whole world hoped to see the two sides reach a deal.
The trade war arose out of U.S. complaints that China did not treat U.S. firms fairly — by locking them out of key areas of the Chinese economy; insisting U.S. firms give up trade secrets in return for access to Chinese markets or otherwise acquiring or stealing U.S. intellectual property; and subsidizing Chinese firms so they can undercut foreign rivals on price and other measures.
Trade talks broke off a month ago after the U.S. accused China of backing away from items that had already been settled in talks. The U.S. wants to ensure that any deal can be enforced in case China fails to stick to its requirements.
China meanwhile has accused the U.S. side of failing to negotiate sincerely and adding new demands to the mix.
In recent days, Hu Xijin, editor of the Communist Party-owned Global Times, rebuked the U.S. for bullying and reported that Beijing's attitude was hardening in preparation for a long and hard trade war. He said reaching a compromise would be difficult, with hostile popular opinion on both sides.
"Chinese people are now very distrustful of Washington, whose every move seems to be either a trick or bargaining chip," he tweeted Tuesday before the news of the renewed talks. "Beijing believes Washington tends to bully and be greedy, therefore it has toughened up."
"Will the deadlock be broken?" he tweeted Wednesday. "I feel Beijing has a cautious attitude."
The latest developments on trade came as Xi prepared to visit Pyongyang on Thursday to meet Kim Jong Un, the first official visit by a Chinese leader since 2005.
The visit sends a message to Washington that it will be difficult to denuclearize the Korean Peninsula without Beijing's cooperation. It also offers Xi the opportunity to deliver a helpful intervention that may smooth the way when he meets Trump in Osaka.
Xi wrote a front page editorial published Wednesday in North Korean state-owned newspaper Rodong Sinmun praising North Korea for moving in the right direction to resolve the problems on the Korean Peninsula politically.
Extolling Beijing's "irreplaceable friendship" with Pyongyang, Xi said China supported efforts to resolve North Korea's "rational interests" through dialogue.
"We will actively contribute to regional peace, stability, development and prosperity by strengthening communication and coordination with North Korea and other relevant parties to make progress in talks and negotiations on the issues on the Korean Peninsula," Xi wrote.
Twitter: @RobynDixon_LAT
---