Hurricane Matthew pummels Haiti and Cuba on route toward U.S.
A man carries a woman across a river at Petit Goave where a bridge collapsed during the rain from Hurricane Matthew, southwest of Port-au-Prince, Haiti.
(Hector Retamal / AFP/Getty Images)
People try to cross the overflowing La Rouyonne river in the community of Leogane, south of Port-au-Prince, Haiti, after Hurricane Matthew passed.
(Hector Retamal / AFP/Getty Images)
Haitian people cross the river La Digue in Petit Goave, southwest of Port-au-Prince, after Hurricane Matthew.
(Hector Retamal / AFP/Getty Images)
People sit amid debris left by Hurricane Matthew in Baracoa, Cuba. The hurricane rolled across the sparsely populated tip of Cuba overnight, destroying dozens of homes in Cuba's easternmost city and leaving hundreds of others damaged.
(Ramon Espinosa / Associated Press)
Residents navigate the flooded La Puya neighborhood of Santo Domingo, the Dominican Republic's capital.
(Erika Santelices / AFP/Getty Images)
A woman walks along a rock-strewn coastal road between Guantanamo and Baracoa after Hurricane Matthew passed the eastern tip of Cuba.
(Yamil Lage / AFP/Getty Images)
Cubans react to the damage and havoc caused by Hurricane Matthew in the eastern town of Baracoa.
(Alejandro Ernesto / European Pressphoto Agency)
A man talks on his cellphone while looking for belongings in the rubble of his home in Baracoa, Cuba.
(Ramon Espinosa / Associated Press)
A man who broke his arm in a work accident before Hurricane Matthew struck searches the ruins of his home in Baracoa, Cuba.
(Ramon Espinosa / Associated Press)
The high winds of Hurricane Matthew roar over Baracoa, Cuba.
(Ramon Espinosa / Associated Press)
A Haitian boy walks along a flooded street in western Haiti after Hurricane Matthew made landfall.
(Orlando Barria / European Pressphoto Agency)
A woman protects herself from the rain in Port-au-Prince as Hurricane Matthew makes landfall in southwestern Haiti early Tuesday.
(Hector Retamal / AFP/Getty Images)
Public transportation known as a tap tap crosses the water left by heavy rains in Port-au-Prince, as Hurricane Matthew makes landfall in southwestern Haiti early Tuesday.
(Hector Retamal / AFP/Getty Images)
Women cover their heads with pans as they walk in a light rain brought by Hurricane Matthew in Port-au-Prince, Haiti.
(Dieu Nalio Chery / Associated Press)
This NOAA satellite image shows Hurricane Matthew in the Caribbean.
(NOAA)
A food vender puts out her goods for sale during a light rain triggered by Hurricane Matthew in Port-au-Prince, Haiti.
(Dieu Nalio Chery / Associated Press)
A woman pushes a wheelbarrow while walking in a partially flooded street in the Haitian capital of Port-au-Prince. Hurricane Matthew made landfall in southwestern Haiti early Tuesday, crashing ashore as a powerful Category 4 storm.
(Hector Retamal / AFP/Getty Images)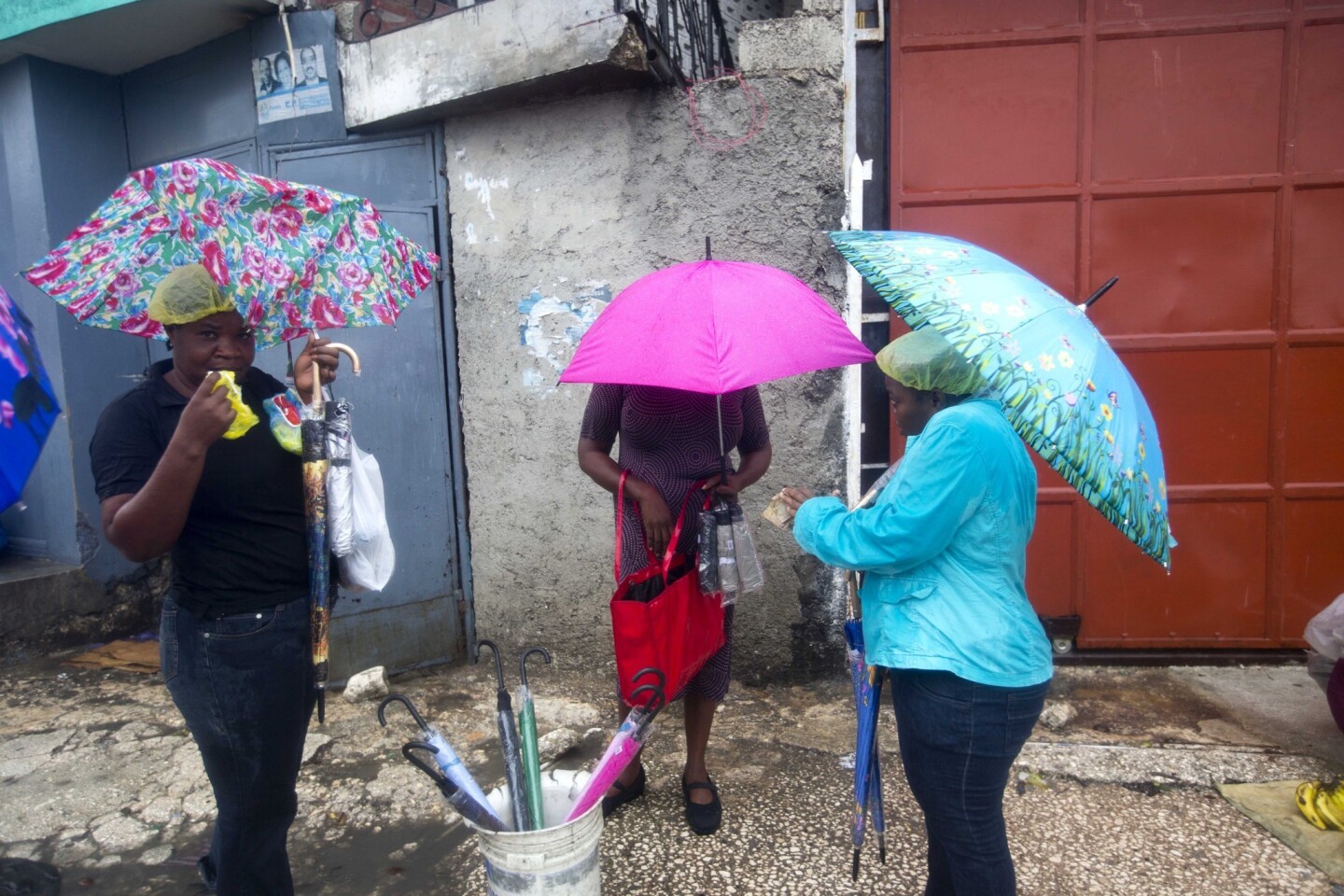 Women sell umbrellas during the arrival of Hurricane Matthew in Port-au-Prince, Haiti.
(Dieu Nalio Chery / Associated Press)
A woman protects herself from the rain with a piece of plastic prior to the arrival of Hurricane Matthew in Tabarre, Haiti.
(Dieu Nalio Chery / Associated Press)
Hurricane Matthew tore into Haiti's southern coast Tuesday, ripping off corrugated rooftops, toppling trees and flooding streets and farmland in a country still ailing from a devastating earthquake six years ago.
The Category 4 storm, one of the strongest Caribbean hurricanes in years, carried winds of 145 mph when it made landfall at 6 a.m. near the town of Les Anglais, on the southwestern tip of Haiti, the National Hurricane Center in Miami said.
At least nine deaths were blamed on the storm on the island of Hispaniola — five in Haiti and four more in the Dominican Republic. There were also reports of one person killed in Colombia and another in the island nation of St. Vincent and the Grenadines.
As Matthew barreled into Cuba, states across the southeastern coast of the United States declared emergencies, and South Carolina urged more than 1 million people to evacuate its coast before the storm is forecast to hit toward the end of the week.
"It's time to take note: We have a hurricane that seems to be hugging the coastline and steering towards South Carolina," Gov. Nikki Haley said at a news conference. "This is not something that we want to play with. If you don't get out in time, you might actually get stuck.
"That's the worst-case scenario," she said, "to be get stuck on the coast and have no place to go."
In Haiti, a nation of 11 million people, many residents hunkered down in flimsy shacks that offered little protection from the howling wind, heavy rains and battering storm surges.
Marie Alta Jean-Baptiste, director of the country's civil protection agency, said more than 10 towns were flooded and numerous homes and boats destroyed. But landslides, downed trees and washed out bridges were hampering access to some communities, making it difficult to assess the full scale of the damage or the death toll.
Officials had tried to persuade residents in vulnerable coastal communities and in shantytowns around the capital, Port-au-Prince, to move into emergency shelters set up in churches and schools. But many were afraid to leave their homes out of fear they would be burglarized.
Some sought shelter only after the worst of the storm hit, sloshing through knee-high water and debris-strewn streets in the pelting rain.
"There was panic in the cities of Jeremie and Les Cayes," Alta Jean-Baptiste was quoted as saying in Haiti's Le Nouvelliste newspaper. "The population was distraught because of the rise of the water."
A video made in Les Cayes and shared on social media showed palm trees being whipped by fierce winds. "Pray for us!" a voice is heard yelling.
By late Tuesday, at least 10,000 people were in shelters across Haiti, and hospitals were overflowing and running short of water, said Mourad Wahba, the United Nations' top representative for Haiti.
It was unclear whether the long-delayed presidential election scheduled for Sunday could proceed as planned.
Aid agencies warned of more danger ahead. Between 15 and 25 inches of rain were forecast over largely barren hills that are prone to flash floods and mudslides. The National Hurricane Center warned that as much as 40 inches could fall in some places.
The storm hit at a difficult time for Haiti, the hemisphere's poorest nation, which is currently led by an interim president.
Tens of thousands of people are still living in tents after losing their homes in the 2010 earthquake, which killed more than 200,000 people. A cholera epidemic blamed on U.N. peacekeepers responding to the disaster continues to claim lives.
"Our priority is to get clean water and hygiene items to families as fast as possible to avoid a spike in cases of cholera," said Jean-Claude Fignole, a program director in Haiti for the international charity Oxfam, in a statement.
Hunger is also likely to become a concern in the weeks and months ahead, aid groups said. Some crops in the south of the country were completely destroyed.
"This comes right on the heels of one of the worst droughts in the last 50 years," said Jessica Pearl, country director for the Portland, Ore.-based Mercy Corps. "For many households, this was the first decent harvest they were expecting, so to have this setback and loss is very difficult."
Milriste Nelson, a 65-year-old farmer in the town of Leogane, said his yard was strewn with the fruit he depends on for a living.
"All the banana trees, all the mangoes, everything is gone," Nelson told the Associated Press as he boiled breadfruit over a charcoal fire Tuesday. "This country is going to fall deeper into misery."
Making matters worse, authorities said, was the collapse of a bridge on the main highway linking the region to the capital.
Government officials and aid agencies are anxious to avoid the kind of delays, confusion and waste that marred relief operations in 2010.
"There was a pretty impressive response from as early as Friday," said Chris Skopec, of the Los Angeles-based International Medical Corps. "Because everybody is a bit hypersensitive to how vulnerable Haiti is, and is really committed to improving on past response efforts, there was a lot of mobilization of resources and supplies and pre-positioning of teams."
The U.S. military's Southern Command said a team of about 100 military personnel and nine helicopters had been sent to Grand Cayman Island to support the relief operations. The Marine task force, headquartered out of Soto Cano Air Base in Honduras, arrived Tuesday and was ready to provide heavy lift support.
The aircraft carrier George Washington, the hospital ship Comfort and amphibious ship Mesa Verde could also be deployed, Pentagon spokesman Peter Cook said.
"This is a serious storm, and while we have not received any specific request for assistance at this point, we do stand ready to provide support in the region as needed," he said.
In Cuba, six provinces were on hurricane alert as Matthew made landfall at 8 p.m. near the eastern tip of the island. They included densely populated Santiago de Cuba, where workers had been taking down light poles and other large objects that could become dislodged in high winds.
The region was hit hard four years ago by Hurricane Sandy, which killed nearly a dozen people and caused billions of dollars in damage. Since then, the Cuban government has formed brigades in every province focused on preparedness before a storm hits and cleanup afterward, according to the state-run newspaper Granma.
Cuba is home to a U.S. Navy base and detention facility at Guantanamo Bay. About 700 family members of service personnel stationed there were evacuated over the weekend.
Meteorologists at the U.S. National Hurricane Center said some fluctuations in intensity were possible as Matthew moved off the northeastern coast of Cuba at about 8 mph late Tuesday, heading toward the Bahamas. But the storm was expected to remain a powerful hurricane at least through Thursday night, when it was expected to be near the east coast of Florida.
Carnival Cruise Line said Tuesday that it had rerouted Carnival Pride, which left Baltimore on Sunday on a seven-day cruise. Instead of stopping at Caribbean islands, the ship sailed to New York.
In the U.S., residents flocked to grocery stores and gas stations as emergencies were declared in Florida and South Carolina as well as eastern and central North Carolina and southeastern Georgia.
In South Carolina, medical evacuations began Tuesday afternoon and evacuations of all coastal communities were expected to begin at 3 p.m. Wednesday.
Coastal residents were urged to gather important paperwork, fuel up their cars, stay on evacuation routes and get at least 100 miles away from the coast. About 3,700 law enforcement officials, as well as the National Guard, would be on the roads to assist the evacuation, the governor said.
In Florida, about 200 members of the Florida National Guard were activated to support hurricane preparedness, and more than 6,000 guardsmen were ready to be deployed if needed.
"At this time, we cannot focus on the exact track of this storm," Gov. Rick Scott said in a statement. "We know that it will be very close to our state, and any small deviation from its track could mean a catastrophic change along Florida's east coast. That is why everyone in our state must prepare today for a direct hit."
Times staff writer Zavis reported from Los Angeles and special correspondent Jarvie from Atlanta. Staff writers Kate Linthicum in Mexico City and W.J. Hennigan in Washington contributed reporting.
ALSO:
After defeat of the FARC peace deal, Colombians wonder what's next
Canadian government says it will implement a nationwide carbon tax by 2018
Wealthy nations could do more to help alleviate the global refugee crisis, new report says
---
UPDATES:
8:50 p.m.: This article was updated with the hurricane moving off the northeastern coast of Cuba.
7: 50 p.m.: This article was updated with the hurricane making landfall in Cuba.
5:10 p.m.: This article was updated with the death toll rising and other details of the storm's impact.
3:05 p.m.: This article was updated with the possibility of evacuations in the U.S.
1:20 p.m.: This article was updated throughout with Los Angeles Times reporting.
1:10 p.m.: This article was updated throughout with additional details.
This article was originally published at 5:05 a.m.
---
Must-read stories from the L.A. Times
Get all the day's most vital news with our Today's Headlines newsletter, sent every weekday morning.
You may occasionally receive promotional content from the Los Angeles Times.