The latest sign of Iran's economic distress: a shortage of diapers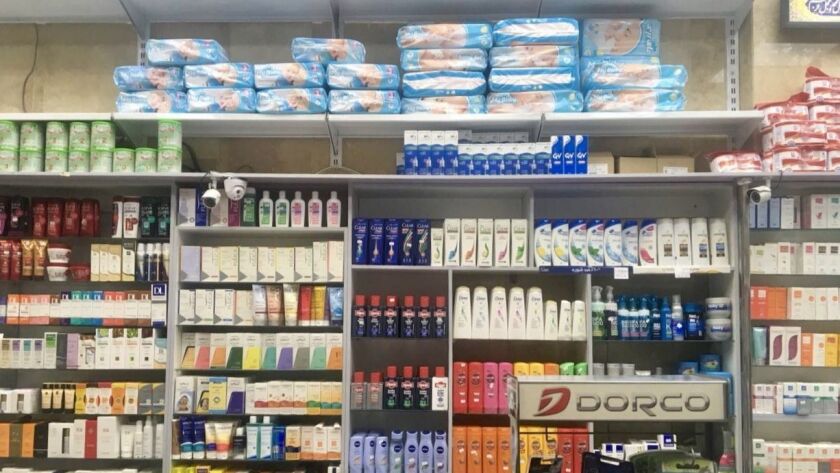 Reporting from Tehran —
In recent days, Iranian authorities have conducted raids in several cities, seizing illicit stockpiles of rare goods and vowing to prosecute the culprits to calm a seething public.
The precious contraband: diapers.
Hyperinflation and a shortage of raw materials have made infant and adult diapers costly and exceedingly scarce, prompting some parents to revert to old-fashioned cloth diapers. Imported alternatives have tripled in price from a few months ago.
It's just one more vivid sign of economic distress as Iran grapples with a currency crisis brought on by years of fiscal mismanagement and accelerated by the Trump administration's decision to renew harsh sanctions over what it describes as the Islamic Republic's malign influence in the Middle East.
With Iran's currency, the rial, having shed more than half its value against the dollar since January, domestic manufacturers have seen soaring costs of raw materials such as ultra-absorbent cellulose, which diaper makers import from China, Indonesia and other countries.
The government struggled to provide manufacturers with sufficient foreign currency at subsidized rates, leading many to stop producing disposable diapers and sanitary products entirely, leaving a smaller, costlier inventory on store shelves.
Iran's protectionist diaper makers have long tried to block superior imports, so there were few alternatives on the market when the shortages hit, said Esfandyar Batmanghelidj, founder of Bourse & Bazaar, a publication that tracks Iran's economy.
"The diaper fiasco is an example of how sudden crises, like the falling price of the rial, can bring to light longstanding issues across Iran's supply chains," Batmanghelidj said.
The shortages have created fresh misery for Iranian families, already suffering from stagnant wages, underemployment, the diminishing value of government subsidies and skyrocketing prices for fruit, vegetables and other daily goods.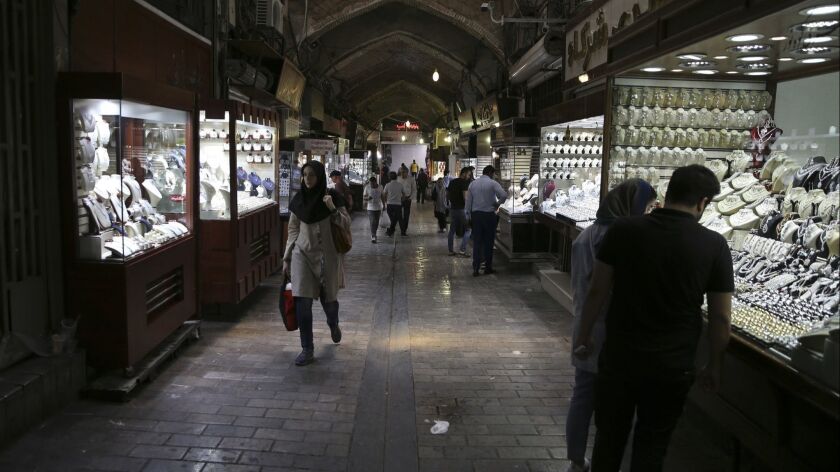 With their first child due in two months, Tehran taxi driver Asghar Taheri and his wife were showered with several packages of Iranian-made diapers as gifts from their parents.
But facing an unreliable supply and mounting costs, they decided instead to swaddle their child in the cloth diapers that he was raised on, known as kuneh, and purchased a washing machine to clean them.
"We're regressing instead of progressing," said Taheri, 33. "We're going back to the rags we used when I and my parents were infants."
Three weeks ago, a package of about two dozen Iranian-made diapers could be found in Tehran pharmacies for about $3, according to the unofficial exchange rate. That same package now goes for nearly three times as much – an exorbitant amount for young couples whose monthly household incomes now average about $140.
With most babies requiring eight changes a day, that's a new package roughly every three days — meaning the average family could spend more than half its monthly income on diapers.
Days ago, parents waited in long lines at a Tehran superstore that advertised a sale on diapers. Now diapers are expensive everywhere, and every baby's bodily function now comes with a formidable price tag.
One father, shopping at a small grocery in western Tehran, said he had worked out that every time his infant urinated, it cost him about 14 cents.
"Our daily sales of diapers have diminished remarkably, simply because young parents can't afford it," said Zahra Hasani, an employee at a central Tehran pharmacy.
Hasani said many parents were purchasing cloth diapers made of white canvas or linen, which retail for about 50 cents apiece.
The issue has attracted the attention of Iran's supreme leader, who blamed economic "saboteurs."
"Suddenly in Tehran and other big cities, diapers are scarce," the semiofficial Fars News Agency quoted Supreme Leader Ayatollah Ali Khamenei as saying in early September. "The enemy wants to make people angry with the government and state administration."
But most Iranians blamed the theocracy for corruption in the heavily state-backed manufacturing sector and questioned why businesses relied on imported materials to produce such basic goods as diapers.
"They embezzle billions and take low-interest loans in huge amounts for cronies and well-connected importers and exporters and fail to procure raw materials for diapers," lamented Taheri.
Zohre Bakhshandeh, a 32-year-old whose family runs a small fruit juice outlet in southwestern Tehran, said she and her husband had switched to cloth diapers for their 23-month-old daughter.
Two weeks ago she stopped buying imported German diapers because she calculated that her baby's four changes a day were costing her $2 every 24 hours. She'd save the good German diapers, she said, for days when she was taking her daughter out to family gatherings.
"I put the blame on the whole regime led by the supreme leader," Bakhshandeh said. "The capitalists are cronies of the regime and they decide how to rob and fleece people in their backrooms. Otherwise it should be a piece of cake to procure diapers."
Some blame the Trump administration's sanctions, the toughest of which won't go into effect until early November. On the popular Telegram social media network, a spoof news report quoted Trump as saying, "I will ratchet up the pressure of sanctions so much that instead of manufacturing missiles, you will shift to producing diapers." (In Persian, the word for missile, moshak, rhymes with the word for diaper, poshak.)
Parents' frustrations add to months of anger over economic issues that has bubbled over into some of the biggest anti-government protests in years.
Desperate to manage the public mood, Iranian authorities have said they would loosen import restrictions to put more foreign-made diapers in stores and announced plans to punish manufacturers, wholesalers and others hoarding scarce commodities.
In the western city of Esfahan, the semiofficial ILNA news agency reported last week that police had launched an operation dubbed "Entrapment" that found 50 stockpiles of consumer goods stashed in warehouses, including diapers worth about $3,500.
Similar raids occurred in the western towns of Boroujerd and Ilam, and in the northern town of Rudsar, according to state-run media.
Young parents aren't the only ones suffering in the shortages, which have also affected supplies of adult diapers and female sanitary pads.
Farshad Farivar, a 55-year-old whose brochure printing business had gone bankrupt, said he feared not being able to afford the diapers used by an elderly, bedridden relative, which he said cost about $5 every two days. For retirees on dwindling government pensions now worth less than $80 a month, diapers could cost the equivalent of a senior's entire income.
"It is going to be painful and unaffordable," Farivar said. "Some can substitute diapers with the traditional old kuneh, but for bedridden old men and women it's not possible — and it's unhygienic."
Shashank Bengali covers Iran for The Times. Follow him on Twitter at @SBengali
Special correspondent Mostaghim reported from Tehran and Times staff writer Bengali from Mumbai, India.
---
Must-read stories from the L.A. Times
Get all the day's most vital news with our Today's Headlines newsletter, sent every weekday morning.
You may occasionally receive promotional content from the Los Angeles Times.