More than 20 dead, dozens wounded as gunmen attack military parade in Iran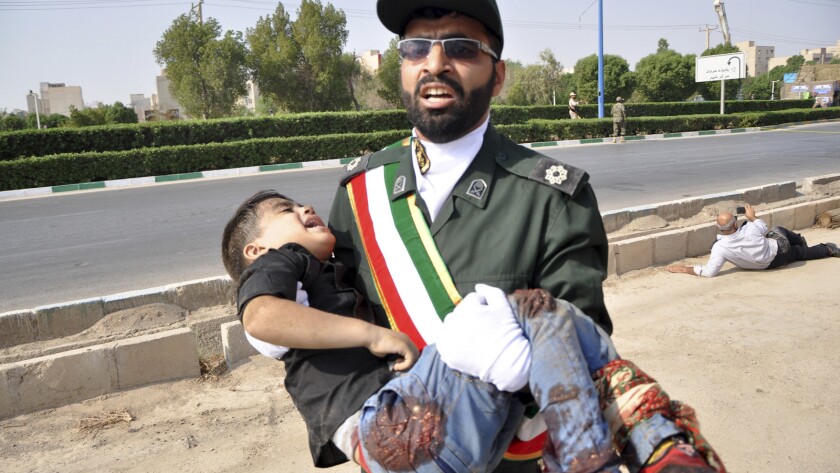 Reporting from TEHRAN, Iran —
Gunmen riding motorcycles opened fire on a military parade in southwestern Iran on Saturday, killing more than 20 people, including several members of the elite Revolutionary Guard in a rare militant attack in the tightly controlled Islamic Republic.
State media reported that at least 53 people were injured in the shooting in Ahvaz, the capital of Khuzistan province, an oil-rich but impoverished region populated largely by Arabs who have long accused Iran's ethnic Persian majority of discrimination.

For the record:
3:20 PM, Sep. 25, 2018This article incorrectly describes the Ahwazi Democratic Popular Front as a Sunni Muslim group. It is not. The article also says the group claimed responsibility for the attack. Although a man claiming to represent the group made that claim on television, the group later posted a statement on its website denying any responsibility.
Iranian officials said children and journalists were among the dead.
The official IRNA news agency said 24 people were killed. A lawmaker, Mojtaba Zulnour, said the death toll was 29. Several of the wounded were in critical condition, officials said.
The Islamic State extremist group and an Iranian Arab separatist movement called the Ahwazi Democratic Popular Front — Sunni Muslim groups that oppose Iran's Shiite-led establishment — claimed responsibility for the attack, believed to be the deadliest in Iran in nearly eight years.
Amaq, a news agency affiliated with Islamic State, said several so-called inghimaasis — militants who fight to the last bullet before blowing themselves up or getting killed — attacked a "gathering of Iranian forces" during a military parade.
A spokesman for the Ahwazi group told a London-based Iranian opposition news channel that it had carried out the attack to avenge the Iranian theocracy's "oppression and brutality." Neither group provided evidence for its claim.
The dead included eight members of the Revolutionary Guard, the elite force that runs Iran's military operations overseas, including those against Islamic State — and which Iranian Arabs accuse of quashing anti-government protests and arresting activists in Khuzistan.
Iranian officials referred to the gunmen as "takfiri elements," which usually refers to Sunni Muslim militants. Three shooters died at the scene while a fourth died at a hospital, according to the website Khabar Online.
Television cameras captured the shooting, which struck one of several military parades taking place across the country to commemorate the start of the Iran-Iraq war in 1980.
Soldiers in khaki uniforms are seen marching along Quds, or Jerusalem, Boulevard in Ahvaz under a bright sun, with journalists and others in civilian clothes lined up along the roadside. When gunfire rings out, there are a few seconds of confusion, followed by panic as soldiers and civilians drop to the asphalt for cover.
"Get down on the ground!" a man is heard shouting.
An army spokesman, Shahin Amirkhani, said the gunmen had planted rifles in a park close to the parade site "a few days before the attack," Khabar Online reported. The target of the shooting appeared to be a riser where Revolutionary Guard officers and other security personnel were watching the parade.
As lines for blood donations formed outside medical facilities in Ahvaz, Foreign Minister Javad Zarif blamed "terrorists recruited, trained, armed and paid by a foreign regime," signaling that the attack would raise tensions with its regional rival, Saudi Arabia, as well as with Saudi ally the United States.
"Iran holds regional terror sponsors and their U.S. masters accountable for such attacks," Zarif tweeted. "Iran will respond swiftly and decisively in defense of Iranian lives."
Iranian supreme leader Ayatollah Ali Khamenei condemned the "hard-hearted mercenaries who open fire on children, women and innocent people" and lashed out at the U.S., saying the attack was "a continuation of the conspiracies of America's stooges in the region."
Since the 1979 Islamic Revolution toppled a Western-backed monarch, Iran's powerful security forces have maintained a tight grip, and the country has mostly avoided the large-scale terrorist violence of elsewhere in the Middle East.
Last year, Islamic State militants attacked the parliament and the shrine of Ayatollah Ruhollah Khomeini, the founder of the Islamic Revolution, in Tehran, killing at least 18 people and wounding more than 50.
Khuzistan has been the site of political unrest before. In 2005 and 2006, Arab separatist groups carried out a series of bombings at government and commercial buildings, killing more than two dozen people and injuring hundreds.
More recently, separatists have attacked unguarded oil pipelines, usually at night.
Iranian security forces have arrested large numbers of Arab activists, holding many incommunicado and without charges, according to Human Rights Watch and other organizations.
In recent months, public anger has grown in Khuzistan over sandstorms, power blackouts and air pollution that many blame on desertification and excessive flaring from oil facilities.
Although the province on the Iraqi border is the source of much of Iran's oil and hydropower, it remains one of the least developed parts of the country.
Like many Iranian cities over the last year, Ahvaz has seen anti-government demonstrations put down by security personnel, often by force.
Abulfazal Abedini Naser, a 37-year-old former political prisoner in Ahvaz, said he and many other civilians were responding to calls to donate blood in the aftermath of the attack.
"Today I see Iranian Arabs in their traditional dishdashas to donate blood," Naser said by phone. "So I can say that the ethnic Arab population doesn't support the Ahwazi or any other extremist group."
Special correspondent Mostaghim reported from Tehran and Times staff writer Bengali from Mumbai, India. Times staff writer Nabih Bulos contributed to this report from Beirut, Lebanon.
---
UPDATES:
9:25 a.m.: Updated with Khamenei's statement, higher death toll.
7:05 a.m.: Updated throughout with staff reporting, claims of responsibility.
3:15 a.m.: Updated with 24 dead.
1:35 a.m.: Updated with details and reaction from the foreign minister.
This article was first published at 12:15 a.m.
---
The Latinx experience chronicled
Get the Latinx Files newsletter for stories that capture the multitudes within our communities.
You may occasionally receive promotional content from the Los Angeles Times.