What's that drone flying in over the horizon? It's a scout from Islamic State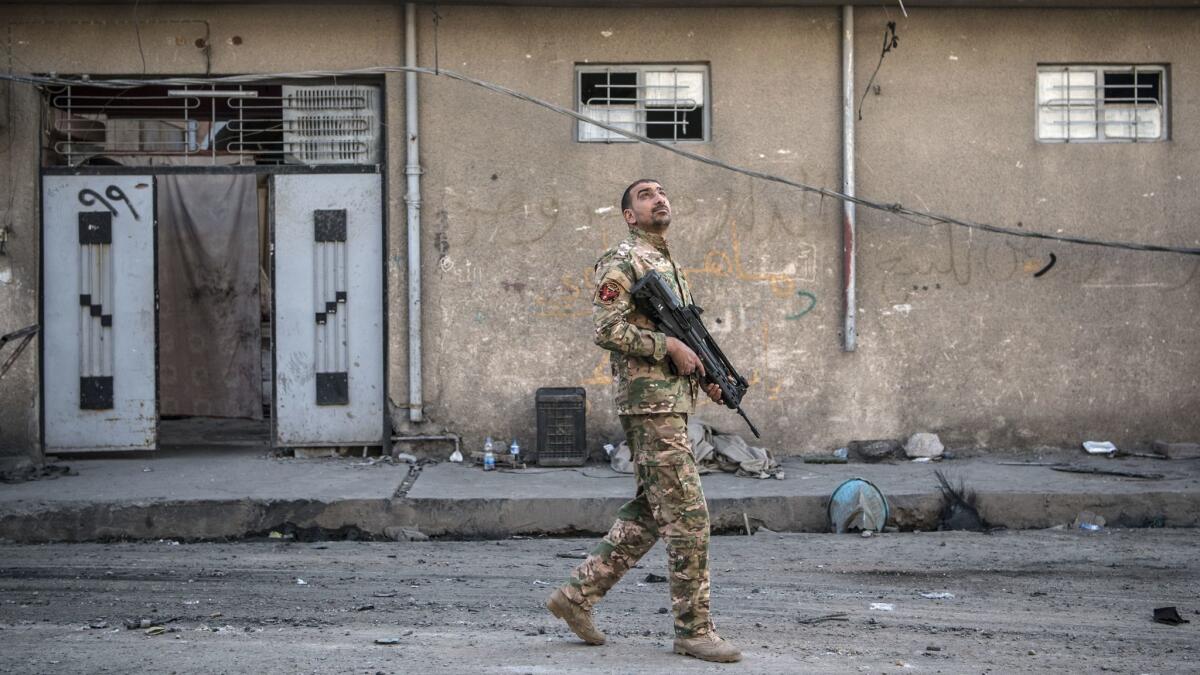 Reporting from Amman, Jordan —
The silence was shredded by the rat-tat-tat eruptions of a single gun. More soldiers fired, their volleys coalescing into the grim music of war — a sustained snare drum roll soon interrupted by the bass thumps of the 50-caliber machine gun. All the barrels pointed at a speck tracing a line in the sky over west Mosul.
Their target was yet another drone dispatched by Islamic State.
In the seven months of the Iraqi government's drive to recapture Mosul from the jihadists, small drones have become a signature tactic of the group: Their appearance on the horizon, loaded with a camera, signals that punishing mortar barrages will soon be on the way. Others guide car bombs to their target, or drop small explosives miles behind the front line.
Islamic State now has air power. It's not the equivalent of the 2,250-pound unmanned aerial vehicles that have become a lethal mainstay for the U.S. Air Force. Instead, the extremist group is deploying simple, commercially available drones — like the one that was hovering over the Ghazlani neighborhood of Mosul in March — on missions that are subtly changing the dynamics of the war in Iraq.
Camera-equipped drones can scout out targets for mortar strikes. Small, lightweight explosives can now be delivered by air. Some Islamic State units have used drones to shoot propaganda footage.
"It's the job of the troops in the back of the column to keep watch for drones," said Staff Maj. Ammar Ubaidi, a member of Iraq's elite Counter-Terrorism Service.
"They relay the specifications and ask headquarters if it's a friendly drone. If it's not, they warn the units in the front and start shooting."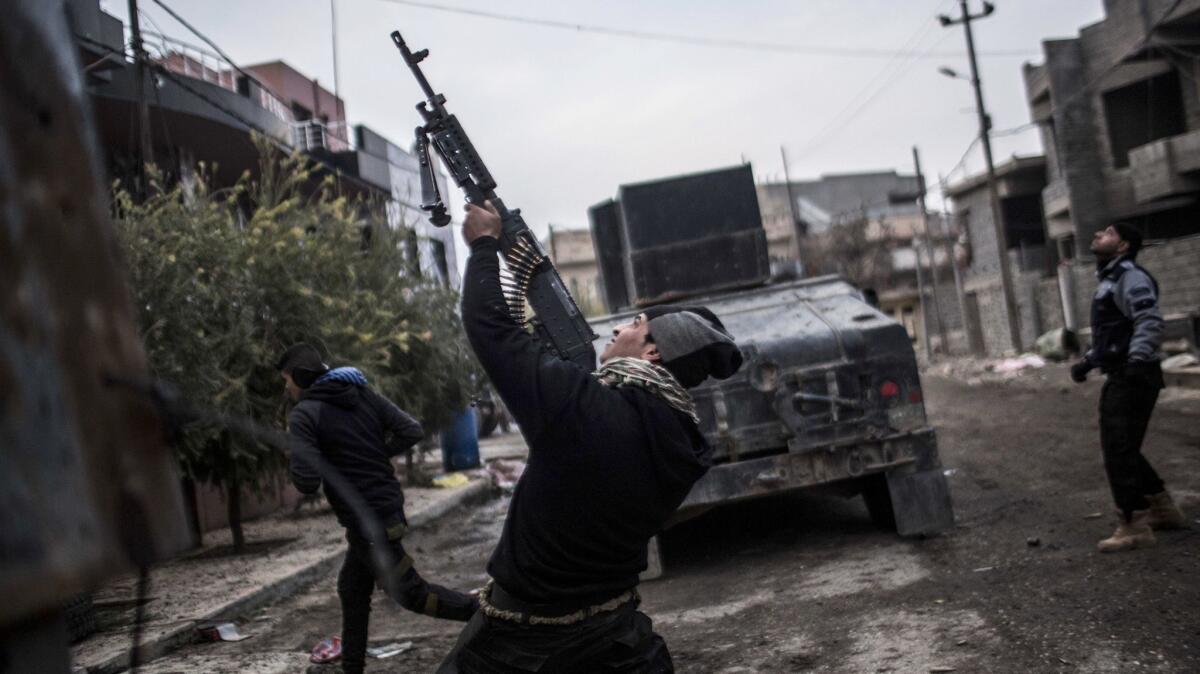 Islamic State, along with other militant factions like the former Al Qaeda-affiliated Nusra Front, began using drones in 2014 to take footage of operations in Iraq and Syria for propaganda.
But it was Islamic State that developed their use further: According to internal documents from the group recovered in Mosul and published by the Combating Terrorism Center at West Point, Islamic State established the Baraa bin Malek Brigade, a dedicated cadre of drone pilots that is subordinate to the group's Committee of Military Manufacturing and Development, its R&D section.
Islamic State began to arm its drones, incorporating explosives like 40-mm grenades or IEDs weighing up to 10½ ounces, said Damien Spleeters, head of regional operations in Iraq and Syria for the British arms monitoring group Conflict Armament Research.
The militants modified a circuit on the drone to create a release system for ordinance, using a 9-volt battery, a servo motor and a plastic tube.
"It's not too complicated, but it requires some construction," Spleeters said.
The threat spurred the U.S. Army to issue a new handbook last month exhorting commanders to "employ dedicated observers" and train soldiers in what it called "Counter-Unmanned Aircraft System Techniques."
The drones in use by militants in Iraq and Syria are no different from those used by photographers and hobbyists around the world.
"It's the same ability that any 13-year-old kid in the States has. He can get online and purchase, you know, some type of unmanned aerial vehicle and put it up," said Col. Brett Sylvia, commander of Task Force Strike in Iraq.
Concern over the increasing use of drones over the battlefield is spurring the development of anti-drone technology, even as some manufacturers face pressure to stop their products from being converted into weapons of war.
Although the Islamic State documents show the group has procured components to build drones, Spleeters said the group mostly relies on products from China-based DJI, the so-called Apple of the drone world, which dominates an estimated 70% of the drone market.
Reports that Islamic State had used DJI products pushed the company in February to create a geofence, a software restriction that creates a no-fly zone, over large swaths of Iraq and Syria, specifically over Mosul.
"We're obviously very disturbed whenever we see reports that someone is using our drones for ill in a conflict zone, but we also see reports where government forces are using drones to help keep their troops safe," said Adam Lisberg, U.S. spokesman for DJI.
The company, Lisberg said, works with "any lawful request from governments" to set up no-fly zones.
In the most restricted areas, the system won't allow the operator to fly at all unless they get permission from DJI for their particular drone.
Until February, there had been no air restrictions in place over Mosul, and Iraqi troops were often caught by surprise. Shouts of "tayarrah musayyarah!" — a drone! — would come after a grenade had already fallen on a nearby Humvee or building.
Islamic State isn't the only group deploying drones in the region.
Iraq's Popular Mobilization Units, paramilitary factions that operate with support from Iran, regularly deploy DJI's Phantom 4 drone to scan an area for Islamic State positions and car bombs.
In Syria, Western-supported rebels fighting against President Bashar Assad use drones, too.
Their use puts manufacturers in a potentially awkward position.
"It's not hard to figure out who the good guys are in Iraq. But in Syria? Like it or not, Assad is the leader there. If they send a request for restrictions, what then?" said one employee of a major drone manufacturer, who declined to be named because of the politics involved. "And then someone says, 'Why don't you ban drones over the West Bank and Gaza?' Or in other areas… we don't want to be in the business of who is 'right.'"
Besides, say industry leaders, a quick Google search yields a number of easy workarounds. One way to defeat a no-fly restriction involves a carefully placed piece of tin foil.
Another workaround is to simply use another brand of drone. Aside from DJI's products, Islamic State has used the Skywalker X8, a fixed-wing craft capable of carrying a 2-pound payload. It uses an open-source software for its operations, said Dhruv Arora, the founder of the Indian drone manufacturer Technosys.
"Any engineer with basic knowledge can get around any no-fly zone, since it's all open-source," Arora said.
Oleg Vornik, CEO of Sydney, Australia-based DroneShield Ltd., a company that specializes in counter-drone technology, said that restrictions such as geofencing are about as effective as a "child-lock on a gun" — in other words, often useless — and so are attempts to block sales to extremist groups.
"They can be considered to be toys, so it's very difficult to make them a regulated item and put export controls," Vornik said.
Moreover, he said, most of the devices and associated components are sold in domestic markets such as Turkey before showing up in nearby Islamic State-held areas in Iraq and Syria.
Drones' small size and the difficulty in shooting them down has led to a flurry in development of other counter-drone technologies, including guns that fire nets and even eagles trained to attack drones with their talons.
Vornik's company has developed the DroneGun, which jams the GPS signal and radio linkages between the drone and its operator. The device, which sends out a jamming cone over a mile in length, forces the drone to either land immediately or to return to its base so that it can be tracked.
"In terms of next steps, we believe organizations like ISIS will begin deploying swarms of drones. If you saw the Super Bowl halftime, you would have seen dozens of drones with little lights on them moving in a choreographed fashion," Vornik said. "That technology can be used to load grenades onto a large number of drones."
Whatever countermeasures are developed against such a scenario will have to be more sophisticated than a hail of bullets.
That much was evident as the Iraqi troops aimed their weapons at the drone hovering over Ghazlani.
They fired a punishing five-minute barrage at the tiny target, but couldn't bring it down.
Minutes later, the first Islamic State mortar shells began to fall.
twitter:@nabihbulos
ALSO
Europe's reaction to the Trump style goes from 'envy' to 'you tiny, tiny, tiny little man'
U.S.-led airstrike on Syrian city kills more than 100; criticism of air campaign mounts
28 killed in attack on bus carrying Coptic Christians in Egypt
Sign up for Essential California for the L.A. Times biggest news, features and recommendations in your inbox six days a week.
You may occasionally receive promotional content from the Los Angeles Times.