18-year-old man arrested in connection to London subway blast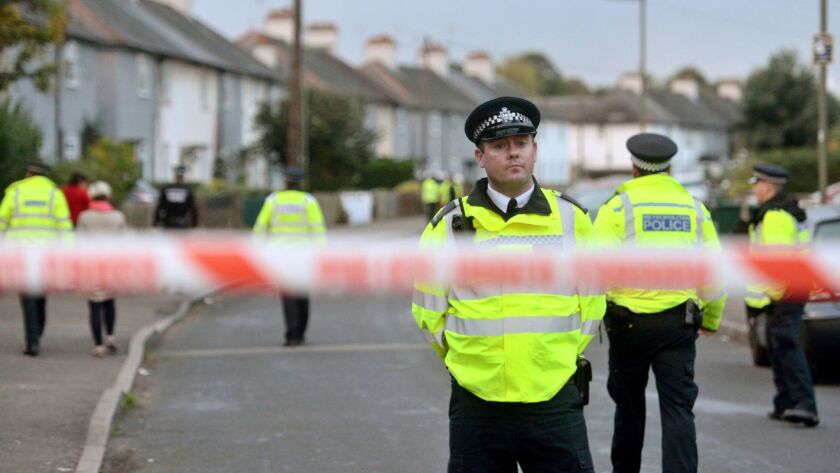 Reporting from Berlin —
Police in Britain said they had arrested an 18-year-old man Saturday in the port city of Dover suspected of involvement in Friday's terrorist attack on a London subway train when a bomb partially exploded, setting a crowded train car on fire and injuring 29 people.
The apparent breakthrough in the fast-moving investigation came after Prime Minister Theresa May put the country on high alert and poised for further attacks. Islamic State has claimed responsibility for Friday's attack — the fifth to strike Britain this year — with a crude homemade device wrapped in a plastic shopping bag that burst into flames. The explosion sparked panic at the Parsons Green rail station in western London during the morning rush hour. None of the injuries were believed to be life-threatening.
"We have made a significant arrest in our investigation this morning," Neil Basu, a top counter-terrorism official at London's Metropolitan Police, said in a statement, adding that the teenager was arrested on suspicion of being involved in an act of terrorism. "Although we are pleased with the progress made, this investigation continues and the threat level remains critical."
The bomb, which was placed in a bucket, went off around 8:20 a.m. Friday aboard the District Line train that was carrying commuters, including many schoolchildren from the suburbs. It shot flames through the train car but apparently failed to detonate fully, according to local media reports that also noted it was attached to a timer. Pictures on social media of the charred white plastic bucket showed wires protruding from the top. The device was similar to a bomb used in a suicide attack in Manchester in May that killed 22 people, authorities said.
Heavily armed police and soldiers were out in force patrolling the streets of London Saturday and there was tight security at the country's packed soccer stadiums, considered potential targets as the homes of the nation's most popular sport. But there were no signs of panic among Londoners as the nation once again appeared determined to live up to the famous wartime slogan: Keep calm and carry on.
Police arrested the suspect at 7:50 a.m. Saturday in Dover, a port city about 70 miles south of London where ferries sail across the English Channel to and from France. It was unclear whether he was trying to board a France-bound vessel when he was taken into custody.
Authorities have neither identified the suspect nor said if he has been charged. They did not provide any details about whether he was suspected of planting the bomb or having played a supporting role in the attack. They only said he was being taken to a police station in London for further questioning.
"At this stage we are keeping an open mind around whether more than one person is responsible for the attack and we are still pursuing numerous lines of inquiry and at a great pace," Basu added. Police have been sifting through closed-circuit TV images and studied the remains of the partially exploded device. Police have hinted there may be more than one person involved but not released any details.
The gathering speed of the investigation was abundantly clear just a few hours later when police raided a house in a small town of Sunbury, which is about 10 miles south of Parsons Green and just southwest of London, and evacuated nearby houses as a precaution. A no-fly zone was created to keep out small planes and drones as police stormed into the area.
"It is important that we all remain alert and vigilant," said London Mayor Sadiq Khan in a statement released on his Facebook page. "There will be an increased police presence across London today and over this weekend, including additional armed officers. They are there to keep us safe."
Summing up the stiff-upper-lip sentiment that has been a hallmark of Britain's reaction to aerial attacks from Nazi warplanes in the 1940s and previous terror attacks ranging from the Irish Republican Army to Islamic State, Khan added: "London will never be intimidated by terrorism. We will always defeat those who seek to harm us and destroy our way of life."
A total of 36 people have been killed in four previous terrorist attacks in Britain this year. The worst was May 22 in Manchester, when 22 were killed by a suicide bomber who set off his device outside the Manchester Arena at the end of a concert by American pop star Ariana Grande. The other attacks in London used knives and vehicles and took place near Parliament, on London Bridge, and near a mosque in Finsbury Park in north London.
"They were really lucky with this one," terrorism specialist Magnus Ranstorp of the Swedish Defense University told the Associated Press. "It could have really become much worse."
ALSO
A home in Tijuana is a refuge for deported U.S. veterans
Two criminal cases — one in China, one in Taiwan — show a deeper rift between the political systems
The children of South Sudan's war face hunger, rape and other violence on their long, often-solitary walks to safety
---
UPDATES:
2:45 p.m.: This article was updated throughout with staff reporting and additional details.
This article was originally published at 8:35 p.m.
---
Must-read stories from the L.A. Times
Get all the day's most vital news with our Today's Headlines newsletter, sent every weekday morning.
You may occasionally receive promotional content from the Los Angeles Times.