Spain's Socialists claim election victory as far-right Vox makes gains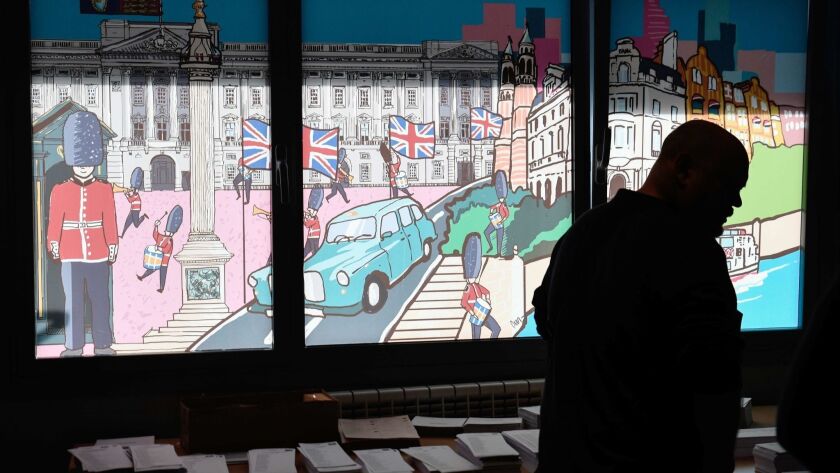 Reporting from Barcelona, Spain —
Spain's governing Socialist Workers Party claimed victory Sunday in the country's third general election in four years but failed to achieve a majority in parliament. The results are likely to pave the way for weeks, if not months, of negotiations with left-wing and nationalist parties to form a coalition government — staving off a right-wing surge.
The Socialists won 123 seats, short of the 176 needed to govern the 350-member parliament.
"We made it happen," said incumbent Prime Minister Pedro Sanchez at a rally in Madrid late Sunday night. "The Socialist party won. And with that, the future has won, and the past has lost."
Sunday's vote also saw the first far-right party, Vox, enter Spain's parliament since the country's transition to democracy 40 years ago, following the death of dictator Francisco Franco. The party earned 24 seats.
Citizens, a conservative party known for its hard-line stance against Catalan independence, gained 25 seats.
Voter turnout was 75.5%, nearly 9 percentage points higher than the 2016 general elections, according to the Interior Ministry, and the highest turnout since 2004.
The Socialists will likely negotiate a coalition with the anti-austerity, left-wing party Podemos and separatist Catalan and Basque parties — cementing the end to two-party politics in Spain. The Socialists could also negotiate a government with the conservative Citizens party.
If the Socialists don't form a government within several months, the country would have to vote again in a fresh set of general elections — a repetition of 2015, when inconclusive elections led to months of failed negotiations and repeat elections in 2016.
Spain's two-party system was broken up in 2015 with the success of Podemos and Citizens, two new parties in parliament. With the addition of Vox this year, the Spanish political system — which since 1977 had reliably been governed by the Popular Party or the Socialist Workers Party — faces its highest-ever levels of political fragmentation.
The election came less than a year after Spain's previous prime minister, Mariano Rajoy, was ousted in a vote of no confidence stemming from corruption in his Popular Party. Sanchez formed a minority government with the support of Catalan separatists, leading his critics to accuse him of being too friendly with the independentistas.
But Sanchez could not hold his fragile grip on power. In February, he called for snap general elections after failing to pass a national budget. The same Catalan separatists who had backed him last year did not support his budget, citing the impasse over Catalan independence.
Questions of identity and national unity shaped the election, with leaders on the right building their campaigns on messages of Spanish pride and a sharp repudiation of Catalan separatism.
The Catalan independence conflict came to a head in October 2017 when separatists held an unconstitutional independence referendum, which drew 40% of eligible voters but saw a 90% vote to secede. Three weeks later, Carles Puigdemont, the region's president at the time, declared independence — leading to Spain's deepest constitutional crisis since its return to democracy.
As a result, the Spanish government, then led by the Popular Party, fired the Catalan parliament, wrested control of the region, began arresting the movement's leaders and called for fresh regional elections in December.
While separatists criticized the government for cracking down, some on the right argued the Popular Party was too soft on the independentistas.
In response, some Popular Party voters turned to Vox, which seeks to suppress regional autonomy in Catalonia.
The xenophobic party echoes Franco's nationalist rhetoric and follows the populist playbook seen in recent years across Europe, stoking fear of immigrants and demonizing feminists.
In the posh, leafy Barcelona neighborhood of Sarria, Rosa Zorrilla, 58, headed to a coffee shop to relax after voting. She cast her ballot for the Socialists, she said, because she believed they could help find a solution for a divided Catalonia, half of whose population supports independence while the other half does not.
"I'm not a nationalist, but something must be done so that this evolves. I think the country is paralyzed," Zorrilla said. "The Socialists have the most possibilities of dialogue with the nationalists."
Sarria, nestled in the western hills of Barcelona, epitomized the division within Catalonia over independence. One voting center drew a mix of conservative, upper-class unionist voters and independentistas — including Laura Borràs, congressional candidate for former Catalan president Puigdemont's party, Together for Catalonia. Spanish flags and Esteladas, the Catalan separatist flag, hung on the balconies of adjacent buildings. While waiting in line to vote, some residents spoke in Spanish, others in Catalan.
Magdalena Lucan Peralta, 57, waited in a long line at her polling station and prepared to cast her vote for Vox. She had always voted for the Popular Party, she said, but chose not to this year because it had begun "negotiating with the separatists."
"The most important thing for us … is removing Sanchez and all of those who negotiate with the independentistas, with the ETA supporters, with Podemos supporters," Lucan Peralta said, referring to the disbanded Basque terrorist group ETA and the leftist Spanish political party. "For me, this is the worst."
In the neighborhood of L'Eixample, Adria Cruz, 32, said he voted for the separatist party Republican Left because it was the Catalan party most capable of defending progressive policies and the autonomy of Catalonia.
The rise of Vox "is worrisome," said Cruz as he held his 2-year-old son Toni. "But when one pole grows, another one grows."
"I understand that because of Catalan nationalism, more Spanish nationalism is generated."
The election featured a handful of unusual candidates. Three Catalan separatists — former regional vice president Oriol Junqueras, activist Jordi Sanchez and former Catalan sustainability minister Josep Rull — campaigned from jail while on trial for rebellion for organizing the independence referendum.
The Popular Party, meanwhile, enlisted two bullfighters to run for parliament.
Some voters were tired of so many elections.
"It's just one more," said Javier Miranda, 31, after he cast his ballot for the Republican Left at a school in L'Eixample early in the day. "We've voted so much that now it's just ..."
He sighed, then shrugged.
Bernhard is a Times special correspondent.
---
Must-read stories from the L.A. Times
Get the day's top news with our Today's Headlines newsletter, sent every weekday morning.
You may occasionally receive promotional content from the Los Angeles Times.