Taiwan is set to become the first Asian government to recognize same-sex marriage. Now voters could halt that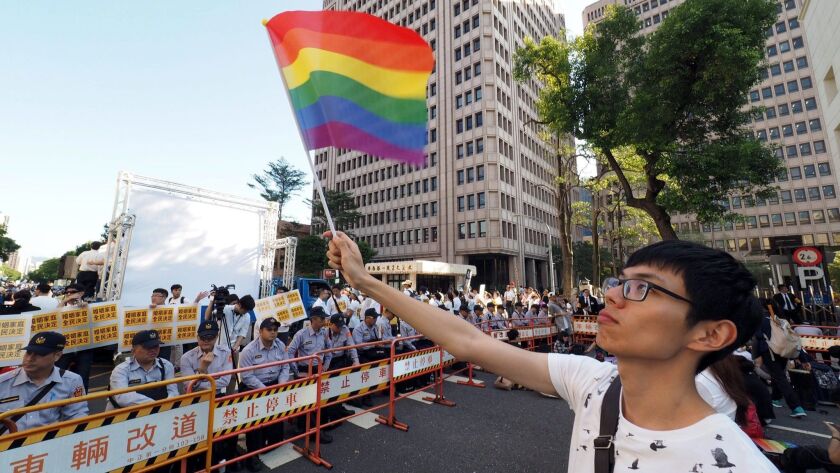 Reporting from TAIPEI, Taiwan —
More than a year after a landmark legal ruling cleared the way for Taiwan to become the first place in Asia to recognize same-sex marriage, Taiwanese voters could reverse that distinction if they approve a ballot initiative declaring that marriage should be limited only to people of opposite sexes.
The initiative, one of three LGBTQ-related measures on the Nov. 24 ballot, could slow, or even halt, implementation of a court ruling that ordered the island to change its civil code by removing a provision that effectively banned same-sex marriage. The Constitutional Court ordered the change be made by May 2019.
A second ballot measure asks whether a process other than the civil code should protect same-sex "long-term communal living," while a third seeks to eliminate any classroom lessons on the island about same-sex marriage.
Analysts in Tiawan said the measures are too close to call.
LGBTQ rights activists had hailed last year's court ruling as a milestone for Asia, where no other government recognizes same-sex marriage, despite efforts in Cambodia, Thailand and Vietnam. Religion and conservative values throughout the continent have slowed the advance of same-sex marriage proposals in other countries.
Now, if voters approve the measure to restrict marriage to opposite-sex couples, lawmakers and government officials would be forced to reconsider how, or whether, to change the civil code as ordered by the court.
"As a gay parent and individual, I will have less confidence in the government and legislature to enact marriage-equality protections" if the one-man, one-woman measure passes, said Jay Lin, who works with Asia's largest online movie service. "It's been such a long fight and no guarantee what May 2019 might ultimately bring for Taiwan."
The Taiwan political action group Coalition for the Happiness of our Next Generation, which questions same-sex marriage, is pushing the two primary measures. "What the law must protect is public order and good customs, and same-sex marriage is actually not love for Taiwan," coalition member Yu Hsin-yi said on his Facebook page.
Opponents of same-sex marriage had kept largely quiet before the Constitutional Court ruling last May, but mobilized quickly afterward. Some opponents said that same-sex marriage runs counter to their Christian beliefs, while others said it violated traditional Chinese family values. The island's political leaders have largely side-stepped the issue.
"This is a bipolar issue in our society — both sides have very strong support and sponsorship," said Joanna Lei, chief executive of the Taiwan-based Chunghua 21st Century think tank.
The ruling party majority in parliament has yet to discuss how it would handle last year's court ruling if the ballot measure opposing same-sex marriage passes. Experts expect legislators to leave the civil code as is if the measure passes, but explore other means to help same-sex couples.
"The legal implications would be that a separate law is made to address same-sex marriage — not in the name of marriage, perhaps same-sex union or something like that — instead of just modifying the civil law," said Shiau Hong-chi, professor of gender studies and communications management at Shih-Hsin University in Taiwan.
Initiatives that gather about 280,000 signatures qualify for elections in Taiwan. An initiative passes if a majority of 25% of eligible voters cast ballots in favor.
Jennings is a special correspondent.
---
Must-read stories from the L.A. Times
Get all the day's most vital news with our Today's Headlines newsletter, sent every weekday morning.
You may occasionally receive promotional content from the Los Angeles Times.