Mystery aid shipment arrives in Venezuela's capital, opposition leader says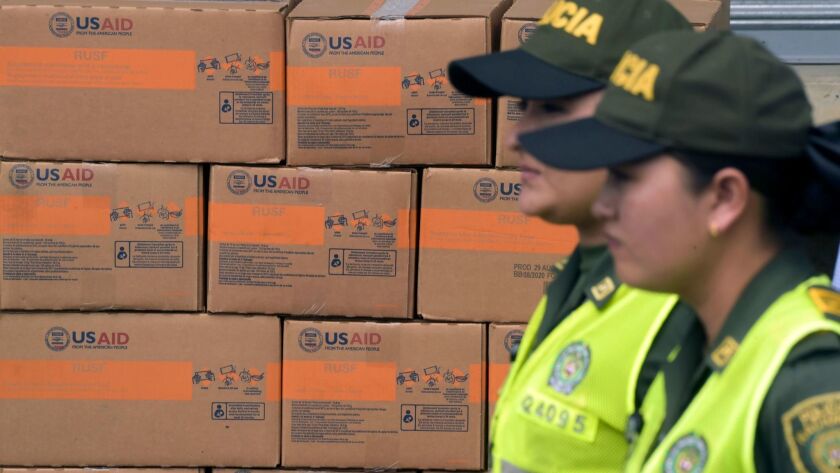 Reporting from Caracas, Venezuela —
Venezuela's self-proclaimed interim president, Juan Guaido, announced Monday afternoon that a shipment of nutritional supplements for infants and pregnant women had arrived in the capital, Caracas, but did not disclose where it came from nor how it entered the country.
In a Twitter message accompanied by a photo of him with what appeared to be stockpiled food supplements in a warehouse, Guaido announced the arrival of 85,000 envelopes of "powdered micronutrients" meant for children from birth to 3 years old. The shipment included dietary supplements for up to 4,500 expectant mothers, he said.
The aid, he said, will be distributed by a civil society group called the Assn. of Health Centers. There was no other information on where the health centers are located and how Venezuelans would go about applying to receive the aid.
The aid apparently arrived in Caracas despite President Nicolas Maduro's insistence that his government will not accept any international aid, dismissing offers of tens of millions of dollars in assistance from the United States and other countries as a "show" and prelude to an invasion led by the United States. President Trump has not ruled out the possibility of military intervention in Venezuela, although his national security advisor, John Bolton, said recently that there were no imminent plans for an invasion.
Even in barrios once devoted to Hugo Chavez, murmurs of opposition grow in Venezuela »
Whether the Maduro government will permit the distribution of the supplements remains to be seen. There was no immediate reaction from the Miraflores presidential palace. Guaido, the 35-year-old president of the National Assembly, declared himself president last month, saying Maduro's re-election last May was illegitimate. Under the constitution, the president of the assembly takes over in the absence of a legitimate president.
Last week, the U.S. government through its USAID health and development arm shipped $20 million worth of food and medicine to the Colombian city of Cucuta on Venezuela's western border. But Maduro's armed forces blocked the main bridge at the border crossing and said the supplies would not be allowed to cross into Venezuela.
There was no immediate reaction from the Trump administration. Bolton has called on Maduro to step aside and allow for a transitional government led by Guaido, followed by new elections.
In a short press statement, Guaido offered no explanation for how he was able to defy the Maduro government's ban on the entry and acceptance of international aid. He said the nutritional supplements are designed to help "200,000 to 300,000 Venezuelans who run the risk of death" by malnutrition.
"This is the first stage. We know it is not sufficient, which is why we insist that the humanitarian aid must enter Venezuela," Guaido said in a press statement.
Speaking at a university later Monday, Guaido said he was opening a "humanitarian corridor" but offered no other details.
Special correspondent Mogollon reported from Caracas. Special correspondent Chris Kraul in Bogota and Times staff writer Tracy Wilkinson in Washington contributed to this report.
---
Must-read stories from the L.A. Times
Get the day's top news with our Today's Headlines newsletter, sent every weekday morning.
You may occasionally receive promotional content from the Los Angeles Times.