Family asks multinational human rights panel for help in taser death at border in San Diego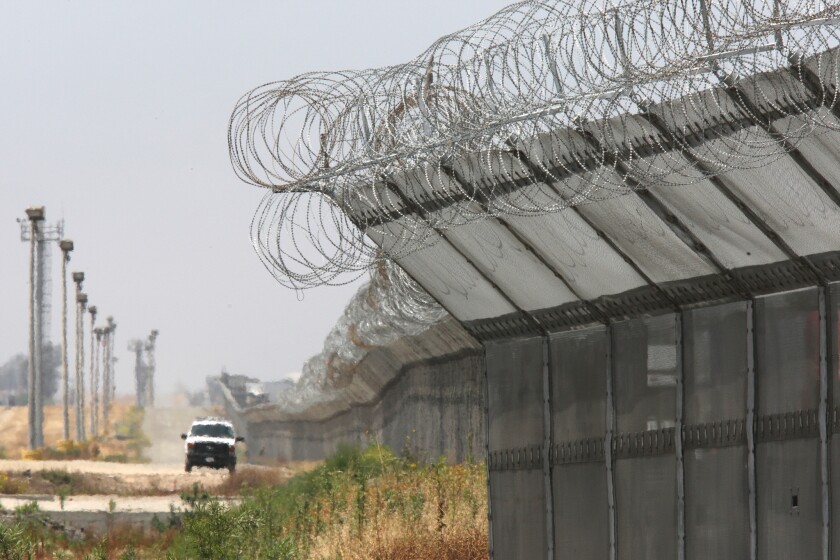 Reporting from Washington —
The family of a Mexican man who died after he was shocked with a Taser and hit by U.S. Customs and Border Protection agents has asked an international panel to consider whether his human rights were violated.
The family of Anastasio Hernandez-Rojas, who died of a heart attack days after a confrontation at the San Ysidro border station in San Diego in May 2010, has asked the Washington-based Inter-American Commission on Human Rights to investigate the human rights record of U.S. border agents and customs officers.
The 61-page petition marks the first time the commission has been asked to consider a death at the hands of U.S. Customs and Border Protection agents and officers. It also marks another attempt by the family to hold agents accountable in a high-profile case that advocates say reflects a culture of impunity for border agents.
NEWSLETTER: Get the day's top headlines from Times Editor Davan Maharaj >>
In November, the U.S. Justice Department decided not to bring charges in the Hernandez-Rojas case after a five-year investigation found insufficient evidence that border agents had willfully caused his death.
The commission, which is part of the Organization of American States, has investigated patterns of extrajudicial killings, including the 1982 Plan de Sanchez paramilitary murders in Guatemala and the 1991 Barrios Altos massacre by the Peruvian Armed Forces.
The panel's seven members represent seven countries in the Western Hemisphere. The current president is James Cavallero, a professor at Stanford Law School and an American
expert on human rights law.
The petition filed Wednesday seeks to "expose a pattern of impunity and abuse at the border," said Roxanna Altholz, the associate director of the International Human Rights Law Clinic at UC Berkeley School of Law, who helped prepare the complaint.
"This is also an opportunity for the U.S. to reform its criminal justice system and ensure these kinds of violations aren't repeated," Altholz said in a telephone interview.
The commission may take several months to decide whether to accept the case. If it determines that human rights violations occurred, it will release a report with a list of recommendations for the U.S. government.
A spokesman for U.S. Customs and Border Protection did not respond to requests for comment on the family's petition.
"It is regrettable there was a loss of life, and I know the family wants to have someone to blame," Shawn Moran, a vice president of the Border Patrol union, said in a telephone interview from San Diego.
"Their relative had drugs in his system and he was being sent back to Mexico, and he chose to fight [Customs and Border Protection] officers and Border Patrol agents and continued to fight long after it was advisable," Moran said. "I don't think any other investigation is going to prove otherwise."
Hernandez-Rojas was caught crossing the border illegally and was being taken back to Mexico when he began kicking and punching U.S. border agents, according to their testimony. The agents said Hernandez-Rojas continued to struggle even after he was handcuffed and hit with batons while on the ground.
One agent then shocked him at least twice with a Taser, and agents zip-tied his legs. Subsequent medical reports found he had methamphetamine in his system; he suffered five broken ribs and a heart attack and died three days later.
Cellphone videos from witnesses showed him screaming for help while in restraints on the ground.
See more of our top stories on Facebook >>
The death became one of the border agency's most controversial use-of-force cases involving a Taser, which fires a painful electric charge intended to subdue a suspect.
A civil suit alleging that the agents used excessive force has been in federal courts for five years. After a district judge ruled against the agents' claims of immunity, lawyers filed an appeal with the U.S. 9th Circuit Court of Appeals. It is still pending.
"Taking this case to an international forum is a step we were forced to take because we had exhausted every other venue in the U.S. to get justice for this family," said Christian Ramirez, human rights director for the social justice organization Alliance San Diego, in a telephone interview.
"We are looking for justice," Hernandez-Rojas' younger brother Bernardo, 44, said after he arrived in Washington to file the petition. "We want to make sure others won't have to suffer as we have."
Twitter: @ByBrianBennett

Twitter: @JTanfani
ALSO
The politicians voting to impeach Brazil's president are accused of more corruption than she is
7 killed in Quebec plane crash, including former Canadian government official
Brazil seizes abortion drugs sent to women living in fear of Zika
---
Must-read stories from the L.A. Times
Get all the day's most vital news with our Today's Headlines newsletter, sent every weekday morning.
You may occasionally receive promotional content from the Los Angeles Times.