Guatemalan President Perez Molina resigns, faces fraud charges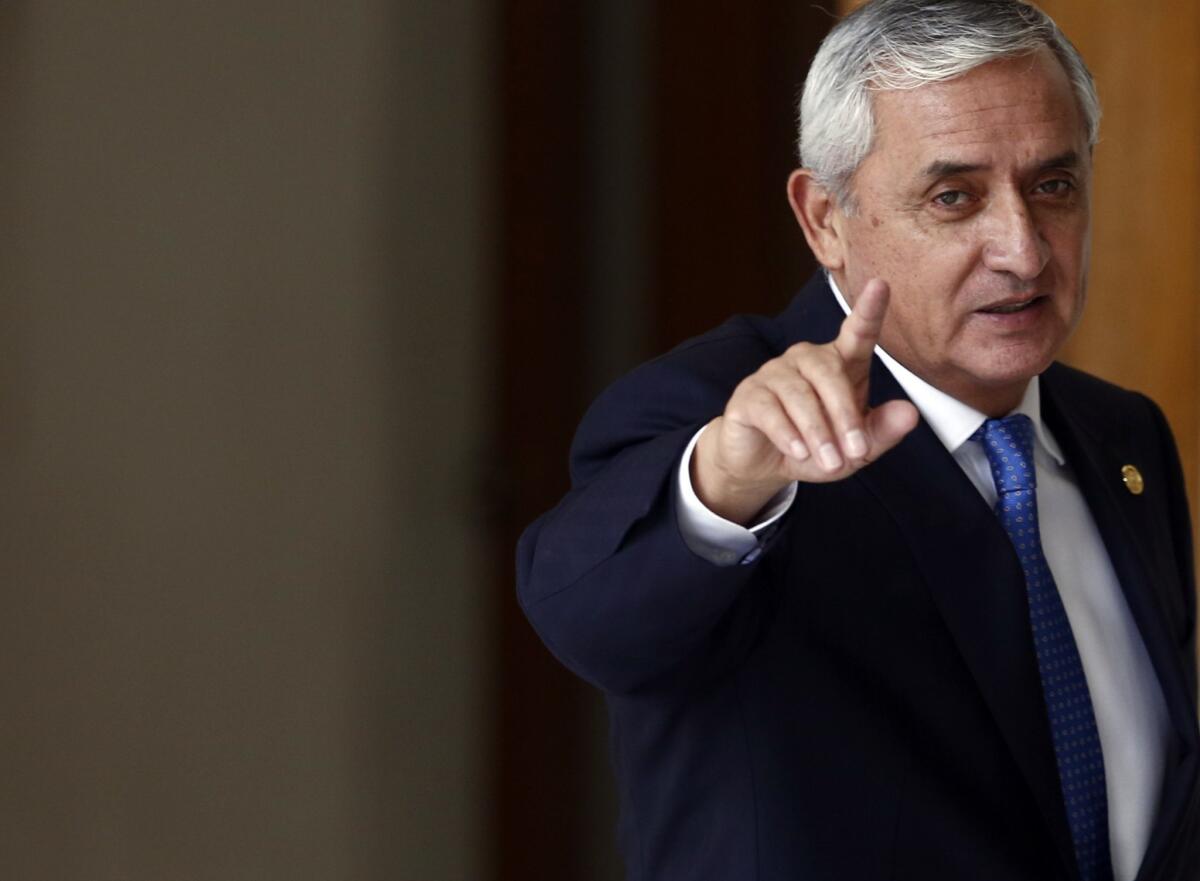 Reporting from Mexico City —
Guatemalan President Otto Perez Molina has resigned after a warrant was issued for his arrest in connection with a customs fraud scandal.
His resignation, which was later formally accepted by the nation's Congress, followed widespread protests among fellow citizens both rich and poor over the extensive corruption plaguing his government.
The country's public prosecutor announced on Twitter late Wednesday that the warrant had been issued after Congress voted Tuesday to strip the president of his immunity from prosecution.
Perez Molina, a 64-year-old former general who was active during the country's decades-long civil war, which ended in 1996, appeared before a judge on Wednesday in connection with the case.
The president had said earlier this week said he wouldn't resign. However, in a letter presented to Congress about an hour after the arrest warrant was issued, he announced that he was stepping down "in the interest of the country," according to his spokesman.
Guatemalans go to the polls Sunday to elect a new president. The nation's presidents are blocked by law from seeking reelection, and Perez Molina's term would have ended in January.
With his resignation, Vice President Alejandro Maldonado was expected to become interim president.
Atty. Gen. Thelma Aldana said via Twitter on Thursday: "The Guatemalan people have shown maturity and are demanding that everyone should face the same justice process," she said in Spanish.
On Wednesday she told local media that Perez Molina faced "charges of fraud, illicit association and corruption" related to a group accused of giving discounts on import tariffs to companies in exchange for kickbacks.
Perez Molina has always maintained his innocence of any involvement in corruption. Former Vice President Roxana Baldetti, who resigned in May, is in jail facing charges for her alleged role. She also denies the charges.
Dozens of other politicians have resigned following a United Nations investigation into the alleged scheme, and more than 30 people have been arrested.
Bonello is a special correspondent.
MORE NEWS COVERAGE
At military parade, Chinese president says nation will cut 300,000 troops
Why foes of the Iran nuclear deal came up short against Obama
Drowned Syrian toddler embodies heartbreak of migrant crisis
Sign up for Essential California for the L.A. Times biggest news, features and recommendations in your inbox six days a week.
You may occasionally receive promotional content from the Los Angeles Times.