Must Reads: Is Mexico City the PDA capital of the world?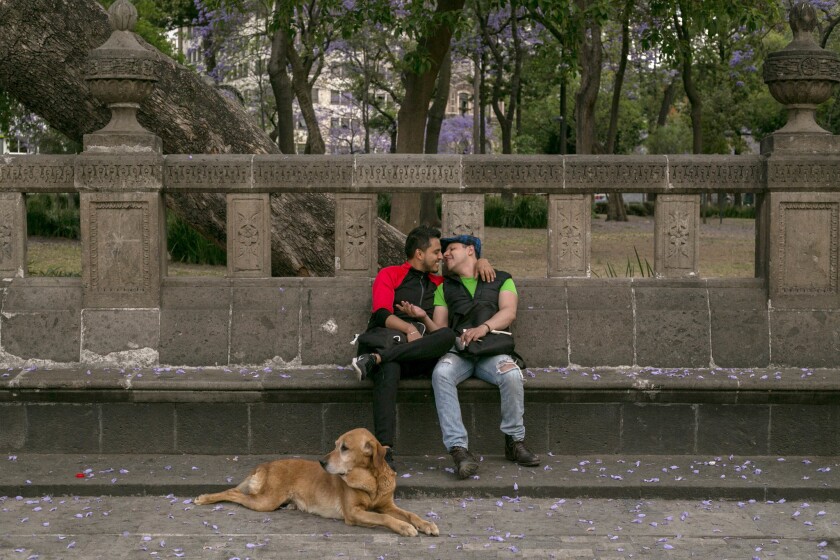 Reporting from Mexico City —
It's springtime in Mexico City, and love is in the air.
Couples canoodle seemingly everywhere — at taquerias and sidewalk cafes, near bus stops and on packed subway trains. Lovers recline — and entwine — on apartment stoops and park benches, in the city's historic plazas and along its verdant boulevards.
If there is a world capital of public displays of affection, it could be Mexico City in the spring, as the days start to lengthen and the jacarandas bloom.
Why is it that so many intimate moments play out in the open across the avenues and esplanades of this leafy mountain capital?
In a teeming metropolis of 21 million people, where rents are high and family is central, it's common for children to live well into adulthood with their parents and other relatives. So for a romantic moment away from nosy and sometimes culturally conservative kin, many couples leave the house — and find a little privacy in public.
For Jorge, 35, and Eduardo, 26, men who recently started dating, downtown Mexico City offers an escape from prying, more traditionalist family members.
"It's a little more comfortable here," said Jorge, who provided only his first name because of the personal nature of the topic. "It's more accepting."
On a recent warm afternoon, they sat, lips locked, near a fountain in the Alameda Central, one of the city's oldest and most beautiful parks. On practically every bench around them, other couples did the same.
Earlier in the day, clouds had threatened rain, but late-afternoon sunshine now bathed the city in golden light. Neon violet petals from blossoming jacarandas blanketed the cobblestone, and the soft sounds of bachata music played from a nearby cafe. It felt like the most romantic place on Earth.
In Mexico City's magic garden, there is only one rule: No talking »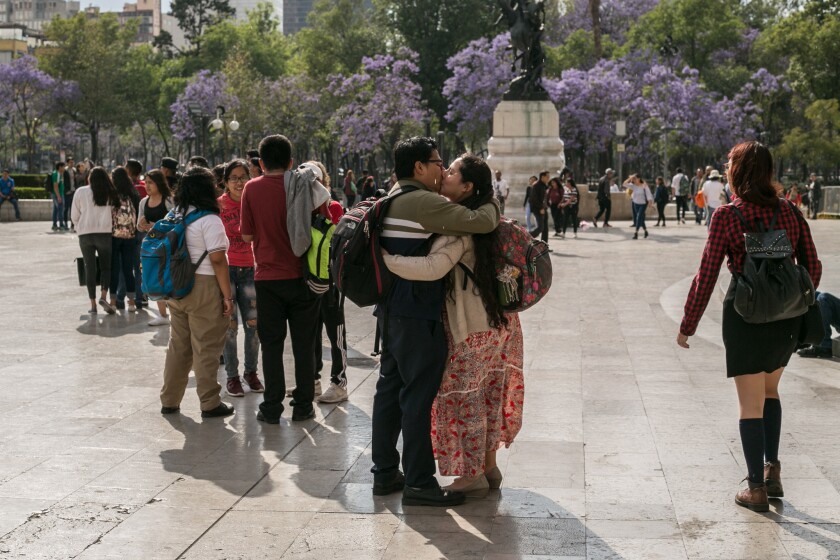 In front of the magnificent white marble Bellas Artes building on the edge of the park, another couple stood in a tight embrace.
Both English teachers, they met in college and were friends for years before he formally asked her to be his girlfriend not long ago.
They live on opposite ends of the city — 30-year-old Eduardo in ritzy Polanco and 28-year-old Lili in the working-class suburb of Ciudad Nezahualcoyotl. It takes them nearly two hours on public transportation to cross town, so every Friday after work they meet here, in the middle.
Eduardo brings her a different type of flower each week. Daisies. Sunflowers. And on this day, which happened to be Lili's birthday, a red rose, wrapped in clear plastic.
His family supports his relationship with Lili. Still, that doesn't mean they want to see it flaunted in their faces.
"It's a little uncomfortable to be intimate in front of our parents," Eduardo said. "We have to be respectful."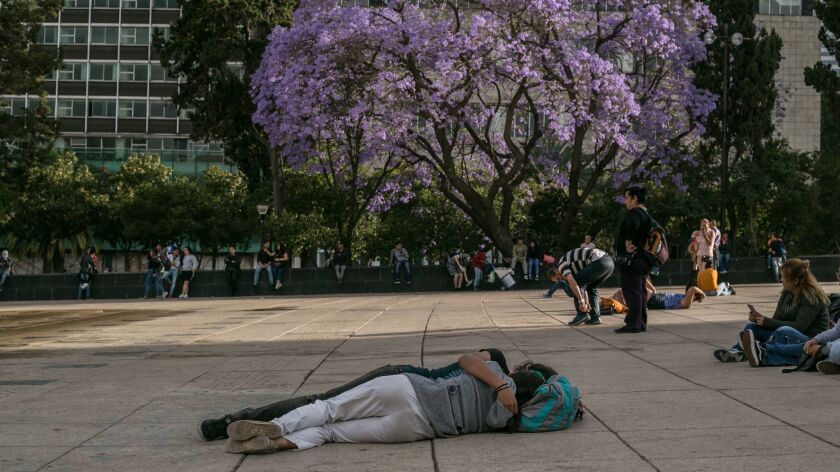 Unabashed PDA is generally accepted here, with most bystanders doing their best to politely look the other way.
Perhaps because of that, some couples are emboldened to push the limits beyond mere kissing — sometimes far beyond.
This writer once accidentally stumbled upon a couple engaged in the most intimate of activities while on an early morning jog in Bosque Chapultepec, a sprawling forest in the middle of the city. The pair looked up with annoyed glances and then quickly resumed, barely missing a beat.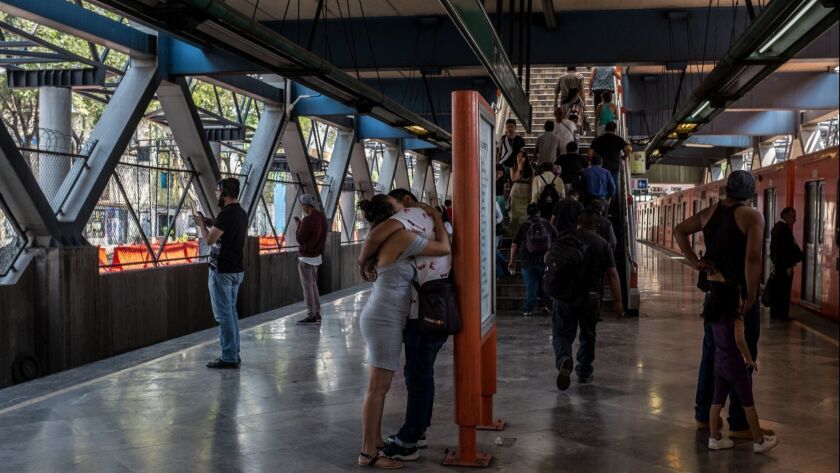 When told of the incident, a friend shared an even more shocking story: Once, in the grand old neighborhood of San Rafael, he had noticed a couple engaged in the mating act on the steps of a Catholic church.
Such ubiquitous affection and over-affection can be funny, and sometimes sweet. Unless you've just suffered heartbreak, in which case the constant sight of couples madly in love might make you sick.
The love fest here is remarkably equal opportunity, featuring couples of every age and style. On weekends, graying couples gather in plazas to sway together to the Caribbean rhythms of danzon. At skate parks, teenagers with face piercings hold one another close.
In the Alameda Central on the recent sunny afternoon, two rail-thin young men dressed in skinny jeans embraced, before one picked the other up off the ground and into his arms. "You don't weigh anything," he said, laughing.
Nearby, a crowd of spectators circled around several performing clowns and a few people shuffled past, noses to their cellphones, playing Pokemon Go. But the couples in love had eyes only for one another.
Once fenced in and exclusively for the nobility, the park was opened to the public after Mexicans won independence in 1821. On any given day, there might be 100 couples here in a state of bliss.
On a stone bench, two teenagers interlocked. She had pink hair and fishnet tights. He wore a green flannel shirt.
They answered politely when a reporter interrupted with a few questions.
"Our parents think we're in class," they explained.
Then they tuned the world out — and turned back to each other.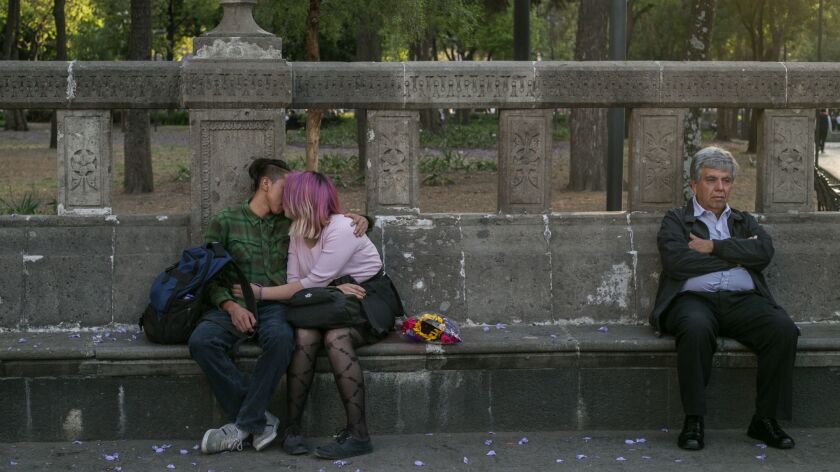 ---
The Latinx experience chronicled
Get the Latinx Files newsletter for stories that capture the multitudes within our communities.
You may occasionally receive promotional content from the Los Angeles Times.