Protests ignited by gasoline price hikes continue to roil Mexico
Reporting from MEXICO CITY —
In Tijuana and Nogales, massive demonstrations over rising gasoline prices forced authorities to temporarily close crossing stations on the U.S.-Mexico border, while in Rosarito protesters cheered as a man intentionally drove his pickup into a group of federal police officers.
More than a week after the government of President Enrique Peña Nieto deregulated gasoline prices, which instantly rose as much as 20%, Mexico is engulfed in a nationwide rebellion.
Four people have been killed and more than 1,500 arrested while looting, staging road blockades and marching in protests such as the weekend demonstrations in Rosarito and along the border.
The price hike, which many believe will lead to higher prices for food and household goods, is opposed by 99% of Mexicans, according to a recent poll, and has drawn the condemnation of business groups, truckers unions, leaders of the political opposition and even the Catholic Church.
Thousands of people marched at a large demonstration in Mexico City on Monday — the second major protest in the capital in four days.
"Out, Peña!" chanted crowd members, who included university students and grandmothers, as they took over Reforma, the city's biggest boulevard.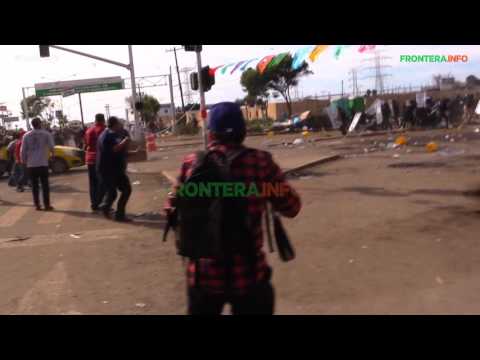 In a televised address Thursday, Peña Nieto asked for understanding, saying his government would have been forced to cut funding for social services if it hadn't raised prices, because of rising fuel costs internationally and the devaluation of the Mexican peso.
"I ask you," Peña Nieto said, "what would you have done?"
His question was quickly transformed into a social media meme, with thousands of Mexicans offering alternative solutions, including combating corruption at Pemex, Mexico's state-run oil company, and cutting the gasoline vouchers distributed to elected officials.
Margarita Zavala, the wife of former President Felipe Calderon and a likely 2018 presidential candidate, said in a video posted on her Facebook page that the anger on display in Mexico in recent weeks has less to do with gasoline and more with a perception of corruption and mismanagement among Peña Nieto's ruling Institutional Revolutionary Party, or PRI.
The president's approval rating has fallen to about 25%, and several high-profile current and former members of his party, including ex-governors, face corruption charges.
"The government thinks the indignation is just a result of gasoline increases, but they're mistaken," said Zavala, who belongs to the right-leaning National Action Party, or PAN. "The indignation is also due to the abuse, the lies, the injustice and the corruption."
"There's discontentment across the country," said Julieta Cañez, 35, a Mexico City therapist who took the day off work to march with her husband and toddler. "My grocery bill is rising. I'm afraid to leave my house because of the violence. We march so that they hear us because it feels like they don't."
The deregulation of gasoline prices is part of a larger effort to attract outside investment in Mexico's oil industry.
For decades, Pemex was the only company authorized to sell gasoline in Mexico, and the government set fuel prices, often kicking in healthy subsidies.
The government decided to eliminate those subsidies and deregulate prices on New Year's Day ahead of a change that will allow international companies to sell gasoline in Mexico later this year.
The change, which also conveniently saves the government money at a time of rising inflation and the devaluation of the peso, led to dramatic increases at the gasoline pump. A gallon of standard-grade unleaded fuel cost roughly $2.60 on Dec. 31. The next day, it jumped more than 14% to about $2.95. The price of premium fuel rose by about 20%.
Immediately, protesters took to the streets, blockading highways across the country, taking over gasoline stations and looting major stores. At least four people were killed in skirmishes with police, according to Mexican authorities. Video of protests near the border in Nogales over the weekend show police firing bullets in the air to disperse protesters.
Human rights groups have urged police to exercise restraint when dealing with protests. Meanwhile, the police have been targeted as well.
On Saturday, Mexican news stations aired video of a pickup truck intentionally crashing into police officers in Rosarito, where federal authorities had donned riot gear to evict protesters who took over a Pemex distribution center for several days.
At least nine officers were injured, with two in grave condition, and the driver is still at large. In a series of tweets, Peña Nieto vowed justice in the attack.
A think tank called Mexico Evalua published an open letter signed by a number of community groups calling on the government to take concrete steps to address the crisis and Mexico's faltering economy. "The inaction of the federal government," it said, "is overwhelming."
Cecilia Sanchez in The Times' Mexico City bureau contributed to this report.
Sign up for Essential California for news, features and recommendations from the L.A. Times and beyond in your inbox six days a week.
You may occasionally receive promotional content from the Los Angeles Times.