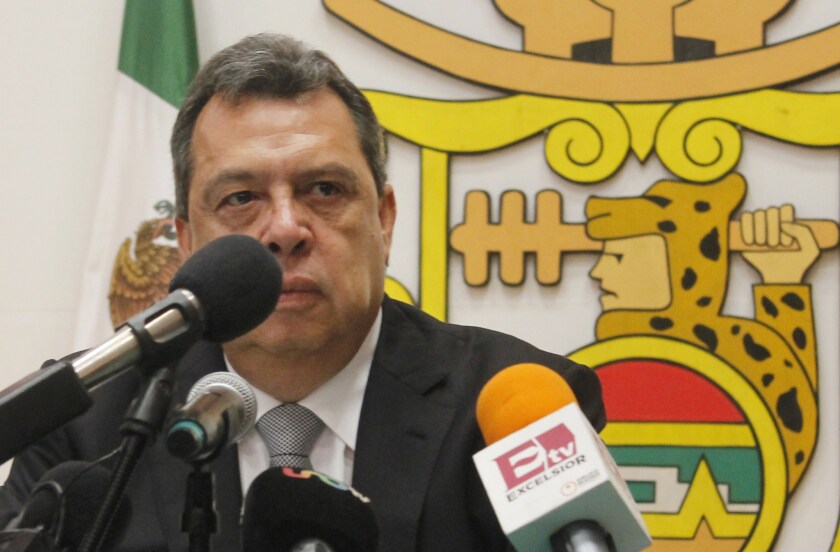 Reporting from Mexico City —
The disappearance of 43 students at the hands of police working with drug gangs claimed the scandal's first major political casualty Thursday with the resignation of Angel Aguirre, governor of the state of Guerrero, where the attacks took place.
Nearly a month after the students were last seen in the city of Iguala after a deadly clash with police, Aguirre, under growing pressure, went before television cameras to seek a leave of absence "to favor the political climate" so that the investigation can proceed unhindered.
------------
FOR THE RECORD:
Mexico attack: An article about the mayor of Iguala, Mexico, and his wife in the Oct. 23 Section A said the newspaper El Universal was the source of a quotation by Maria de los Angeles Pineda, the mayor's wife. The source was actually the website La Silla Rota. —
------------
Aguirre -- along with several other senior leaders -- had been weathering a firestorm over his handling of the disappearances, subsequent revelations of how deep the collusion went among police, politicians and drug gangs, and the discovery of mass graves around Iguala containing at least 30 bodies, none thought to be the students.
Federal authorities now believe that Iguala Mayor Jose Luis Abarca ordered local police to intercept and attack the students to prevent them from disrupting a speech and party that Abarca's wife was holding. Maria de los Angeles Pineda heads a government social welfare agency whose achievements she was celebrating. But she also has family and working ties with drug gangs, authorities say.
Mexican Atty. Gen. Jesus Murillo Karam said drug gangs had "weaved a network of complicity" with several city halls and police departments in Guerrero -- a damning condemnation of Aguirre's tenure.
Aguirre is from the leftist Democratic Revolution Party, or PRD, in opposition to the ruling Institutional Revolutionary Party of President Enrique Pena Nieto and the federal government.
The students were from a politicized rural teachers college for the poor that had a combative relationship with the mayor and other local officials.
The outgoing governor defended his handling of the recent violence, noting he had requested federal assistance early, launched searches for the students and the culprits and shared key intelligence with federal officials.
"I said publicly that if my removal from this position would help resolve this matter, I would not oppose," Aguirre said in brief prepared comments. He did not take reporters' questions.
"To favor a political climate that can put attention and solution to these priorities … I've decided to solicit a leave of absence," he said. "I am convinced this is a responsible decision."
Aguirre took what could be interpreted as a slight slap at Pena Nieto, calling for a "national reflection" that would forge a cohesive, nationwide security strategy. The president has avoided emphasis on security since he came to office two years ago, preferring to focus on opening up the economy and improving Mexico's image abroad.
Seeking a leave of absence is a formality under the Mexican system and only occasionally ends with the politician returning to office. Abarca, the mayor, also took a leave after the students disappeared and is on the lam with his wife and police chief.
Aguirre was forced to step aside after late-night arm-twisting from national leaders of the PRD.
For more news out of Mexico, Latin America, follow @TracyKWilkinson.

---