'I am full of anguish right now.' Thousands in Mexico remain without homes weeks after quake
Reporting from Mexico City —
Displaced residents gathered outside the vacant apartment complex, awaiting a chance to enter their homes and salvage documents, valuables, photographs and other mementos from cordoned-off flats.
All had been homeless since last month's earthquake forced them to evacuate after one building in the complex crumbled and killed nine people. The collapse raised fears about the safety of sister structures.
The arrival of fumigators in white coveralls and surgical masks and toting pest-control equipment only added to the growing sense of gloom and despondency.
"We're not sure what's going to happen," said Sergio Rojas, 58, a retired bank employee living with in-laws since he was forced to flee with his wife and two children. "No one tells us anything. We don't know when we can go back to our homes. It could be months."
Scenes like this at the housing development in the capital's Tlalpan neighborhood have been recurring with numbing regularity here since the Sept. 19 earthquake, which killed more than 360 people — but also left uncounted thousands homeless.
A significant number of evacuees returned to their homes after officials declared the damage minor — broken windows, superficial cracks and the like.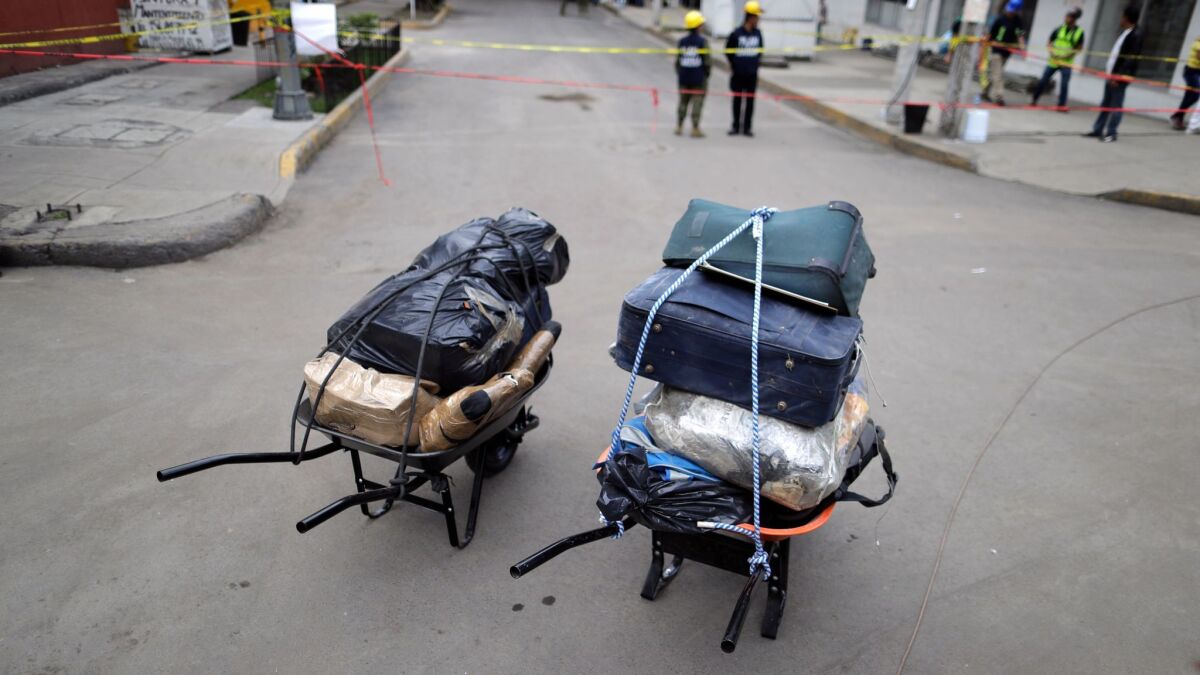 But multitudes have not been so fortunate. Many have to find new places to live. Others, like Rojas and his family, are awaiting word from inspectors on whether their buildings are safe enough to inhabit anew.
About 40 buildings in Mexico City collapsed during the quake. But officials say that as many as 1,000 were so badly damaged that the structures have been or will be "red-tagged" — deemed uninhabitable.
The Mexican government has unveiled an ambitious program to cover interim rent payments and provide low-interest housing loans and grants. But many evacuees are skeptical, even as they fill out forms seeking aid and listen to pitches from city officials who stop by from time to time, inevitably urging patience.
"In truth, I am full of anguish right now," said Antonio Trejo, 63, who lives with his wife in the same Tlalpan apartment complex as Rojas, surviving on his pension of about $470 a month. "The apartment is mine — I paid for it for over 30 years. We earn enough from my pension to eat, but not to pay rent. The government says it is going to provide economic aid, but they don't say when — and the amount they give is never enough."
The displaced are, in a sense, the hidden victims of the disaster, many living on fixed incomes and lacking insurance. Their fate has faded from public view as the initial shock of the earthquake has receded and the public spectacle of dramatic rescue efforts amid debris piles has ended.
The teams of enthusiastic volunteers offering food, first aid, psychological counseling and other services have mostly gone home.
Police and civil protection squads at the scenes of collapsed and damaged buildings oversee more prosaic tasks, like preventing looting and facilitating access for inspectors, maintenance crews and residents seeking to recoup items left behind.
The displaced crash with relatives, friends or in public shelters.
"We have been living for two weeks with my sister, but her home is small," said Maria Teresa Hernandez, 50, who lived with her husband and two children at the Tlalpan housing compound.
These days, Hernandez and her spouse sleep in the living room of her sister's home. Her children share a bedroom with their cousins.
"We can't be there too long," Hernandez explained, unease evident in her voice as she stood outside the Tlalpan complex on a recent morning, waiting to retrieve belongings. "We will begin to be a bother."
In the frantic hours and days following the earthquake, the complex along the Tlalpan highway in southern Mexico City became a familiar site in news reports. In dramatic televised scenes, teams of rescuers pulled nine bodies from the debris of the collapsed six-story structure, Building 1C. The crews also plucked 18 people from the rubble alive.
Little public attention was focused on the fate of anyone in the complex beyond those in doomed Building 1C. A YouTube video taken from a drone hovering over the site shows the gray rubble of Building 1C, surrounded by intact buildings with red roofs.
Thousands remain homeless in Mexico following the recent earthquake.
The 10-building, 500-apartment Tlalpan development is home to more than 1,500 people, and its residents are a snapshot of the capital's working- and lower-middle classes, including teachers and merchants, businessmen, pensioners, public-sector employees and office workers.
Many commuted to jobs via subway and other public transportation. Few had much of an economic safety net.
Earlier this year, residents celebrated the complex's 60th anniversary. The development opened in 1957 as housing for employees of the nation's Social Security administration. Eventually, the flats were made available for renters to buy at a favorable price. For many, the apartments represent their major life assets, now imperiled, beyond the sentimental attachment to a place that has long been home.
"I am sure that we will be able to return," said Clementina Hurtado de Mendoza, 85, a widow who one recent morning sat in a wheelchair outside the Tlalpan complex, where she has lived for almost half a century. "All the memories of my life are inside my apartment. I have one son, and inside there are all the photos of him as a boy, his school diplomas, my wedding photos. All is in there. I can't lose it."
Providing a hand to the ailing Hurtado was her longtime caretaker, Manuela Rodriguez. The elderly woman has been staying with Rodriguez's family. Rodriguez's children, Vanessa, 11, and Angel, 13, embraced Hurtado and stroked her thinning gray hair as all waited for a chance to go into the complex to recover valuables.
"We love her so much," said Rodriguez. "My children care for her like their grandmother."
Emerging onto the street with a big smile was Patricia Velazquez, 15, who had entered the family flat with her father, German Velazquez, 52. The teenager had retrieved a pair of stuffed animals — including a beloved bear. She was inside with her mother on the afternoon of Sept. 19, when the quake struck.
"I saw from the window how the building [next door] moved and shook, and then it sounded like an explosion," Velazquez recalled. "There was a lot of glass and a lot of screams. My mother and I couldn't get out because of the dust, the glass, the cables, the collapsed building next door. We threw ourselves down on the floor to protect ourselves."
The experience has left her with nightmares, but she hopes to sleep better now. After the family retrieved their belongings, Velazquez's father asked his daughter why she seemed so happy.
"I was very scared that day, papa," the daughter replied in a firm tone. "You were not there. I was inside with mama and we couldn't get out. So I am very happy to have my bear back."
Twitter: @PmcdonnellLAT
Cecilia Sanchez of The Times' Mexico City bureau and special correspondent Liliana Nieto del Rio contributed to this report.
---
Must-read stories from the L.A. Times
Get the day's top news with our Today's Headlines newsletter, sent every weekday morning.
You may occasionally receive promotional content from the Los Angeles Times.