Protests over missing Mexican students damage Acapulco tourism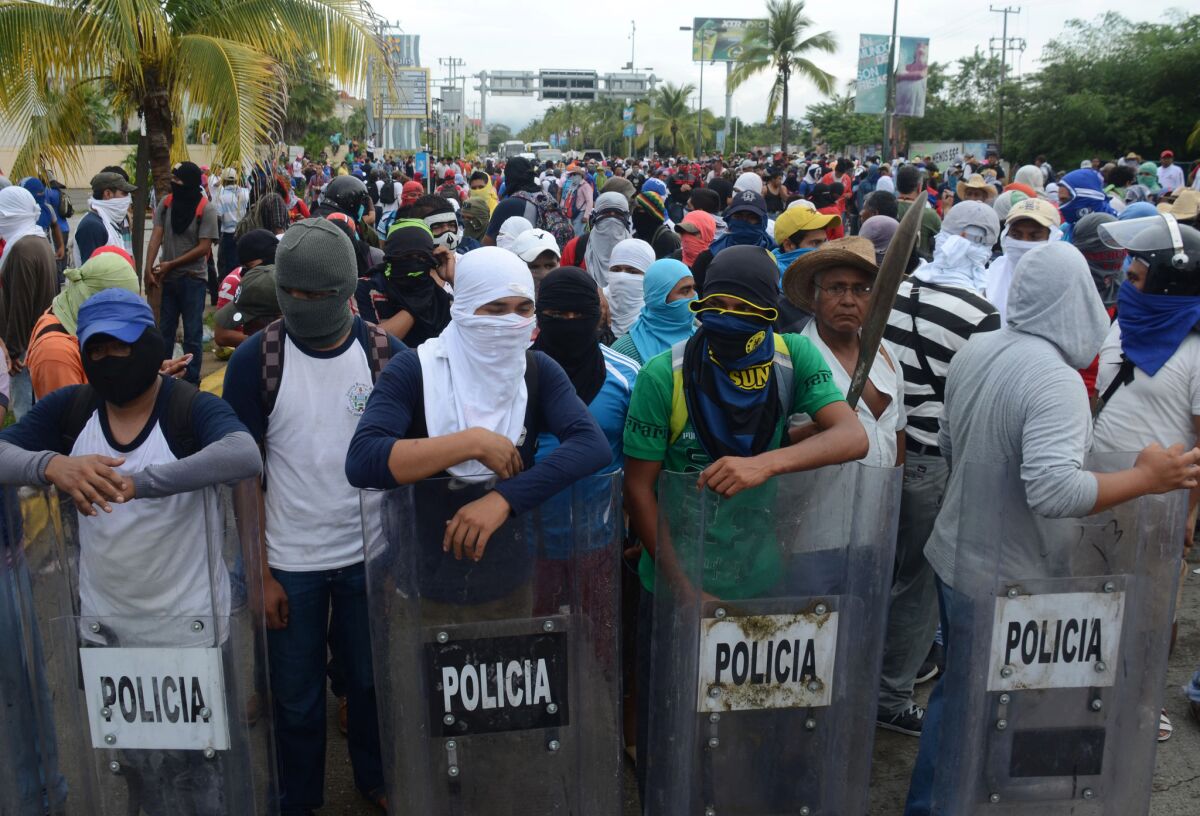 Reporting from Mexico City —
This is one of those times of the year in Mexico when newscasts feature bikini'd women and attractive men on the beaches of Acapulco. It is one of those three-day weekends because of the Revolution Day holiday, when tens of thousands of Mexico City residents hit the highway and head off to the famous port.
But this year, it's all different.
Fury over the disappearance and likely killing of 43 college students from a town in Guerrero has triggered protest demonstrations all over the state and the rest of Mexico. Acapulco, though a world away in some ways, is in the same state where the students were kidnapped by local police and, according to federal officials, massacred.
Acapulco has tried to maintain its distance, but when protesters surrounded the city's airport this week, forcing the cancellation of some tourists' flights, reality set in. By midweek, the day after the demonstrations, tourism industry officials reported 14,000 cancellations of hotel reservations for this holiday weekend. Demonstrators also routinely are blocking the highway that leads from Mexico City to Acapulco.
The disappearance of the students has handed the government of Mexico an enormous poltical and security crisis. But it is also starting to hurt the already beleaguered economy.
Acapulco is the gemstone of Mexico's tourism industry -- despite a somewhat faded facade -- and the decline in visitors is alarming for many.
Industry officials say the city will lose more than $4 million this weekend alone.
Erik de Santiago, president of an Acapulco booster organization, said hotel occupancy probably would hover around 50% this weekend compared with the usual 90% to 100%, with numbers slowly recovering as the demonstrations moved away and headed to other parts of Mexico.
"We are sympathetic to the students' families," he said in a telephone interview, but hurting the local economy solves nothing.
"Acapulco is not Iguala," Joaquin Badillo, president of the principal business association in Acapulco, said, alluding to the Guerrero city where the students were last seen alive. "It worries us that there are groups who want to destabilize the state. Acapulco … has its complexities, but we know how to move ahead."
Javier Saldivar, president of the Hotel and Motel Assn. of Acapulco, told a television station that the crisis confronting Acapulco was the worst in years, topping that of recent hurricanes and drug-war violence, when Guerrero and Acapulco were ranked among the most violent parts of Mexico. He also said the business community was seeking a truce with the students and their supporters.
The students rejected a truce but, at the same time, boarded a caravan headed to northern Mexico to press their cause there.
For more news out of Mexico, Latin America, follow @TracyKWilkinson
---
Must-read stories from the L.A. Times
Get the day's top news with our Today's Headlines newsletter, sent every weekday morning.
You may occasionally receive promotional content from the Los Angeles Times.