Venezuela congress rejects what it denounces as government takeover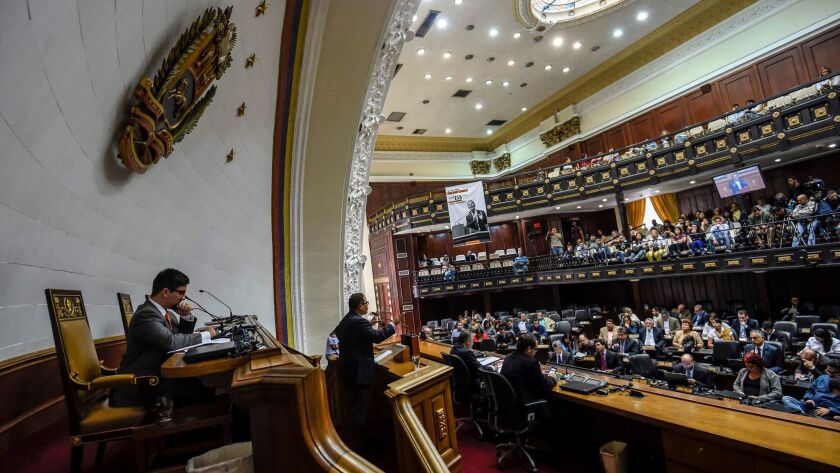 Reporting from Caracas, Venezuela —
Venezuela's opposition-controlled congress on Saturday rejected a government bid to usurp many of its powers, vowing to continue its legislative agenda and denouncing the move against it as a power grab by President Nicolas Maduro.
"This is a parliament in resistance against an armed military dictatorship," declared congressional Vice President Freddy Guevara.
But there were no new street protests on Saturday. Months of antigovernment demonstrations have stalled in recent days amid a sense of weariness and rifts within opposition ranks.
The latest political crisis essentially pits one legislative body against another. Venezuela's congress, known as the National Assembly, is controlled by Maduro opponents. A newly created body, the constituent assembly, supports Maduro and issued a decree declaring its ability to pass laws — a power that opponents say lies only with congress.
The opposition and many foreign governments, including the United States, have refused to recognize the legitimacy of the 545-member constituent assembly, which was elected late last month in balloting boycotted by opponents.
All constituent assembly delegates are loyal to Maduro, who has said the assembly is essential to restoring peace and order to the reeling South American nation.
The United States rejected the new assembly's usurping of congressional powers as "illegitimate," and a group of a dozen hemispheric nations — including Mexico, Brazil, Canada and Argentina — also declared "strong condemnation" of the "take over" of congress.
Maduro's government denies that congress has been dissolved. Only certain of the legislature's functions have been assumed because of the lawmakers' failure to act against "opposition violence," the government says.
Congress has been one of the last strongholds of the Venezuelan opposition, even though the government has largely stymied the body's legislative efforts.
In March, Maduro's administration moved boldly to restrict congress' power. But widespread criticism forced the government to back down and helped spark a series of antigovernment street demonstrations.
Venezuela, once one of Latin America's wealthiest nations, has been paralyzed by months of protests against shortages of food and medicines, violent crime and a collapsing economy. Street clashes have left more than 130 dead and thousands injured.
Maduro, who has denied he is leading the country toward a dictatorship, has threatened to punish opposition leaders with jail terms.
But Maduro's embattled government received an unexpected boost this month when President Trump raised the possibility of U.S. military intervention. Trump's citing of a possible "military option" in Venezuela echoed Maduro's frequent assertions that Washington is behind the unrest and seeks to invade oil-rich Venezuela — allegations denied by U.S. officials.
Various Latin American governments and the Venezuelan opposition disavowed the possibility of a U.S. military strike in Venezuela. The prospect recalled decades of deeply resented U.S. military interventions in Latin America.
But Maduro — protege of the late President Hugo Chavez, an anti-U.S. firebrand — has seized on Trump's comments as a rallying cry, even as U.S. officials have tried to tamp down the prospect of any military involvement.
On Saturday, Venezuela's Foreign Ministry declared its repudiation of "the new threat of the United States empire," adding: "Venezuela alerts the world of the new excuses of the government of the United States of America to continue advancing its expansionist plan of military aggression and intervention against our homeland."
---Special correspondent Mogollon reported from Caracas and Staff Writer McDonnell from Mexico City.
twitter: @mcdneville
ALSO
The legend of the blond, blue-eyed slave: Retracing a crashed WWII pilot's journey through China
The murder of a beloved anti-poaching crusader steels the resolve of fellow conservationists
What does it take to secure a border? Lessons from the wall dividing San Diego and Tijuana
---
Must-read stories from the L.A. Times
Get the day's top news with our Today's Headlines newsletter, sent every weekday morning.
You may occasionally receive promotional content from the Los Angeles Times.