He was a Palestinian aid worker. Israel says he was also a terrorist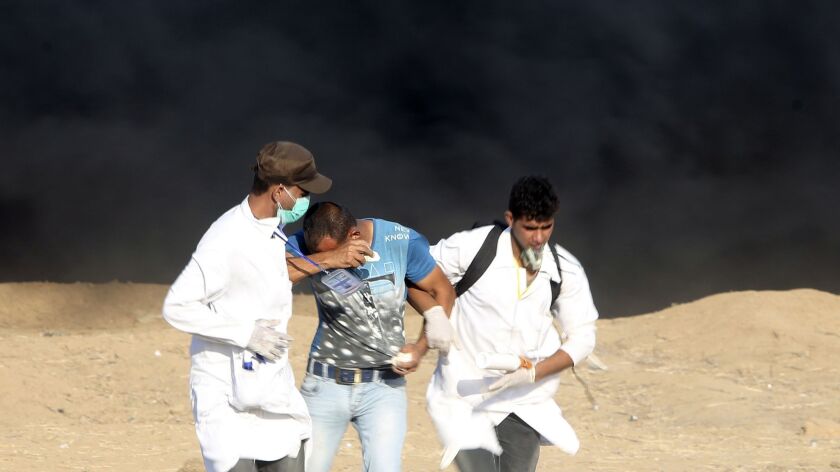 This much is known: Hani Mohammed Almajdalawi, 28, was killed in an apparent shootout with Israeli troops last week.
The Gazan, a nurse, was mourned as a martyr of the medical crews who place their lives in danger and plunge into the weekly Palestinian protests along the Israeli border.
Beyond these dry facts, his story gets murky. Israel claims he is an example of a terrorist operating under the cover of a European humanitarian organization.
Hamas, the Islamist militia that rules Gaza, alleges that Israeli sharpshooters intentionally target medics treating wounded protesters and insists the protests are spontaneous demonstrations against Israel, which with Egypt has kept the Gaza Strip under a blockade for more than a decade.
On Thursday, Maj. Gen. Kamil Abu Rokon, the Israeli coordinator of government activities in the territories, the defense ministry body responsible for civilian matters in Palestinian areas, posted an Arabic-language accusation on Facebook, alleging that Almajdalawi was an employee of Doctors Without Borders (known by its French acronym, MSF) and an armed terrorist.
The post was titled "Terrorism Without Borders."
Almajdalawi, the Israeli army said, tried to cross the border into Israel while "armed with a rifle, opened fire toward military forces, and even threw an explosive device at them," and, to make matters worse, was "in fact a nurse who worked for the international organization 'Doctors Without Borders' until his last day."
Abu Rokon's post said Almajdalawi's brothers' Facebook page revealed that he bought the weapon with his own money, "evidence of an act planned in advance."
It was a significant assertion for Israel, which has long held that the marches along its border with Gaza are anything but peaceful or innocent.
In a statement released Friday, MSF confirmed that Almajdalawi was one of its employees, adding that it is "working to verify and understand the circumstances regarding this extremely serious incident."
Israel's contention was confirmed by Mohammed Almajdalawi, a cousin of the dead man, who said that Hani was married for only four months and had worked "for years" as a nurse for MSF.
Unlike many Gazans who lack employment, his cousin said, Almajdalawi earned a "very good salary."
"He was not affiliated to any movement and he did it for the sake of Allah," the cousin said when asked why he took such action. Four days before, he said, his cousin had invited his family to a popular resort "to enjoy their time, as if it were a farewell."
But Osama Almajdalawi, the nurse's 30-year-old brother, told a different story. Speaking with The Times on Saturday, he described Hani as "a beloved young man" so committed to his work the family barely saw him.
The family, Osama Almajdalawi said, was "surprised by his martyrdom … Monday morning he told us he was heading to the sea to buy fish and never came back. We all were surprised at 3 p.m. when we saw his picture all over social media, with stories saying he'd carried out an operation."
Osama Almajdalawi has his doubts. His brother "didn't even know how to use a weapon," he said. He believes the Israeli military is keeping "things hidden" and expressed hope that the Red Cross would uncover "the real circumstances of the incident."
His brother, Osama Almajdalawi said, "didn't express political opinions, and his only interest was his work, the happiness of his parents and the love of his wife."
The Israelis have a different question: "We are wondering: How could a man certified to save lives use his salary to acquire a gun with which to take lives?" Abu Rokon's statement ended. "He who takes part in saving lives should assist in humanitarian activities in the Gaza Strip, and should not take part in terrorism."
Tarnopolsky is a special correspondent.
---
Must-read stories from the L.A. Times
Get the day's top news with our Today's Headlines newsletter, sent every weekday morning.
You may occasionally receive promotional content from the Los Angeles Times.