Ethiopian Israelis protest after officer in shooting of unarmed man is released and faces lesser charge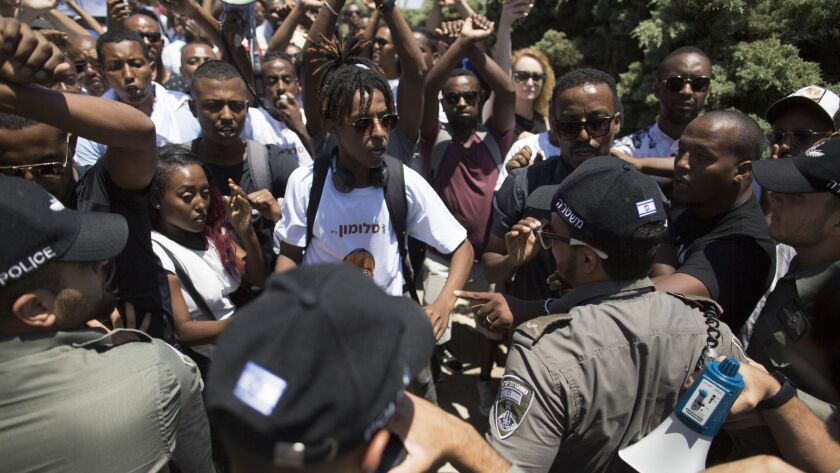 Reporting from Jerusalem —
An off-duty police officer who shot and killed an unarmed 18-year-old Ethiopian Israeli in northern Israel on June 30 was released from house arrest on Monday after prosecutors reduced the charges he faces from manslaughter to involuntary manslaughter.
The news arrived as Solomon Teka's parents, Wbjig and Worka Teka, and other members of the 140,000-strong community of Ethiopian immigrants to Israel attended an emergency meeting of a parliamentary committee convened to address Israel's failings in their integration.
Immediately, they abandoned the session and joined about 100 protesters who gathered in the Rose Garden outside the Knesset, Israel's parliament, in Jerusalem.
The Haifa Magistrate Court's decision to release the officer, who has not been named, on $1,413 bail, and the reduction in charges provoked anger in a community that has been buffeted by a spate of police shootings it says is a direct result of racism and "over-policing."
In a statement, the Teka family said it "seeks for the truth to be uncovered and justice served, and unfortunately police and the State Prosecutor's Office, in their public statements, show a tendency to attribute reduced responsibility to a police officer who killed our beloved in his prime."
Several legislators spoke out.
Fighting tears while addressing the Knesset, Penina Tamanu-Shata, a centrist lawmaker who emigrated from Ethiopia to Israel as a 3-year-old, said "the entire community" feels heartbroken and depressed.
On an evening television news program, Gadi Yevarkan, a fellow member of Tamanu-Shata's Blue and White party, the largest centrist block in parliament, and also Ethiopian-born, accused the police investigators of concealing crucial information related to Teka's death, who was shot while hanging out with friends in a public park in the leafy, residential neighborhood of Kiryat Haim, in Haifa.
Yevarkan said the police had taken a camera from a nearby residence that documented the entire incident. "If this thing is in the hands of the police, why don't they reveal the images?" he asked. "What do you have to hide?"
A spokesperson for the investigations unit did not respond to a request for details.
Teka's death provoked days of outrage and protests in Israel, with the nation's main highways blocked by angry demonstrators that resulted in a few violent incidents.
About a dozen people were arrested in the protest outside the Knesset building Monday after police said the demonstration was not authorized and blocked a main road.
The charge of involuntary manslaughter is a new category on Israeli law books, falling between manslaughter, that can bring a 20-year jail term and the less severe charge of negligent homicide. The charge of involuntary manslaughter is applicable when a suspect is accused of taking an unreasonable risk without the intention to kill, in cases such as playing with a loaded firearm or reckless driving.
It carries a maximum sentence of about 12 years in jail, though it may be as low as one to two years.
The Police Internal Investigations Department concluded its probe of the case and transferred its conclusions to the state prosecution, but has not released the information.
The police officer in question has not been suspended from the force.
Sammy Baruch, who was one of Teka's counselors in non-academic after-school activities, called for an independent investigation during a local radio interview Monday evening.
"How can the police investigate the police?" he asked. "They always say the same thing, and no cop is ever put on trial. … The police investigations unit is using forensic material from the same station they are investigating. Does that make any sense?"
Friends of Solomon Teka say the off-duty cop, who was at the park with family, intervened in a minor disagreement among the youths and brandished his weapon unprovoked.
Rank and file police officers have accused the top brass of insufficiently supporting the accused officer, who said he shot at the ground when he felt endangered and rocks were thrown at him.
Teka's autopsy, which has been described in the Israeli press but has not been made public, appears to sustain the possibility that Teka was hit in the chest by a bullet that ricocheted, killing him.
A lawyer for the Teka family said the officer's release was "the direct result of unfortunate conduct" by public officials.
"From the onset, the officer was treated with leniency, when he was placed under house arrest in a hotel, even though he shot and killed Solomon. This forgiving attitude stands out when compared to law enforcement's usual policy of requesting custody in similar cases."
Ethiopian Jews trace their lineage to the biblical tribe of Dan. The bulk of the community arrived in Israel in a series of secret Israeli airlifts in the 1980s, when they faced war and famine in Africa.
Tarnopolsky is a Times special correspondent.
---
Must-read stories from the L.A. Times
Get all the day's most vital news with our Today's Headlines newsletter, sent every weekday morning.
You may occasionally receive promotional content from the Los Angeles Times.