An airstrike on a Syrian prison killed captives of the Islamic State: 'I think 100% those people were innocent'
A prison housing civilians arrested by Islamic State militants in Mansoura, Syria, was destroyed by warplanes on May 27, according to witnesses.
Reporting from Mansoura, Syria —
The stench grew unbearable as Abdul Aziz Ali walked closer to the heap of shattered concrete and twisted metal beams that was once a prison. Pulling his scarf over his nose, he pointed out a decomposing leg protruding from the rubble. Perhaps an inmate, or a guard.
"No one recognized him," said Aziz, a 40-year-old unemployed driver who lives in the neighborhood. "Maybe there are more under here."
The prison was run by Islamic State militants who controlled this city of 12,000 in eastern Syria. Then on May 27, the first day of the Muslim holy month of Ramadan, witnesses said, warplanes destroyed it.
People in the town said they didn't know most of the prisoners, who were often brought from other parts of the country for crimes that included smoking, using God's name in vain, and wearing beards, pants or abaya gowns too short. Beatings and other forms of torture are common in Islamic State prisons.
"I think 100% those people were innocent," said Abdul Sameh, a 53-year-old sheikh.
It is unclear who is responsible for destroying the prison. The U.S.-led coalition fighting Islamic State reported one airstrike in Mansoura that day, on what it classified as an Islamic State headquarters building, coalition spokesman Col. Joe Scrocca said. It was "possible" that was the prison strike, he said, but — based on GPS data — unlikely.
He also said that the Syrian government or its Russian allies — also fighting Islamic State — might be to blame, or that the building could have been damaged by something other than an airstrike, such as artillery or an explosion.
Chris Woods, director of the London-based monitoring group Airwars, said that circumstantial evidence points to the coalition, including the precision of the attack and reports from witnesses who have been under bombardment for years and have learned to identify aircraft.
Since its campaign to remove Islamic State from Syria and Iraq began in 2014, the coalition has struggled to balance targeting militants and shielding civilians. Prisons, like schools, hospitals and places of worship, are protected sites under the Geneva Conventions laying out humanitarian law during wartime. That makes them potential cover for Islamic State.
Airwars has evaluated reports of 12 airstrikes on prisons over the course of the war in which the coalition is suspected — and in eight cases, including Mansoura, determined there is at least "fair" evidence that it was responsible. The group estimates that the 12 strikes killed at least 66 militants — but also at least 164 civilians, many likely held for violating the strict religious codes enforced by Islamic State.
Scrocca dismissed those tallies as "unsubstantiated allegations."
The coalition makes "extraordinary efforts to protect non-combatants," he said, and "does not target prisons."
In some cases cited by Airwars, the buildings targeted were former prisons that no longer held inmates, Scrocca said.
"When a formerly protected site is no longer used for its original purpose, and is instead used for a military purpose, it loses its protected status [and] may become a legitimate military target," he said. "If a former prison building is used as an intelligence headquarters or weapons storage facility it is no longer a protected site."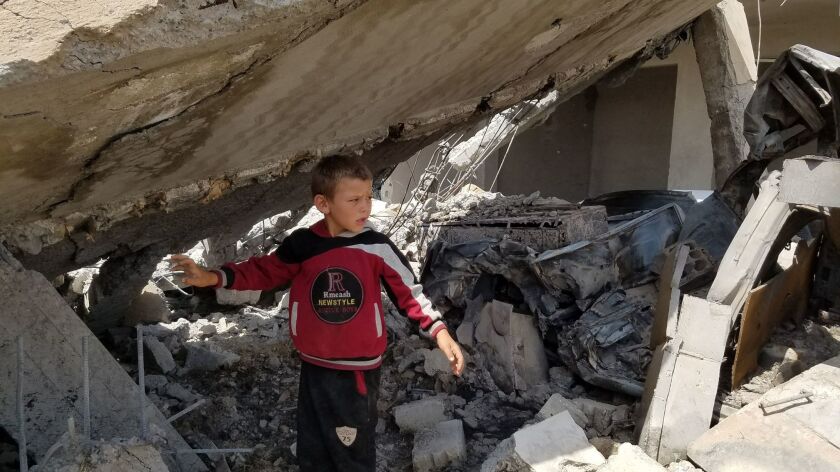 The coalition said that was the case in the Syrian city of Mayadeen, 140 miles east of here. On June 26, the coalition struck what it described as a single-story former prison that Islamic State was using as a military headquarters and intelligence center to interrogate militants "who had broken the terrorist group's rules."
The coalition said it was investigating whether civilians were killed in the strike but suggested that was unlikely: "This mission was meticulously planned and executed to reduce the risk of collateral damage and potential harm to non-combatants."
But at a camp for about 3,000 displaced people north of Mayadeen — which remains under Islamic State control — former residents of the city said in interviews last month that the building was still being used as a prison when it was destroyed.
Hasan Mohamed Hamad, a 68-year-old bricklayer, said he lived near the prison and routinely heard prisoners screaming.
"At night, we couldn't sleep because of the noise of the people," he said. "They were torturing them."
Other former residents said many of the prisoners arrived in blindfolds.
"They were not important people," said Mohammed Kharbon, a 33-year-old baker who militants once threatened to imprison for showing up late to pray. "They were just prisoners. They were jailed because they were against Islamic State."
Based on reports from residents, monitoring groups and media, Airwars said multiple strikes at the site that day killed 42 to 100 civilian prisoners, 11 jailed opposition fighters, 15 to 20 Islamic State militants, five women kept as sex slaves and four guards.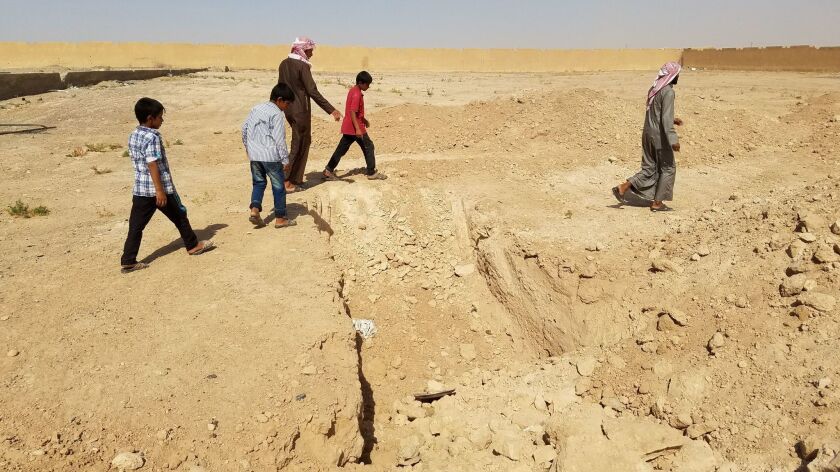 Ryan Goodman, a law professor at New York University and a Pentagon official during the Obama administration, said it would be unusual for the U.S. to target a place where civilians or former combatants might be held.
"The military targeters and the coalition would have to take into account loss of lives of captives within these facilities as part of the strict legal obligation to ensure that any strikes don't have an excessive loss of life of people who are no longer part of the conflict," Goodman said.
Human Rights Watch said it was preparing a report calling on the coalition to investigate strikes that killed civilians and take greater precautions.
In Mansoura, residents were well-aware of the prison and did their best to avoid it.
It had once been a house. After Islamic State militants seized control of the area in January 2014, they turned it into what locals called the Bedoui Jail, named after its former owner, who fled to Saudi Arabia.
"Forbidden to enter," said a sign on the gate.
Residents said the prison was run by militant named Abu Abaidi Tunisi, a local emir named after his native Tunisia who quickly earned a reputation as a strict enforcer of Islamic State rules.
"If people left the area, he would order them killed," said Sameh, the sheikh, who described the emir as "too harsh."
"He was always telling people, 'You are not educated, you are like animals,'" the sheikh said.
Militants had also been storing weapons at the jail, Sameh said. Homemade mortars were left at the scene after the attack. Residents pointed out the charred remains of a car that was outfitted with the distinctive armored panels of vehicles used in suicide attacks.
It is unclear how many inmates were being detained in the prison at the time of the strike. Sheikh Fawaz Beik, a local leader who spoke with witnesses soon after the strike, said 7 to 10 prisoners were killed. He said residents saw militants bringing people to the jail before the strike to use as human shields.
After the strike, a 16-year-old resident, Sami Ibrahim Mascana, said he saw militants pull at least two dead bodies from the rubble. At least one woman survived, he and other witnesses said. She had been displaced from the western city of Homs to Mansoura and later left the area, neighbors said.
Local human rights groups and media named two civilian detainees who died: Hussein Hamoud Shaheen, whose photograph was included with some reports, and Azzouz Askar Obaid Ashour, who had been arrested on charges he had photographed the home of a relative that had been destroyed by an airstrike. The reports offered few other details.
The Times and investigators for Human Rights Watch recovered several documents from the wreckage of the building, including arrest, witness and court appearance forms marked "Islamic police," "Islamic State judiciary" and "In the name of God."
Some included names and charges: causing a car accident, female hysteria, fighting, trafficking and smuggling. But not all of the dates were current.
"We know from what people are saying that there were still some civilians in that prison, but we haven't been able to track down the names," said Nadim Houry, who visited the site as director of the terrorism and counter-terrorism program at Human Rights Watch.
Hasan Ahmed Abdul Khader, a 34-year-old driver, said he could identify with the victims because he had recently been accused of smuggling people to "infidel" territory and was worried an airstrike might target the prison where he was being held. He said an Islamic State official told him: "If you are killed, that is your destiny."
As for the leg sticking out of the rubble, nobody could say whether whether it belonged to a civilian or a militant. Weeks after the attack, with Mansoura liberated from the terrorist group and the coalition focused on the fight 15 miles east for Raqqah, the caliphate's self-proclaimed capital, no one had claimed the body.
Kamiran Sadoun contributed reporting in Syria.
ALSO
Relations between Israel and Jordan have become 'very dangerous'
Lebanon's Hezbollah group insists: We're not the 'menace' Trump says we are
Despite agreement, clashes erupt at Jerusalem shrine as Muslims return to pray
---
Must-read stories from the L.A. Times
Get the day's top news with our Today's Headlines newsletter, sent every weekday morning.
You may occasionally receive promotional content from the Los Angeles Times.