Oscars red carpet:`The gravy train is over' for TV stations and networks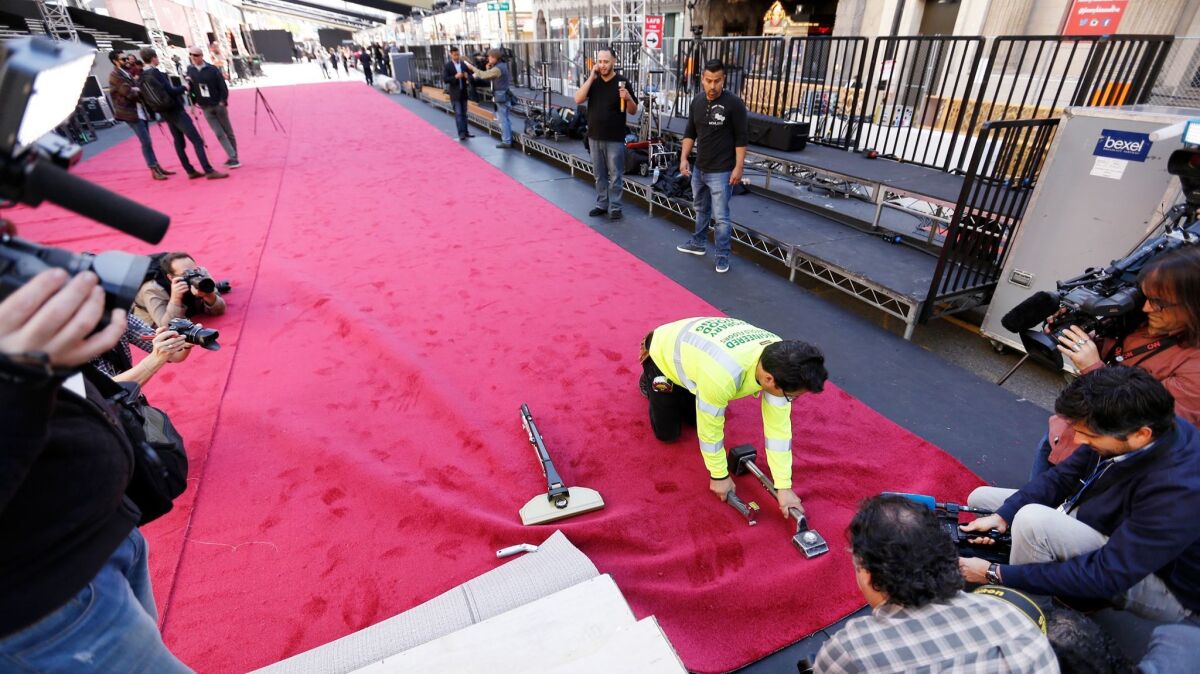 A spot on the Oscars' red carpet now comes with a price.
For the first time, the Academy of Motion Picture Arts and Sciences is charging a license fee to TV stations and networks that broadcast live shows with interviews of movie stars on the red carpet before Sunday's 89th Academy Awards telecast.
The Beverly Hills nonprofit group for decades has allowed multiple media outlets to shoot live from the red carpet as a way to promote its prestigious Oscar telecast. But now the academy is charging fees that are said to range from about $75,000 to $500,000 for outlets that want to broadcast a live show from the red carpet, according to three people with knowledge of the situation who were not authorized to publicly discuss it.
The new fees have stunned the faithful scrum of celebrity watchers.
"The gravy train is over," Miro Copic, a San Diego State University marketing professor, said Friday. "The academy has realized the value of its content and the shifting landscape in the media world."
The move comes as the academy steps up its efforts to raise nearly $400 million to build a movie museum at Wilshire Boulevard and Fairfax Avenue in Los Angeles, and the introduction of a new TV rights deal with its long-term partner, the Walt Disney Co.-owned ABC Television network.
ABC has been broadcasting the Academy Awards since 1976. Its new TV contract signed last summer requires the network to pay the academy substantially higher fees than before — nearly $100 million annually by some estimates. Some speculate that ABC is likely seeking ways to protect its investment.
"These are always intense negotiations," said Copic, who previously worked as a marketing executive with PepsiCo, Hasbro and Rupert Murdoch's News Corp.
The new deal keeps the show on ABC through 2028 and gives the network more sway in the production. Its late-night comedian, Jimmy Kimmel, will host the program Sunday. ABC will be allowed to rule the red carpet beginning at 4 p.m. to showcase its New York-based "Good Morning America" team as they mingle with movie stars on the red carpet until the awards show begins at 5:30 p.m.
"Maybe ABC, during the negotiations, said to the academy: 'Hey, we need an extended red carpet time, and it's not fair that these other guys can go for free,' " Copic said. "In negotiations, everyone is trying to find an edge."
Representatives of ABC and the academy declined to comment Friday. "We do not disclose details on confidential contractual information," a spokesperson for the academy said in an email.
Not every news outlet must pay. Organizations gathering snippets of interviews with celebrities can remain on the carpet but they are limited to "no more than five-minute segments" to their studios, according to a memo sent from the academy to TV outlets in December.
In addition, ABC and the academy this week announced a new arrangement to stream red carpet and backstage moments on Facebook Live — a nod to the growing importance of social media to big entertainment events. Personalities from Disney networks — ESPN, ABC and Disney Channel — will host the Facebook Live social media stream.
Meanwhile, other outlets have been told that their access will be more restricted than in years past.
One rival TV executive privately complained that the academy is treating long-timers like "carpetbaggers" rather than respected outlets whose telecasts help promote the Oscars.
In the past, the E! cable channel and broadcast stations, such as KTLA-TV Channel 5, were allowed to air live interviews from the red carpet until 4:30 p.m. — an hour before show time. This year, they are being told to stop transmitting video at 4 p.m. to provide ABC with its exclusive 90-minute window.
That restriction means that some crews, including those who traveled from as far away as Mexico City, will be packing up their cameras when the crush of arrivals is in full swing. They worry that they could miss face time with big-name stars stuck in the notorious Oscar traffic jam or other late arrivals, such as Brad Pitt, who might show up at the Dolby Theatre in Hollywood shortly before the show.
"We devote considerable time and resources to covering entertainment — and this is a news and entertainment event of major proportions," KTLA station manager John Moczulski said. "And to say that our value to them is to collect a license fee is unfortunate."
KTLA (which, until 2014, was part of the same corporate family as the Los Angeles Times) has been a fixture on the Oscars carpet since 1995. Because of the new restrictions, KTLA must start its show an hour earlier — at 2 p.m. — when there are just a few early-bird celebrities available to interview.
"Any restraints to cover what is essentially a public event — on a public street — under-serves our viewers," Moczulski said. He declined to say how much the station was paying for its spot on the carpet or whether the new policy might dissuade the station from producing a live show next year.
The new rules also threatened to hem in E!, the celebrity-focused channel that prides itself on its popular red-carpet coverage. The network, now owned by NBCUniversal, launched its awards show coverage in 1990 and carved out a lucrative niche with the late comedian Joan Rivers.
Now E!'s coverage, hosted by Ryan Seacrest and Giuliana Rancic, is among the most popular. Last year, E!'s coverage attracted an eye-popping 5.8 million viewers — including millions of young adults the academy is desperate to reach. This year, the academy is allowing E! to shoot live from the red carpet later than most other crews — until 4:30 p.m.
"We are an important vehicle to reach the millennial audience," said Adam Stotsky, president of E! He declined to disclose how much channel was paying for its access. The network is planning a pre-pre-show called "Countdown to the Red Carpet," which begins at 10:30 a.m. before the "Live From the Red Carpet" show at 2:30 p.m.
Stotsky said the changes would not crimp E!'s coverage.
"E!'s preeminence on the red carpet, combined with Ryan's stature within the community, really makes E! a must-stop destination for marquee stars," Stotsky said.
The motion picture academy is not the only organization that charges TV crews. The Recording Academy, which produces the Grammys, and the Television Academy, which controls the Emmys, also charge for power and other services.
However, one TV executive said that in recent years the fee for the Emmy red carpet was around $10,000 per outlet, and only major networks that built platforms to promote their celebrity shows, such as "Entertainment Tonight" and "Access Hollywood," were asked to pay the fee.
Over the years, the movie academy has been steadily increasing its revenue from the Oscars, despite the declining ratings for the show. Last year, an average of nearly 35 million people tuned in — an eight-year low. The Oscars are critically important to the financial health of the academy, providing its main source of revenue.
The organization collected $109.8 million in revenue from the Oscars program in 2014, the most recent year for which its tax records were available. That was a 12.6% increase over 2013, when the academy generated $97.5 million from the Oscar program.
ABC is bringing in more money too. This year, the network sold its 30-second spots for about $2 million apiece — a bump over last year's prices. According to Kantar Media, which tracks ad spending, ABC last year collected about $115 million in ad revenue from the Oscars, including $13 million from its live red carpet show.
ALSO
Where La La Land was shot in L.A., scene by scene
Oscars fashion quiz: Can you guess the dress?
---
Inside the business of entertainment
The Wide Shot brings you news, analysis and insights on everything from streaming wars to production — and what it all means for the future.
You may occasionally receive promotional content from the Los Angeles Times.