Southern California median home price jumps to $536,250 as sales fall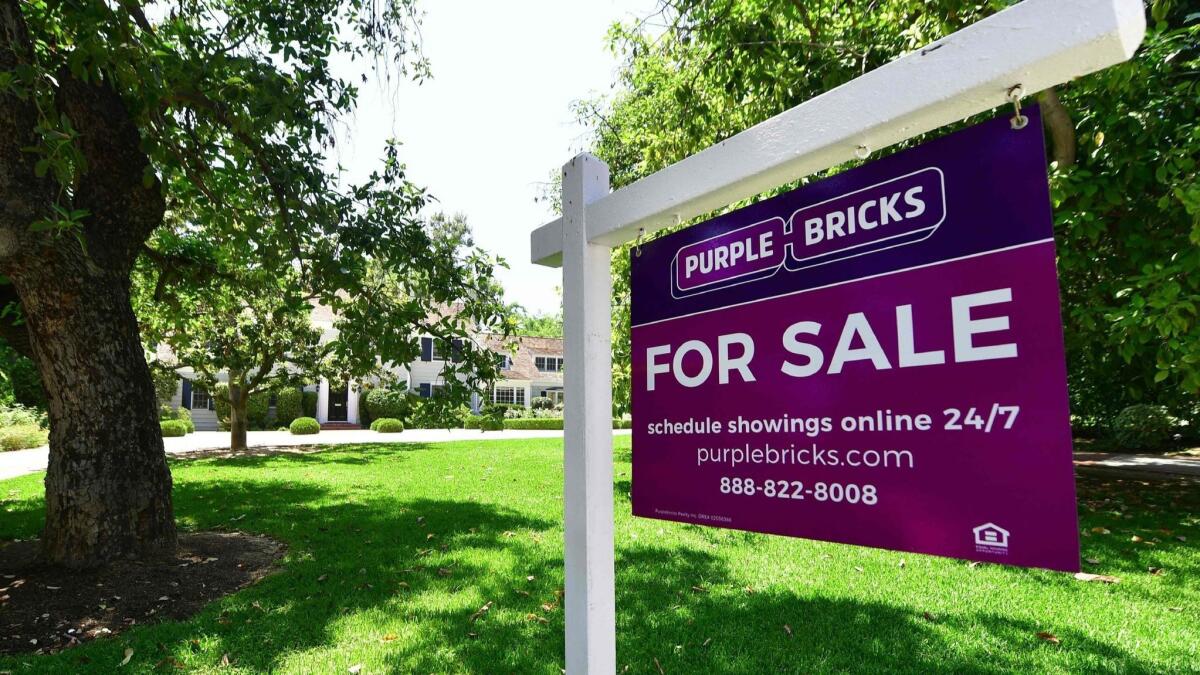 The Southern California median home price reached a new all-time high in June, jumping 7.3% from a year earlier. However sales plunged over the same time period, indicating sky-high housing costs could be burning out many home shoppers.
The six-county median — the point where half the homes sold for more and half for less — hit $536,250, real estate data firm CoreLogic said Tuesday. That's up $6,250 from the previous record high, reached in May.
Sales dropped to 22,706, down nearly 12% from June 2017. It was the lowest number of closed sales for June in four years.
The drop-off may signal people are increasingly priced out of the market or simply unwilling to pay an exorbitant amount for a home. Real estate professionals said many of their clients are worried about purchasing at the top of the market.
Orange County mortgage broker Jeff Lazerson said people are increasingly refusing to waive appraisal contingencies and willing to step away from a deal rather than engage in bidding wars. Some have cited fears a trade war could blunt economic growth.
"I haven't seen hesitation like this in years," said Lazerson, president of Laguna Niguel mortgage brokerage Mortgage Grader.
Tregg Rustad, a real estate agent with Rodeo Realty, said there are still plenty of bidding wars on homes priced under $2 million in a swath of Los Angeles from the Westside through Los Feliz. Above that price range, though, he's noticing homes are sitting longer and sellers are trimming their asking prices.
Rustad said that for now it's unclear if that change is a true shift or more reflects the market turning away from the typically busy spring buying season.
"It's too early to know," he said.
The sales drop also could reflect a shortage of homes for sale.
There were roughly 3% fewer homes on the market across Southern California in April and May of this year compared with the same period last year, data from real estate brokerage Redfin show. That's the period during which many of the June deals would have opened escrow.
Couple that shortage with a growing economy, and it's a recipe for higher prices. Here's how the regional increases broke down:
In Los Angeles County, the median price rose 8% to a record $615,000.
Orange County: up 6% to $739,000.
Riverside County: up 7% to $380,000.
San Bernardino County: up 4.4% to $334,000.
Ventura County: up 8.8% to $615,000.
San Diego County: up 5.5% to a record $575,000.
Sales fell in all six counties, with the declines ranging from 8.5% in Orange County to 19.8% in Ventura County.
CoreLogic analyst Andrew LePage noted that would-be buyers are also facing higher mortgage rates. The average rate on a 30-year fixed mortgage was 4.52% last week, up from 3.96% a year earlier, according to Freddie Mac. In June, when accounting for the rise in mortgage rates over the year, payments on a median-price home rose more than twice as quickly as the median price, LePage said.
"Price growth is only part of the problem," LePage said in a statement.
Despite the high prices, the $536,250 median, after adjusting for inflation, remains 9.5% below the bubble-era high reached in 2007.
Economists also note that if buyers can qualify for a loan, their monthly mortgage payments would be more affordable than in the mid-2000s because the cost of borrowing is still historically low.
At the start of the year, for example, 28% of L.A. County households could afford to purchase a median-priced house, according to the California Assn. of Realtors. That compares with just 9% through much of 2006, when mortgage rates were in the mid-6% range.
That relative affordability and tighter lending regulations help explain why many economists say that although price growth may slow in the near future, prices are unlikely to fall unless there is a recession.
If there is a true slowdown around the corner, one of the first signs would be a subtle shift of power from sellers to buyers.
Inland Empire real estate agent Kira Madrigal said sellers in the markets she covers still have the "upper hand," but buyers are increasingly willing to submit "low-ball" offers.
Lazerson, the Orange County mortgage broker, explained the feeling of many would-be buyers like this:
"This economic expansion, this run-up in home prices, has been going on a very, very long time.… At what point does all this stop?"
Follow me @khouriandrew on Twitter
---
UPDATES:
2:55 p.m.: This article was updated with additional details and comment from economists and real estate professionals.
This article was originally published at 10:20 a.m.