'I'm really struggling': Facing pay cuts, some ride-hailing drivers prepare to strike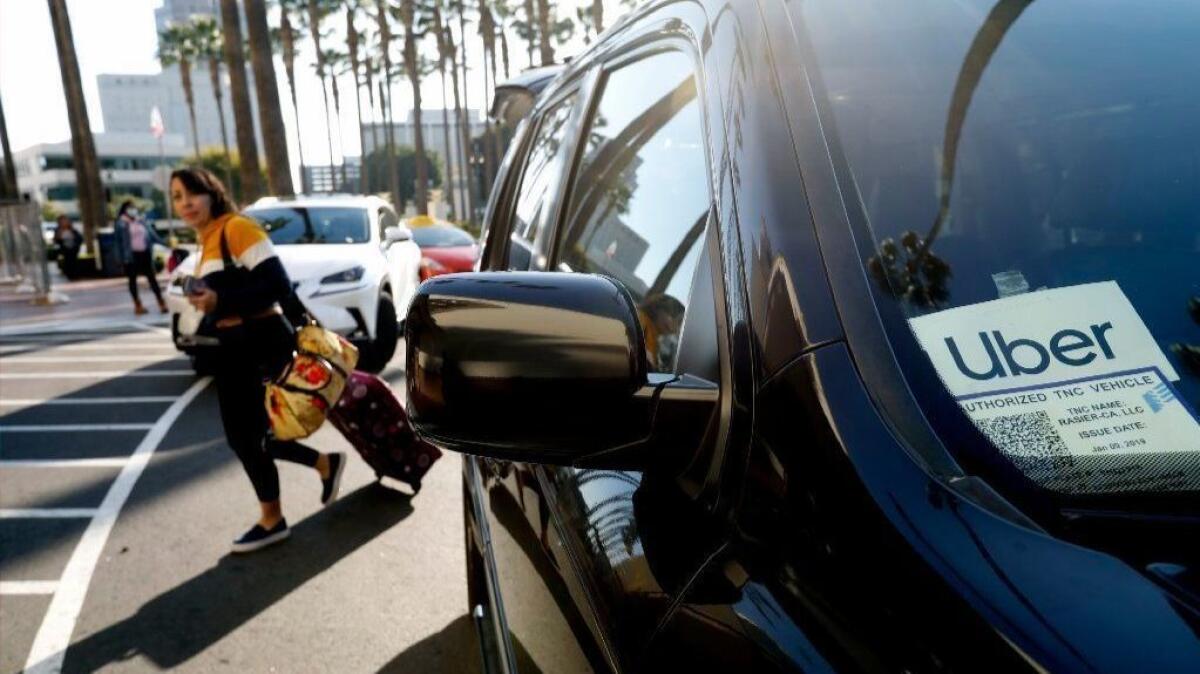 Frustrations are mounting among some Uber and Lyft drivers about wages and treatment. But because ride-hailing drivers are classified as independent contractors instead of employees, unionizing — a common way for discontented workers to bring about change — is something of a non-starter.
So in a parking lot outside Los Angeles International Airport, where Uber and Lyft drivers wait for ride requests, some ride-hailing workers are charting their own course.

For the record:
9:55 a.m. March 23, 2019
An earlier headline on this article suggested that drivers for ride-hailing companies were planning to strike due to mileage rate cuts by both Uber and Lyft. Only Uber altered mileage rates it pays drivers this month.
It's there that drivers are trying to recruit their colleagues to protest pay cuts by Uber last week that slashed per-mile pay from 80 cents to 60 cents in Los Angeles County and parts of Orange County. They are planning to strike Monday, refusing to drive for both Uber and Lyft in a move they hope will mark an early step in a broader push for higher wages.
READ MORE: Uber will pay $20 million to settle lawsuits over question of whether drivers are employees »
It's not the first attempt by drivers to stage a strike against Uber and Lyft — many of the same drivers organized a similar protest at LAX in 2017. The ride-hailing workers, this time led by a group called Rideshare Drivers United, say past strikes have lacked cohesive strategy and planning, ultimately leading to disparate demands and low attendance.
Part of the problem, they say, is that the drivers' fight has long fixated on their classification as independent contractors — a battle that has so far proved fruitless. Though they would still prefer to be classified as employees, they hope they can unite a broader swath of the workforce by focusing first on pay.
"That's what we need and the best way is to get there quickly," said Nicole Moore, a part-time Uber driver who has become one of a handful of de facto leaders of the movement.
"There is no doubt that if we are employees we have the right to be protected by national laws that provide a pathway to organizing and give us a right to a contract at the end of our fight," Moore said.
But "drivers need gas in the car … so that we can actually pay our rent and put food on the table for our family."
The group, which Moore said has grown from 200 in 2017 to about 3,000, is demanding Uber increase fares 25% — back to rates the company rolled out in September 2018.
"For these rates I might as well be working at the Amazon warehouse," she said.
Uber says it altered the rates because the pay scale it introduced last September "did not have the intended impact." The company contends other changes, including a higher per-minute rate and new driver promotions, will improve take-home pay.
"You can expect average driver earnings in LA to be comparable with other rideshare opportunities and pre-September average earnings," Uber wrote in an email to drivers.
Although Lyft hasn't followed Uber's recent rate cuts in Los Angeles, drivers are planning a 25-hour strike against both companies because each has already slashed fares to levels some consider untenable.
Sinakhone Keodara drives for Lyft using a vehicle he rented from the company. Keodara became homeless in September after pouring money into building his own app and took up driving for Lyft to get himself on his feet. He has resorted to paying $25 a night to stay at a local Korean spa that allows overnight guests. But his earnings on Lyft aren't always enough to cover that fee in addition to the $240 weekly payment for the car and the cost of gas. On those nights, his car doubles as his home.
"I'm not the only one," Keodara said.
"I'm really struggling," he said. "But I feel like it's time for us to humanize our struggle. Let people know what's really going on with us as we're driving for Lyft and Uber trying to survive and this is what is happening to us."
Though Uber and Lyft have both made efforts to appease current drivers and recruit new ones, protests and strikes have so far done little to move wages. With both companies planning initial public offerings, the firms have even more reason to focus on cutting costs.
Another obstacle for the demonstrators is organizing an inherently disorganized workforce. Because Uber and Lyft drivers only interact with the company through apps, there's no one place where they can spread the word and no picket line where they can rally for their cause. Some drivers and many passengers might not even realize a strike is underway on March 25.
"I mean we can't deliver a financial blow that's going to wound them meaningfully," said Keith Eberl, a full-time Uber driver. "But we can certainly get their attention. The realization they might have is that this isn't drivers getting together in a crunch to do one strike and go their separate ways. This is an expanding, growing organization that's been using this action and our previous action to simultaneously grow the membership."
Driver victories in New York City, where a local regulator has imposed a minimum wage for Uber and Lyft contractors, have given the organizers hope.
They say there has been interest from drivers in San Diego and Washington, D.C., about starting their own chapters.
Rideshare Drivers United organizers received support, including about $500 in donations to help cover any costs related to the strike, from a group of about 200 traditional unions at a recent meeting at the Los Angeles County Labor Federation.
While the organizers want to eventually secure a place among the established unions, the focus now is on spreading the word among a diffuse workforce.
"This is about person-to-person organizing," Moore said.
One method is through an app they've built that matches organizers with drivers who have expressed interest in their campaign. Organizers discuss drivers' concerns, promote the strike and identify potential leaders. Keodara — who can't afford to take any time off from driving — said it allows him to stay involved.
Twitter: @jmbooyah