Crash after police pursuit kills 2 bystanders, longtime friends; investigation launched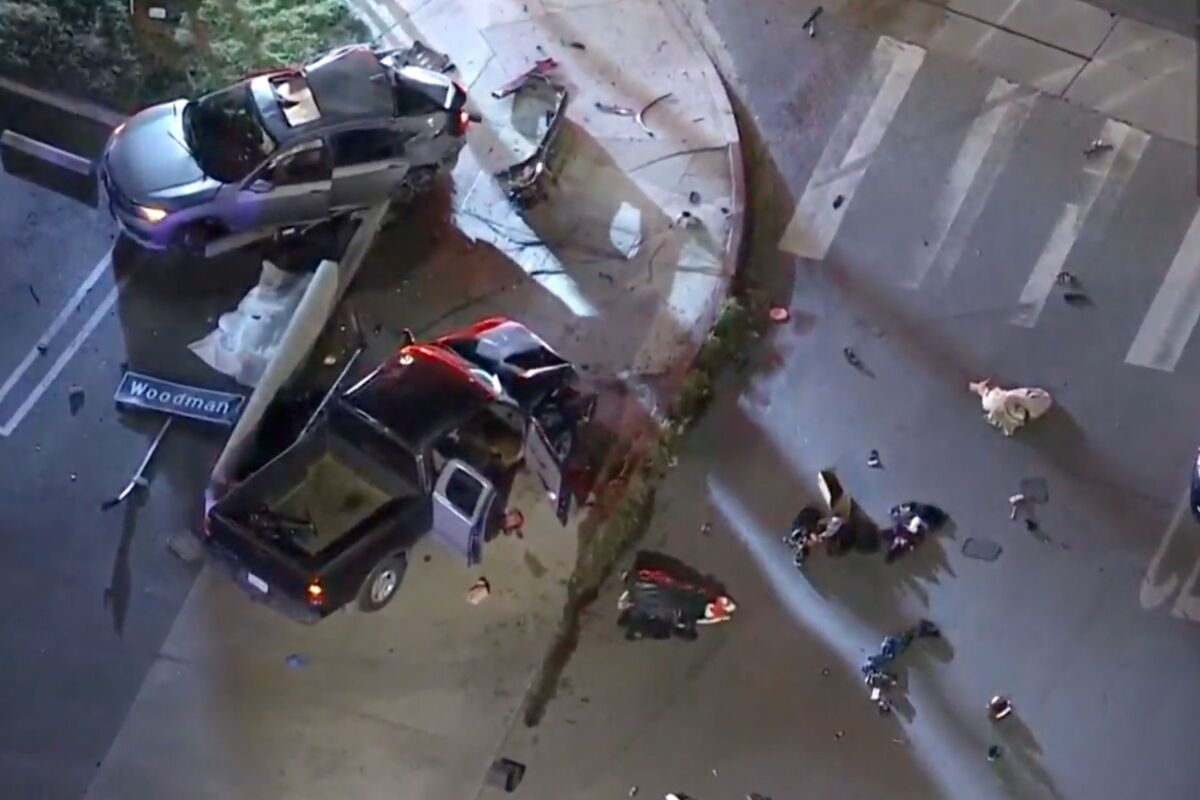 The Los Angeles Police Department will examine whether a high-speed pursuit of a stolen car before a deadly crash in the San Fernando Valley on Tuesday night followed departmental policy, Chief Michel Moore said Wednesday.
Two bystanders were killed when a black Toyota Tacoma pickup that had been reported stolen crashed into a parked Honda Civic near the intersection of Woodman Avenue and Lanark Street in Panorama City about 8 p.m. Tuesday.
Police officers had started following the truck at 7:48 p.m. in Westlake after the vehicle was reported stolen, said LAPD Deputy Chief Alan Hamilton. When the driver noticed the police, he "began to take evasive measures to get away from the officers," Hamilton said.
In Panorama City, the driver sped north on Woodman, "drove into an intersection at a high speed and T-boned two innocent motorists," Moore said.
Relatives and friends identified the victims as Chris Teagarden, 46, of Granada Hills and Tim Schultz, 49. The two men had been friends for decades and had gone out for tacos before the crash, they said.
As to "the circumstances of why the department was pursuing that individual" and whether it was "consistent with our policies and expectations," Moore said information would be provided as it became known.
Hamilton said the pursuing officers had stopped chasing the truck and were instead in "tracking mode" — that is, not seeking to keep up with the truck — because of the danger involved, Hamilton said. They had been in tracking mode for "minutes" at the time of the crash, Hamilton said.
The driver of the Toyota Tacoma climbed out of the wreckage and was arrested. The driver, identified as Oscar Delacruz, 32, was booked on suspicion of felony murder.
Teagarden's sister, Joellen Ammann, told reporters Wednesday that her brother was a hardworking business owner and a Little League coach. He was married and had a teenage son.
"It didn't have to be this way," she said. "A stolen truck isn't worth it. It's not. My mom is still sitting at home right now waiting for my brother to come home."
In August, a deadly crash in South L.A. after a police pursuit prompted similar questions.
Janisha Harris, 35, and Jamarea Keyes, 38, were driving home from work on Aug. 19 when a speeding driver ran a red light at Manchester Avenue and South Broadway and slammed into their car, killing them both.
After the crash, an LAPD captain said that officers had been pursuing the speeding driver but had "shut down the pursuit before the collision."
A report prepared by the LAPD contradicted that account. It found that two officers from the department's 77th Street Station were still in pursuit when the deadly crash occurred.
A 2017 grand jury found that police chases in Los Angeles County cause "unnecessary bystander injuries and deaths," and that agencies need to take into account the likelihood of a dangerous collision compared with the chances of catching a suspect.
The grand jury report, using data provided by the California Highway Patrol, found that 17% of the car chases in the county over a 12-month period in 2015 and 2016 ended in a crash that could have resulted in injury or death. Two-thirds of the 421 pursuits ended in an arrest.
Over the same period, three fleeing drivers were killed and 45 people were injured, including suspects, their passengers or officers, the report said.
The grand jury cited a 2015 analysis by The Times that found that LAPD pursuits injured bystanders at more than twice the rate of police chases in the rest of California.
The stories shaping California
Get up to speed with our Essential California newsletter, sent six days a week.
You may occasionally receive promotional content from the Los Angeles Times.