Mitzvah Mania brings the first Jewish-focused event to WrestleMania weekend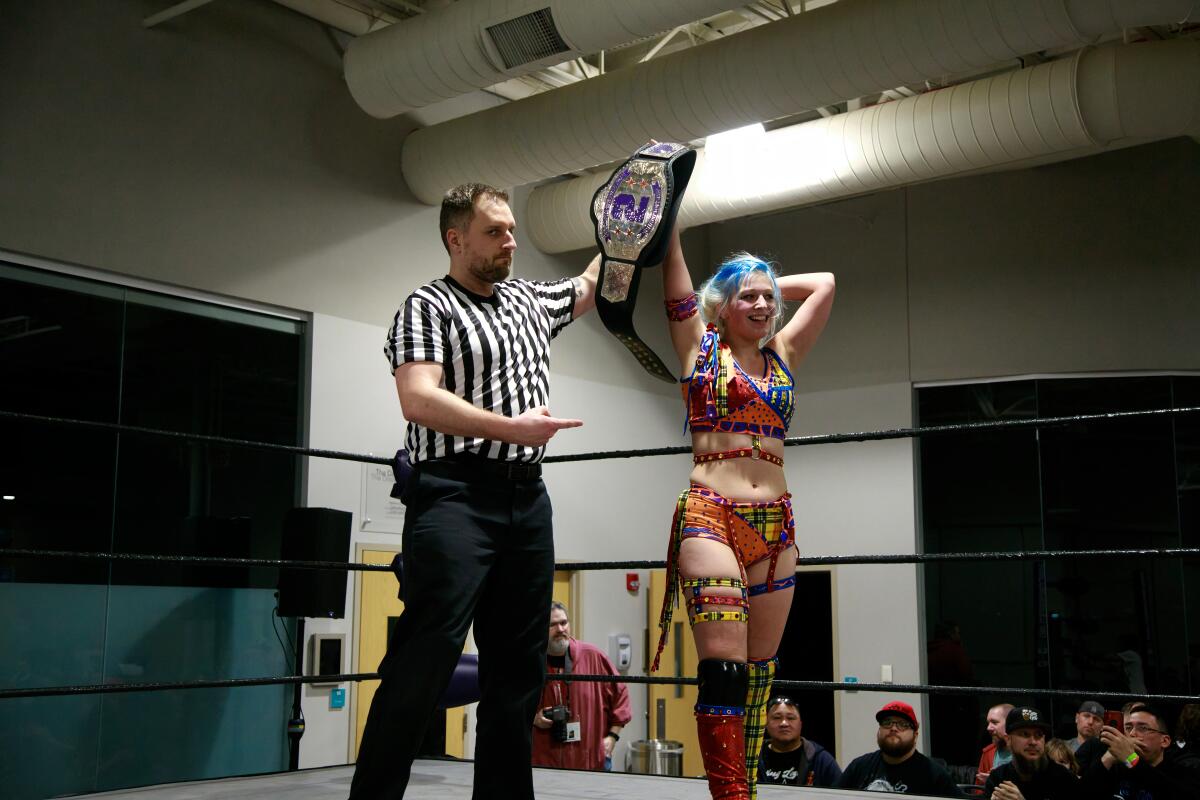 This weekend, WWE's biggest event of the year takes over Los Angeles for the 39th installment of WrestleMania. While it's generally viewed as a four-day event that starts with the Hall of Fame on Friday (with two days at Crypto.com Arena and two at SoFi, with all likely selling out), every year WrestleMania inspires the entire wrestling world to descend upon the host location to show the traveling worldwide audience all that the modern grappling arts have to offer.
WWE expects over 75,000 fans for each night of WrestleMania, and that leaves a lot of time for squared-circle-centric tourists to take in an entire week's worth of wrestling action at conventions and specialty themed unaffiliated independent wrestling shows. Each year sees showcases for such international wrestling styles as Mexican luchadores, Japanese "Strong Style" and Joshi (the term for Japanese women's wrestling), but this time around, Los Angeles plays host to the world's first Jewish wrestling extravaganza. Enter: Mitzvah Mania.
Los Angeles' Temple Beth Am will be home to the Sunday-morning shindig, a full card where every single match spotlights Jewish talent from around the wrestling world. Headlined by All Elite Wrestling's Colt Cabana and QT Marshall, who beam into televisions weekly on AEW's TBS show "Dynamite," and former WWE favorites Chris Adonis (formerly known as Chris Masters) and Lisa Marie Varon (who held the WWE's Women's Championship under the name Victoria), it will also feature some of the top emerging Jewish independent wrestling talent such as Jack Cartwheel, Chelsea Durden and Royce Isaacs.
Putting it all together is Chicago-based wrestling promoter and ordained pulpit Rabbi Jeremy Fine. Having fallen in love with independent wrestling seven years ago, Fine got his start putting together wrestling shows after encouragement from his then-Minnesota congregants to bring a wrestling show to their synagogue.
"I loved wrestling and thought it would be a good way to engage young congregants and make the synagogue look like an enjoyable place to be," Fine said.
Working with beloved Minneapolis wrestler-promoter "The Anarchist" Arik Cannon, famous for Twin Cities promotion F1rst Wrestling (which runs shows at world-renowned nightclub First Avenue, the very same one from Prince movie "Purple Rain"), Fine helped bring events with names like Mitzvah Mayhem and Hanukkah Havoc to life. After Fine moved back to Chicago, he formed his own promotion, 2econd Wrestling, which has been running regular shows since 2021. Fine told The Times Sunday's Mitzvah Mania was something he thought he "could pull off in maybe seven years or so," but after some Los Angeles business partners brought him some sponsors and a "tremendous host" in Temple Beth Am, "we were off and running."
"Almost all of [the sponsors] I have prior relationships with," Fine said. "Ultimately they all saw the value in the Jewish representation and excitement of the show."
Even though Fine described early difficulties with running his first show in Los Angeles — having to outsource his materials and not being very familiar with some of the local wrestling talent — he says the response has been "over the moon," even from the Jewish wrestlers themselves. Headliner Colt Cabana has been a proud representative of both his Jewish heritage and the independent professional wrestling world.
But even as the performer widely credited with lighting the torch that transformed the wrestling industry over the last decade, for Cabana, an event like Mitzvah Mania was something he wasn't sure he'd ever see. "I've wrestled on shows with various themes, from juggalos to burlesque wrestlers, but never all Jewish wrestlers," Cabana said. "I don't think, starting in 1999 as a Jewish wrestler only knowing that Bill Goldberg and Barry Horowitz were in the job, and [they] were probably the only people I thought were Jewish, I didn't think something like this would ever happen."
Mitzvah Mania taking place in 2023 might appear to some as something of an important statement in wake of the last year seeing more platforming of antisemitism from mainstream voices than pop culture has seen in decades. But according to the talent, that doesn't necessarily reflect their current experiences in the world of independent wrestling. "I've endured antisemitism throughout my career," Cabana tells us, "I can't say specifically now [that] I see it more than ever. I see it less than ever, to be honest. I haven't seen it bleed into wrestling the way it's been bleeding into pop culture."
Los Angeles-based New Japan Pro-Wrestling Strong favorite Royce Isaacs shared a similar sentiment: "I think I'm pretty lucky in terms of not having [antisemitism] toward me. Obviously it sucks when there's stuff in major mainstream media and there's a guy I grew up listening to publicly making those kinds of statements, but I guess I would say while I know it happens to some people experiencing antisemitism in the business, to me I've never caught anything."
Rabbi Fine said one reason why Mitzvah Mania is being so well-received is because he is a real day-to-day rabbi. It's not a gimmick or wrestling character. "It creates a resource for those curious with questions about Judaism or Israel. Sports are the great equalizer. We have a common goal in the ring and for a show. Religion, race, sexual orientation and beyond are irrelevant in order to put on a great show for the fans," Fine said. "I deeply and passionately believe that rabbis/clergy need to get into niche spaces, not to proselytize or promote, but to just be present so we all can work better together and understand our stories."
In addition to platforming and spotlighting Jewish talent, he hopes the wrestling at Mitzvah Mania serves an additional peaceful purpose. "The talent … now have a rabbi/Jewish resource in their lives. They have a place to go to learn another's story. [It's] how can we heal this world, grow bonds with the other, and learn from each other. Every show builds on that, this one is just Mania-sized!"
Get our L.A. Goes Out newsletter, with the week's best events, to help you explore and experience our city.
You may occasionally receive promotional content from the Los Angeles Times.