Spielberg's 'Ready Player One' surprises and dazzles SXSW audience
Reporting from Austin, Texas —
Late Sunday night, more than an hour into the sold-out world premiere of Steven Spielberg's "Ready Player One" at the South by Southwest film festival in Texas, a rallying cry began emanating from the audience.
"Pew-pew-pew!" the crowd inside Austin's Paramount Theater chanted, adding their own soundtrack after technical difficulties KO'ed the sound for the second time in a row, bringing the dizzying, VFX-fueled video game adventure to a grinding halt just at a climactic moment in an epic battle scene. "Pew-pew-pew-pew!"
Given the subject matter, the freewheeling SXSW festival was the perfect place for the snafu. During the film's introduction, the audience of pop culture geeks seemed just as excited to see Spielberg in the flesh as they were author Ernest Cline, who co-adapted his own 2011 novel (with Zak Penn), about a youngster named Wade Watts (Tye Sheridan) on a quest to find a coveted Easter Egg in a virtual reality game filled with endless pop culture references.
The film resumed soon enough, prompting a roar of excitement from the audience — and when the lights came up as the credits rolled, Spielberg was welcomed back to the stage with a boisterous standing ovation.
"This is perhaps the greatest anxiety attack I've ever had," he said, coaxing laughter, and acknowledged that he made "Ready Player One" for the fans. "Your reaction is everything. Thank you."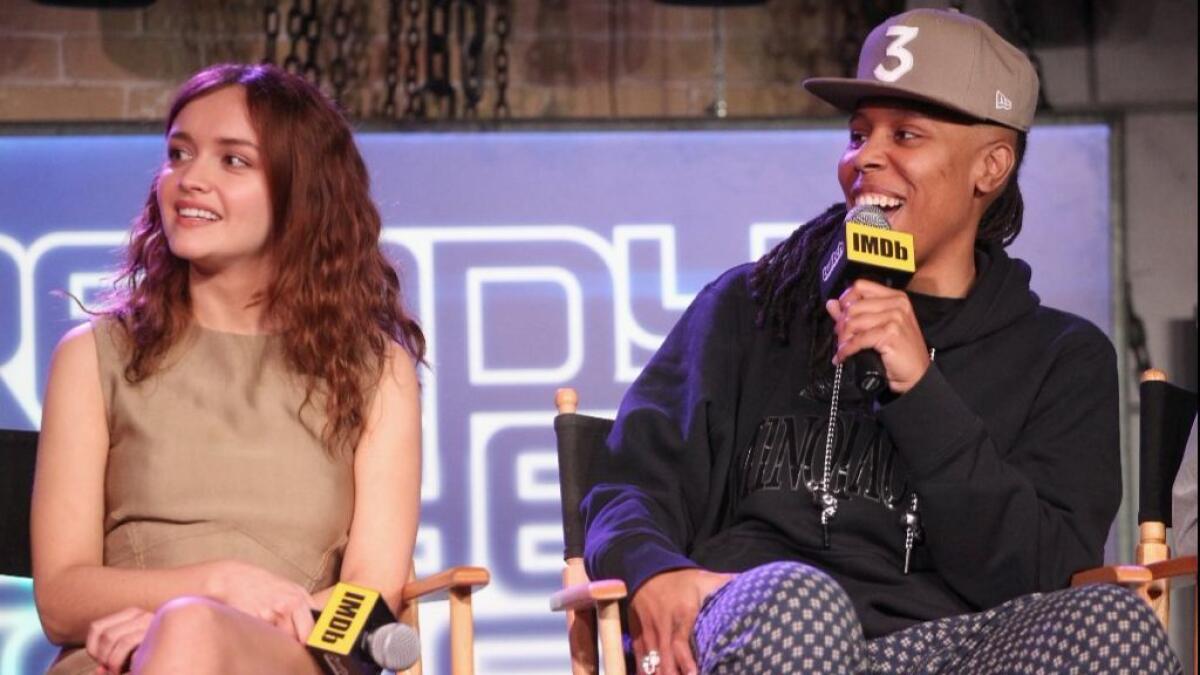 The Oscar-winning filmmaker came to SXSW with the "surprise" screening of his March 29 release, bringing Cline, Penn, and stars Sheridan, Olivia Cooke, Ben Mendelsohn, Lena Waithe, Win Morisaki and Philip Zhao along for the warmly received premiere.
Kinetic and colorful, pixels fly fast in "Ready Player One," with a winning cast anchored by Sheridan, whose likability propels the roller coaster narrative through a crescendoing sequence of bigger and bigger set pieces built around a lot of ones and zeroes.
Expectations were high for the film, which, like the book, is set in a dystopic future circa 2045 in which most of humanity opts out of the depressing real world to venture into alternate digital realities via VR headsets and bodysuits.
Humanity has learned to find refuge in the Oasis, the brightly colored virtual plane where anything is possible, everyone can look like anyone and nobodies can do anything they dream of. The socially isolated Wade is one such nobody, an orphan who lives in a high-rise trailer and escapes into the Oasis as an avatar with cool hair named Parzival.
In this world, gaming is a ubiquitous pastime born of desperation for people of all skill levels and backgrounds. As Wade explains via voiceover, "Reality is a bummer; everyone is looking for a way to escape."
But it's the hardcore warrior fans like him who devote every spare moment to unlocking the mysteries left by the late creator of the Oasis, James Halliday (Mark Rylance, with the affably distracted air of an eccentric genius by way of Garth from "Wayne's World"). Halliday is the Willy Wonka of digital existence — and the grand prize of his final creation is the complete control of the Oasis.
Under Spielberg's direction and in close collaboration with Cline, "Ready Player One" comes alive with head-spinning visual effects as Wade's digital world and his "real" world increasingly overlap. It's a dazzling visual affair in which gaming, movie and pop culture references don't just collide — they fill in details of a future we seem to be hurtling toward in real life, thanks to our collective digital addictions and pop culture's navel-gazing obsession with, well, pop culture.
That obsession is both celebrated by purists and exploited by the evil corporation known as IOI, whose sinister leader is a fake gamer goon executive (Mendelsohn) bent on harnessing the commodification of the Oasis for profit.
Warner Bros., the distributor putting "Ready Player One" into wide release this month, has undertaken a massive marketing campaign to sell the March 29 opening, including dropping the surprise announcement of its SXSW premiere and erecting a two-story, city block takeover packed with free licensed swag, cocktails, photo ops and a VR experience in downtown Austin.
Situated in the cross-generational gap between geeks raised on 1980s movies and the agile-thumbed gaming literacy of much younger generations, "Ready Player One" veers often toward what apprehensive cultural critics feared might feel like "Easter Egg: The Movie." It peppers endless references onto the screen, including many of Spielberg's own movies.
Epic showdowns take place on Planet Doom, Parzival's steed of choice is the DeLorean from "Back to the Future" and meta-references to everything from Batman to "The Iron Giant" to Spielberg's own films make their way onscreen. This is the first major Hollywood film to lionize fandom itself as a noble and worthwhile pursuit, while addressing the sociological side effects that digital life has had, for better and for worse, on modern humanity.
Those loving references hail from a nostalgic Spielbergian heart, and geek-inclined viewers like those howling with glee into the wee hours at SXSW will gobble them up.
Onstage at Sunday's premiere, Cline praised "Ready Player One" as the best experience of his film career and recalled the relief he felt when Spielberg decided to direct it.
"It was the longest couple of weeks of my life when he was deciding, when I was rewatching all of his movies and listening to John Williams nonstop," Cline said. "And then I heard he was going to do it, and every day since then has been better than the last."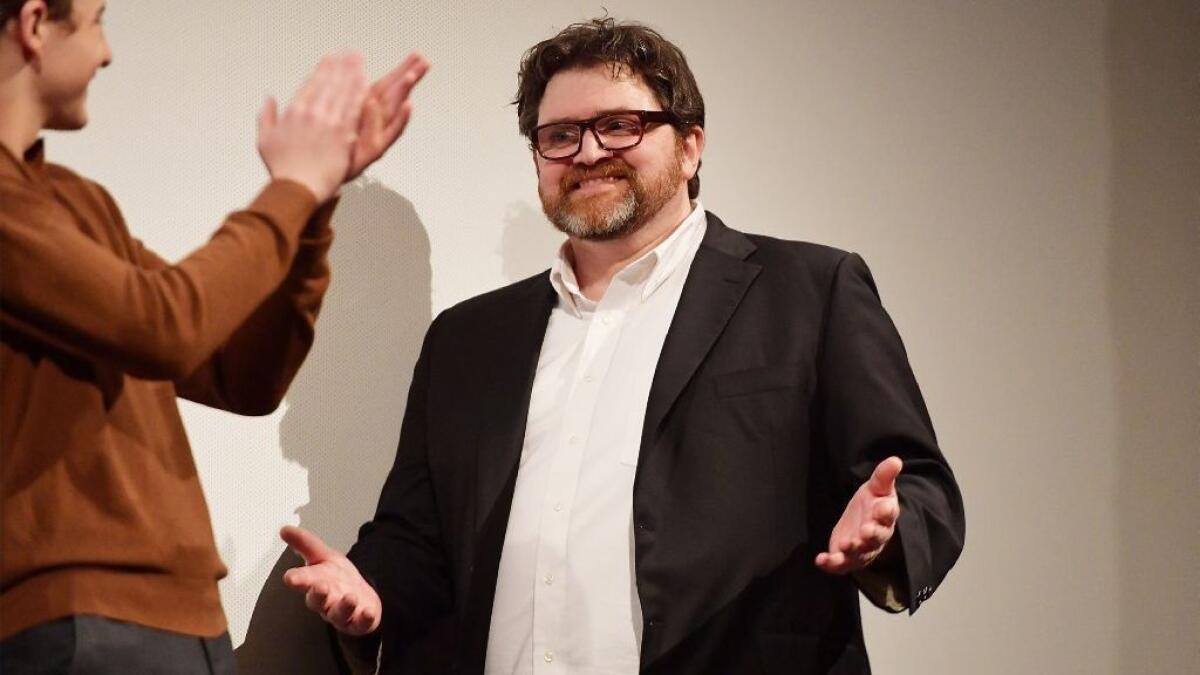 Get our L.A. Goes Out newsletter, with the week's best events, to help you explore and experience our city.
You may occasionally receive promotional content from the Los Angeles Times.