From 'Leave No Trace' to 'RBG,' Times critics discuss their favorites of the Sundance Film Festival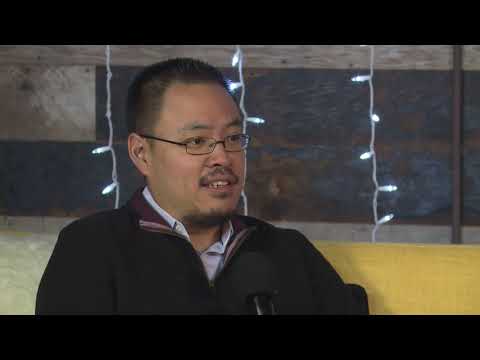 Los Angeles Times film critics Kenneth Turan and Justin Chang talk about their favorite films at the 2018 Sundance Film Festival.
Film Critic
Reporting from Park City, Utah —
Times film critics Kenneth Turan and Justin Chang sat down to share their highlights from the 2018 Sundance Film Festival.
KENNETH TURAN: Though it presents itself as a unified whole, Sundance is actually an unruly collection of individual feature films, some 110 this year, and everyone who comes, in effect, constructs his or her own festival out of the sum total of their choices. With Sundance 2018 winding down, what has your festival experience been? A good year, a bad year, somewhere in between?
JUSTIN CHANG: It's been a good year, though maybe not a banner one. I haven't seen anything here that's rocked my world quite the way that "Call Me by Your Name" or "Manchester by the Sea" did in their respective years, though as of this writing, I still have a few hopefuls I'm looking forward to. Certainly I saw many more good-to-decent films than awful ones, which is not the worst place to wind up. How has yours been?
TURAN: It's been pretty similar to yours. The documentaries have been spectacular, as usual, but what's different for me this year is that I have enjoyed more dramas than I usually do. One of them, I believe, is a film you enjoyed as well, Debra Granik's "Leave No Trace."
Granik had a major success here in 2010 with "Winter's Bone," which launched Jennifer Lawrence, and her new film tells the similarly intense and emotional story of what happens when an Army veteran and his teenage daughter — homeless by choice — are discovered by authorities. The protean Ben Foster is the father and a young New Zealand actress, Thomasin Harcourt McKenzie, matches him stride for stride.
FULL COVERAGE: Sundance Film Festival 2018 »
CHANG: "Leave No Trace" is indeed among my favorites as well, and it's a long-overdue reminder of what a terrific filmmaker Granik is. The story she tells couldn't be simpler, but there's so much unspoken emotion, so much vibrant texture: With every shot and every cut she brings an entire world to life.
Speaking of mutual favorites, I know we're both admirers of "Wildlife," an exquisitely calibrated marital drama starring Jake Gyllenhaal and Carey Mulligan, directed with complete assurance by Paul Dano. I was also pretty taken with the work of another actor-turned-director, Ethan Hawke. His "Blaze " is a gorgeous, soulful biopic of the late country-blues singer Blaze Foley, someone I knew nothing about going in, but whose on-screen alter ego I was pleased to spend time with.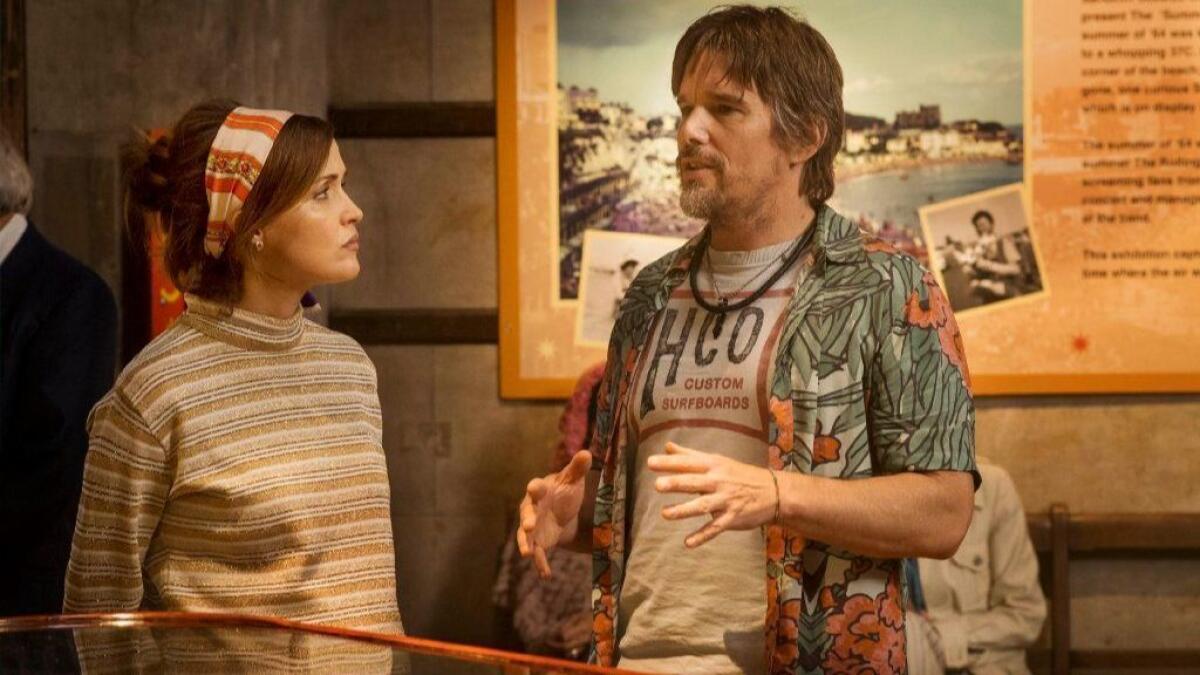 TURAN: Ethan Hawke was in another film I quite enjoyed, "Juliet, Naked," a genial adaptation of the Nick Horby novel where he plays a reclusive rock star who enters the lives of his most obsessive fan, a wonderful Chris O'Dowd, and his frustrated girlfriend, played by Rose Byrne.
Pleasures of a different, much darker sort were provided by "I Think We're Alone Now," directed and evocatively photographed by Reed Morano, best known for her work on "The Handmaid's Tale." Playing a bit like a rediscovered "Twilight Zone" episode (and I mean that as a compliment), it focuses on Peter Dinklage as a man who appears to be the last human being alive on earth. Until Elle Fanning shows up.
CHANG: Dun-dun-dun! I am struck, as ever, by how many ideas, plot points and thematic strategies some of these otherwise very different narrative films have in common. "Burden," Andrew Heckler's tense drama about a Ku Klux Klansman (played by Garrett Hedlund) who finds redemption with the help of a black minister (Forest Whitaker), would make an engrossing double bill with "Come Sunday," Joshua Marston's quieter, more contemplative story about a Pentecostal preacher (Chiwetel Ejiofor) experiencing a troubling crisis of faith.
Both those pictures are based on real-life events, which brings me to one of the festival's most talked-about dramatic entries. In "The Tale," the director Jennifer Fox tells her own story: Played on-screen by a terrific Laura Dern, she probes and dissects her memories of the sexual abuse she endured when she was 13 years old. The result is a shattering, queasy-making blend of fiction and nonfiction that will surely generate more discussion beyond the festival.
Speaking of nonfiction: Tell me more about some of those spectacular documentaries you've been seeing.
TURAN: Yes, year in and year out the docs are Sundance's most reliable sources of satisfaction. There were so many good ones this year that it's hard to know where to start.
Except that it isn't.
That's because Supreme Court Justice Ruth Bader Ginsburg braved Park City's icy streets to support "RBG," the moving documentary about her life. The lines to see her were the festival's longest, and she caused more excitement than any movie star, even Jane Fonda. The actress was here with "Jane Fonda in Five Acts," a thorough and intimate look at a very complicated life, directed by Susan Lacy, who recently did similar fine work with Steven Spielberg for HBO.
If there was an unexpected success here, a film that moved people more than they anticipated, it was "Won't You Be My Neighbor?," which revealed TV's Mr. Rogers to be just the kind of exemplary human being you always hoped he was. Also deeply moving was one of the last docs I saw, "King in the Wilderness," a thoughtful, nuanced examination of the extraordinarily difficult final 18 months of the Rev. Martin Luther King Jr.'s life.
CHANG: Personality-profile documentaries are always a reliable Sundance specialty, as this year's well-received films about Joan Jett ("Bad Reputation"), Gloria Allred ("Seeing Allred") and Robin Williams ("Robin Williams: Come Inside My Mind") can attest. One of my favorite docs this year, the poignant and intensely personal "Shirkers," is a stealth self-portrait of sorts by Sandi Tan, a Singaporean-born, Los Angeles-based author and filmmaker whom few know, but who has a riveting story to tell.
Like most audiences who sought it out in Park City, I surrendered early and often to "The Sentence," Rudy Valdez's home-movie portrait of his sister, Cindy Shank, a mother of three who was sentenced to 15 years in federal prison, effectively becoming a casualty of the country's mandatory-minimum laws. Is it great cinema? Maybe not, but I still haven't stopped weeping.
Completely at the other end of the aesthetic spectrum was "Bisbee '17," a formally rich, ambiguously layered new documentary from the always interesting Robert Greene ("Kate Plays Christine"). If you've never read about the 1917 deportation of 1,000 striking copper miners from Bisbee, Ariz. — a miscarriage of justice that unmistakably resonates with our present immigration crisis — you could scarcely find a more stimulating or provocative cinematic treatise than this one.
TURAN: I've been coming to Sundance for a lot of years, and though the films aren't always to my taste, I'm perennially impressed by the tweaking the festival does to the physical plant. This year, a new bus route was established, served by a Greyhound-sized electric vehicle ("Think of it as a giant golf cart," I was told), and a wonderful new theater, the Rey, was opened in a former sporting-goods store.
Sundance is also always on the lookout for unusual programming, and it hit the jackpot this year with a film/performance combination called "A Thousand Thoughts." Directed by Sam Green and Joe Bini and described as a "live documentary," it combines doc footage/interviews on the history of the Kronos Quartet, a narration read in person by Green, and the quartet itself on stage performing the score. It's as magical an amalgamation as anything you can imagine, and having it at Sundance seemed only fitting.
CHANG: Another staple of this festival is its horror programming, as recent breakouts like "The Witch," "The Babadook" and "Under the Shadow" can attest. While my appetite for this kind of fare is nowhere near as hearty as some, I still have fond, distant memories of gory, nasty gems from a decade earlier, like "The Broken" and "Donkey Punch." Those movies didn't find much of an audience after Sundance, which makes me all the more grateful to have seen them at the festival with appreciative midnight crowds.
I suspect a much longer commercial life awaits Ari Aster's masterly freakout "Hereditary," a standout of this year's Midnight section that A24 will be releasing later this year. I spent my last night at Sundance cowering in the dark with a few fellow critics, watching Toni Collette raise holy hell during the most brilliantly sustained family nightmare in many a moon. As with so much of what Sundance 2018 had to offer, I can't wait to see it again.
Get our L.A. Goes Out newsletter, with the week's best events, to help you explore and experience our city.
You may occasionally receive promotional content from the Los Angeles Times.