Review: The iHeartRadio Music Awards should have let awards season die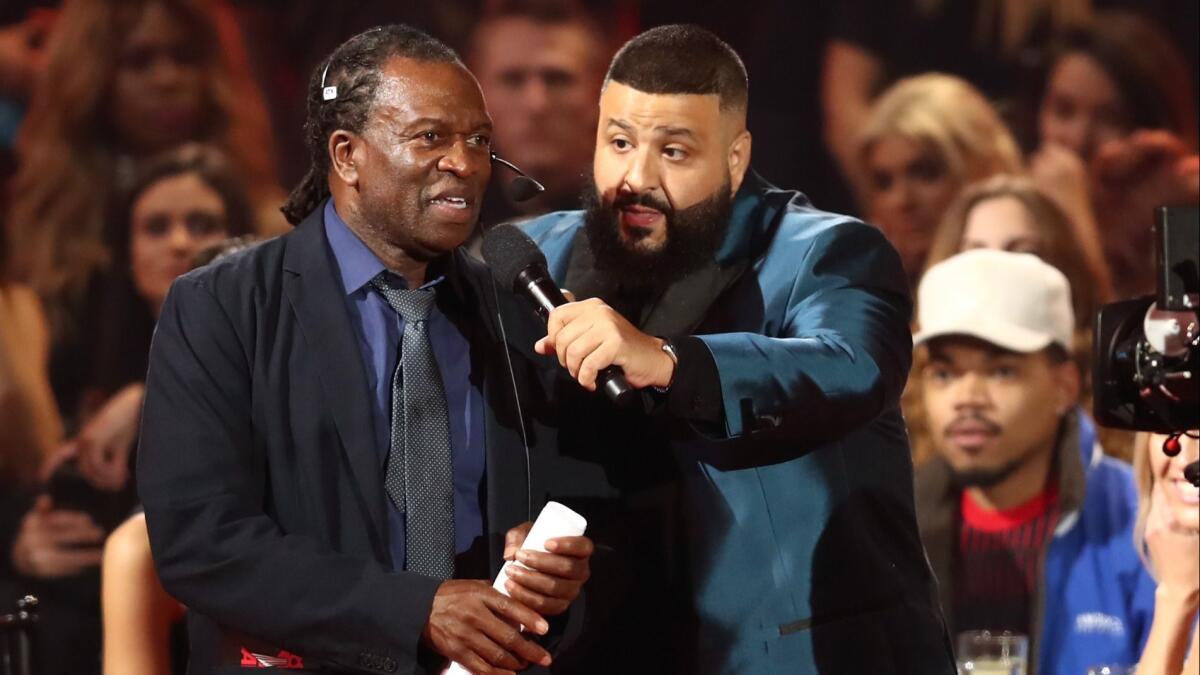 Pop Music Critic
Even DJ Khaled appeared to throw in the towel at the iHeartRadio Music Awards.
More than his skills as a songwriter or a producer, it's the hip-hop impresario's sheer enthusiasm that's made him a ubiquitous presence in pop over the last few years. He's a striver, a refuse-to-quitter — a man for whom success is no reason to rest.
Or at least he is under the right circumstances.
Hosting Sunday's show, Khaled at one point was set to introduce Jenna Dewan Tatum when he evidently decided the dancer's name was too difficult to pronounce.
"I can't say his name right," Khaled said before grabbing a surprised-looking stagehand and directing him to read from the prompter.
The moment gave you a sense of how little effort folks seemed to be putting into this annual affair, broadcast live on TBS from the Forum in Inglewood.
Presented by the powerful radio conglomerate that runs Los Angeles' KIIS-FM, among many other stations, the iHeartRadio Music Awards might be the lowest-stakes operation in an overcrowded field that also includes the Billboard Music Awards and the American Music Awards.
As at those shows, the prizes are based on popularity, rather than the whims of a voting group, which means they offer zero suspense. (Taylor Swift won female artist of the year, while Ed Sheeran's "Shape of You" was named song of the year; other predictable winners included the Chainsmokers, Camila Cabello and Cardi B.)
But because iHeartRadio took place the week after the Oscars — when awards season was supposed to have reached its merciful conclusion — the performances in this year's production carried a whiff of fatigue.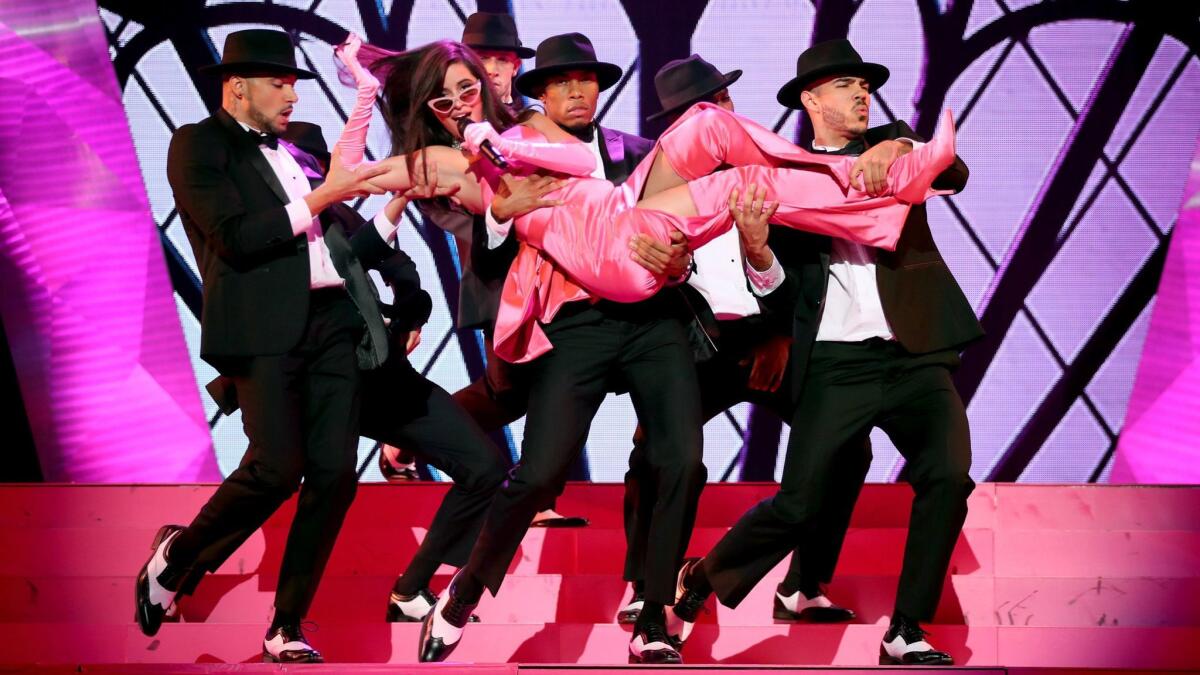 There was Sheeran doing his acoustic ballad "Perfect" via video hook-up from Melbourne, where the time difference meant he was strumming away at 10:15 a.m., as he noted with apparent irritation.
There was Maroon 5 auto-piloting through "Wait," the latest single from a widely ignored 2017 album that Adam Levine and his bandmates probably can't remember the title of.
And there was Bon Jovi, which had shown up to receive a lifetime-achievement award but whose creaky renditions of "It's My Life" and "You Give Love a Bad Name" argued only that the group should be laid to rest.
Even reliably crafty performers took it easy, such as Cabello, who did her hit "Havana" as a half-hearted riff on Madonna's "Material Girl" video without making clear what (if anything) connects that '80s classic to Cabello's sensual ode to her hometown.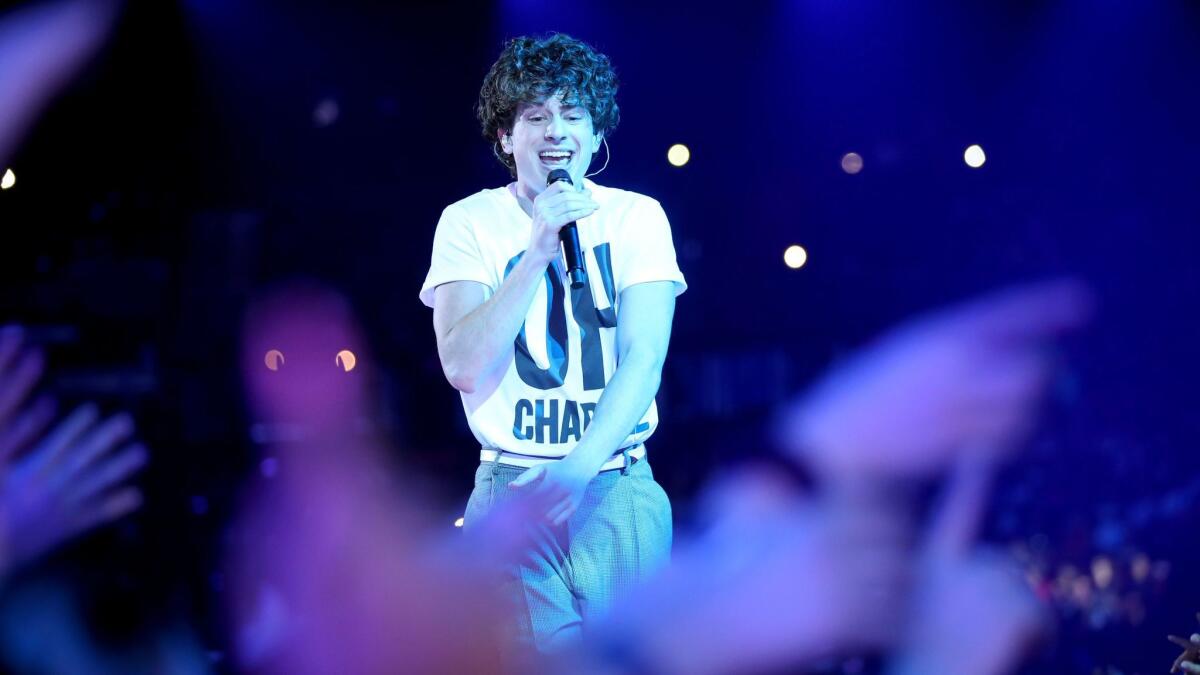 Eminem started strong with a fiery new introduction to his song "Nowhere Fast" in which he criticized what he sees as the harmful influence of the National Rifle Assn.
"They hold the strings / They control the puppet," he rapped, "And they threaten to take away donor bucks / So they know the government won't do nothing."
But after that Eminem lost his momentum; he trudged through the rest of "Nowhere Fast" with an expression of obligation that he shared with Cardi B, who earlier seemed to regret having chosen (or been asked) to mash up her exuberant verse from "MotorSport" with an appearance by the execrable G-Eazy to do their "No Limit." (Sensing perhaps that Sunday's show wasn't exactly making news, Cardi B took the opportunity to announce that her much-anticipated debut album will be out in April.)
One exception to these grim proceedings? Charlie Puth, of all people, who did an appealingly daffy version of his slinky pop hit "How Long."
Dressed in a white T-shirt tucked into pleated slacks (à la George Michael circa "Wake Me Up Before You Go-Go"), Puth was using the slickness of his music to counteract a deeply eccentric performance filled with vocal ad libs and awkward dance moves.
The kid looked like he was deep inside his own mind — clearly a sound approach in a room this uninspired.
Twitter: @mikaelwood
Get our L.A. Goes Out newsletter, with the week's best events, to help you explore and experience our city.
You may occasionally receive promotional content from the Los Angeles Times.