Stars align for Frank Sinatra 100th anniversary special Sunday on CBS
Take a look at the roster of talent for the Frank Sinatra TV special on CBS Sunday night, and you might wonder if there was a mistake somewhere.
Sure, Tony Bennett and Harry Connick Jr. are on the bill. But what are Adam Levine, Zac Brown and Garth Brooks doing here?
Turns out, the diversity of the talent lineup for "Sinatra 100: An All-Star Grammy Concert," airing Sunday at 9 p.m., is precisely the point of this homage to the singer from Hoboken, N.J., known both as "Ol' Blue Eyes" and "The Chairman of the Board."
"He really created the greatest school of popular singing and made it possible for all of us to have a great living doing this," Bennett, 89, said by phone from Las Vegas this week shortly before the taping of the show at the Wynn Encore Theater.
Bennett is the singer who was closest to Sinatra, personally and musically, among the show's performers, also including Alicia Keys, Celine Dion, John Legend, Carrie Underwood, Seth MacFarlane, Trisha Yearwood and Juanes. He came along about a decade after Sinatra and, like most pop singers who emerged in his wake, considered Sinatra the standard to which they aspired.
"He was the biggest influence on me — him and Ella [Fitzgerald] and Nat King Cole," Bennett said. "He was my tremendous idol, and then became my best friend right through the years."
Although most directly associated with the pre-rock era songs of 1930s and '40s -- and lyricists and composers such as Cole Porter, George and Ira Gershwin, Jerome Kern and Richard Rodgers -- Sinatra also kept up with the times as he continued performing into the '50s, '60s, '70s and '80s, recording songs written by the Beatles, Paul Simon and other rock songwriters.
"Sinatra's reach cuts across all aspects and areas of popular music," said Robert Santelli, executive director of the Grammy Museum in Los Angeles, which has organized the official Sinatra centennial exhibition currently at the facility. "I've not come across anybody of substance or celebrity status that says Sinatra didn't impact them in one way or another."
In fact, Robert Christgau, the dean of American rock music critics, called Sinatra "the greatest singer of the 20th century." Sinatra, who was born Dec. 12, 1915, in Hoboken and died in 1998 at age 82, collected nine Grammy Awards -- even though the industry honor was established in 1958, after the initial wave of Sinatra's fame had passed.
Mementos from fans are neatly displayed, including those from the fan club by the name of Bobbie Socks, at the Frank Sinatra exhibition at Grammy Museum in downtown L.A.

(Anne Cusack / Los Angeles Times)
In the short film "The House I Live In," Frank Sinatra lines up against racial oppression and religious intolerance. He won a special Oscar for the movie.

(Anne Cusack / Los Angeles Times)
This is a Frank Sinatra art studio, with several of his paintings. In the photo at left, he teaches his granddaughter, AJ, how to paint.
(Anne Cusack / Los Angeles Times)
A glimpse at just a few of the many awards earned by Frank Sinatra.
(Anne Cusack / Los Angeles Times)
Photos from different times in Frank Sinatra's life glow from within.

(Anne Cusack / Los Angeles Times)
A photograph from 1945 of Frank Sinatra sits next to a photograph of his first wife, Nancy.

(Anne Cusack / Los Angeles Times)
Billie Holiday's fox stole sits pretty along with a black-and-white photo of the female singer.

(Anne Cusack / Los Angeles Times)
Here we see the T-shirts worn by Frank Sinatra's grandchildren.
(Anne Cusack / Los Angeles Times)
This record was presented to daughter Nancy Sinatra to commemorate the sale of more than 1 million copies of the Reprise Record's pop single record "Something Stupid," which she sang with her father.

(Anne Cusack / Los Angeles Times)
An exhibit of the Rustic Cabin, left, where Frank Sinatra worked as a waiter and would sometimes sing. It is the place where musician Harry James heard young Sinatra sing in July 1939.

(Anne Cusack / Los Angeles Times)
In one case is the hat and pipe of Frank Sinatra's pal Bing Crosby along with a metal acetate record.

(Anne Cusack / Los Angeles Times)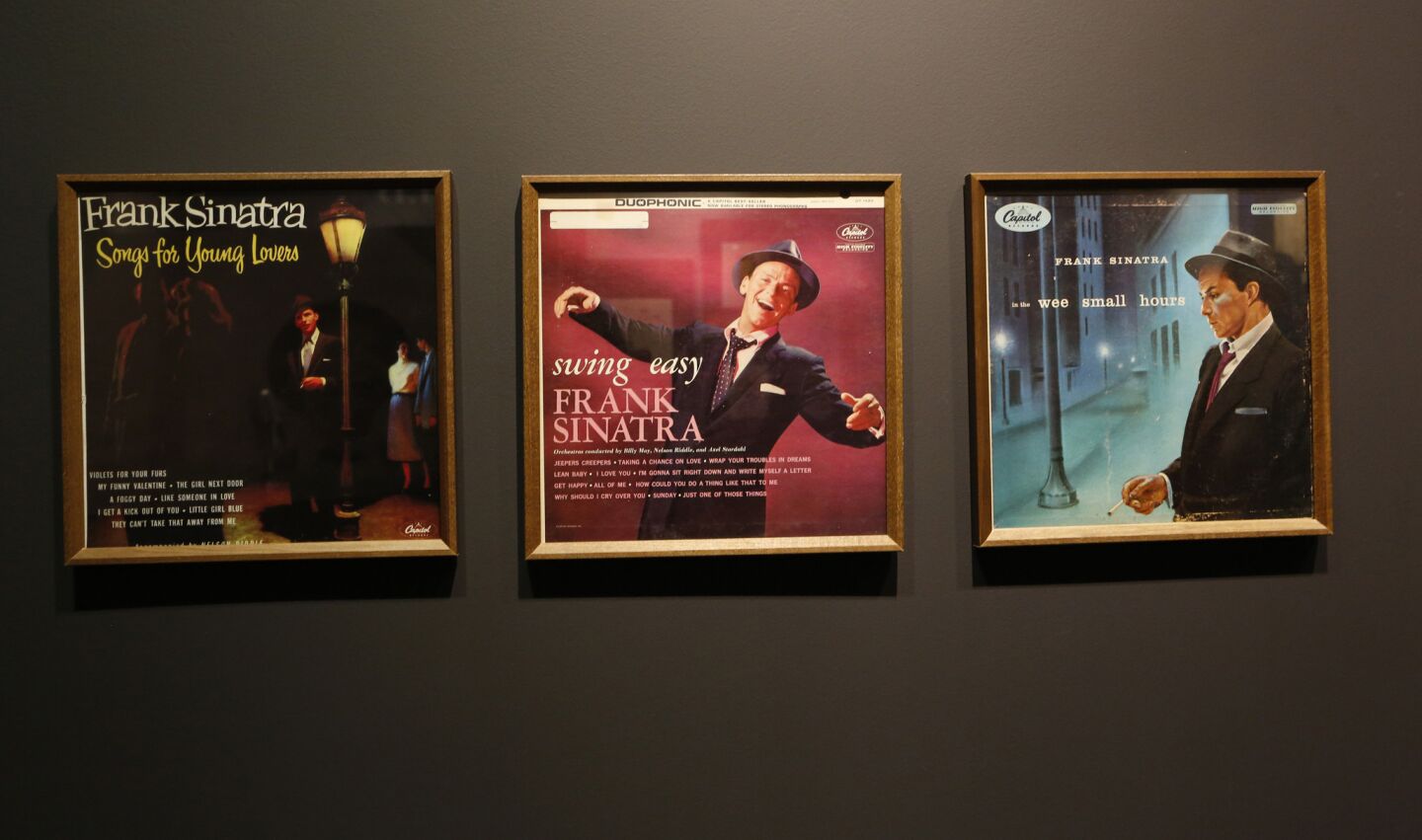 A trio of abums from Frank Sinatra's Capitol Records days line the wall.
(Anne Cusack / Los Angeles Times)
Santelli noted equal measures of artistry and entertainment reflected in Sinatra's recordings, his live performances and film career — which makes the connection a little more relevant to a country superstar such as Brooks, a Latin pop dynamo like Juanes or an R&B-pop singer such as Keys.
"Today, of course, music has become so diverse," Santelli said. "But there are common denominators. One of them is being a great entertainer, another is being a great vocalist, and Sinatra was both.
"Whether you sing country, blues, pop or even hip-hop," Santelli said, "what Sinatra represented as an entertainer and what he demonstrated in his vocal genius and artistry, no matter where you come from on the pop spectrum, he set the standard."
Indeed, the shadow Sinatra casts across the musical landscape is so large that his daughter, Tina, said some musicians who were approached to take part in the TV special declined.
"What was impressive to me," Sinatra's youngest daughter said Thursday after the taping of the concert, "one, is that those who did come on board were interested and willing to do it, and two, that they each found a way to put their own mark on the songs.
"Alicia Keys was working on 'I've Got a Crush on You,' and she called [show producer] Ken Ehrlich after a couple of weeks and told him, 'I just don't think I can do it well.' But if you watch the show Sunday night, you're going to scratch your head wondering what she was talking about," Tina said. "They all, I'm sure, struggled at one point, and probably thought they should have picked another song."
Recording Academy President Neil Portnow said the challenge in mounting the Sinatra show is that "you try to turn theory into reality. We could sit down and put together a list of repertoire from Frank over the course of his career and try to figure out what's going to make for a great two hours, and that in itself is difficult."
"Then you can start a list of artists you think could do a great job with that," he said. "But the fact of the matter is, with many, many artists, you don't know how that's going to work until you get there. It's not something you've heard them do. Some are interested, some are totally intimidated: 'You're kidding—you want me to sing something of Frank's?' Inevitably you'll see the comparisons.
"So the theory of it is one thing. The reality is another," Portnow said. "Then to see them hit it out of the park — and I think you'll see a lot of that on Sunday — and not only come off the stage with a smile, but to see them enjoying the moment, pleased to be there and pleased at what they were able to accomplish in this very unique project … I'm feeling a little like a proud papa."
One facet of the performances during Sunday's two-hour special is that the house band, led by Grammy-winning musician and producer Don Was, is using the original arrangements written for Sinatra by such respected arrangers as Nelson Riddle, Gordon Jenkins, Don Costa and Quincy Jones.
"The show is an amazing journey through Frank Sinatra's music," Was said in a statement.
Performers will touch on the various phases of that journey, from his early years as a singer fronting the big bands of Tommy Dorsey and Harry James through his emergence as arguably the first teen idol because of the legions of girls and young women who swooned during his appearances, through his second career as an actor, and then later as an esteemed elder statesman of the golden age of popular music.
Bennett said he chose "I've Got the World on a String" for his portion of the salute because the 1932 song by Harold Arlen and Ted Koehler holds special meaning for him.
"I'd go see Sinatra when he was performing in London or New York or Los Angeles," Bennett said. "Whenever or wherever he was performing I'd go see him. And for many years, that became his opening song, because he loved it so much."
Bennett has sung the songs many times during his career, but he said this was the first time he'd used the same arrangement as his old friend and onetime musical idol.
"I just like the tempo of it," he said. "They put a nice little jazz beat behind it. It really works wonderfully.
"There's a great spirit in this show," Bennett said. "It really reaffirms that he's going to live forever. His songs will never sound old-fashioned. He always sang quality songs and was smart enough to know that no matter what year they'd be played in, they would never sound out of date."
Follow @RandyLewis2 on Twitter. For more on Classic Rock, join us on Facebook.
---
Get our L.A. Goes Out newsletter, with the week's best events, to help you explore and experience our city.
You may occasionally receive promotional content from the Los Angeles Times.