Fashion is the new acting for 'Orange Is the New Black' actress Alysia Reiner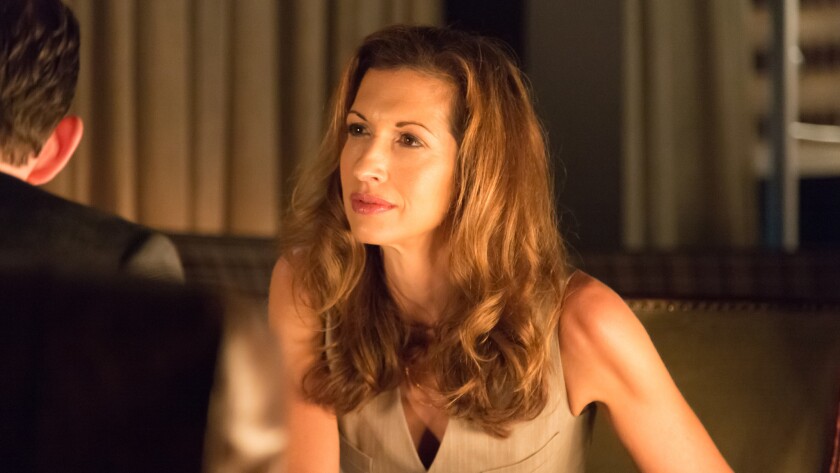 "Orange Is the New Black" actress Alysia Reiner has taken on a new role as co-founder of the eco-friendly ethical label Livari.
With the know-how of Claudine DeSola and Tabitha St. Bernard-Jacobs, the collection will debut on Sept. 13 at a runway show at the Metropolitan Pavilion West in Manhattan. DeSola, who is also founder of the Caravan Stylist Studio, has suited up Reiner for more than 100 events in the past six years including the New York premiere of "Equity." St. Bernard-Jacobs is the founder of fashion label Tabii Just, and is a Women's March on Washington organizer.
About to start shooting the film "Egg" with Anna Camp and Christina Hendricks in New York, Reiner said, "In the face of adversity, I have always believed in making art. Art has amazing potential to be a change-maker and amazing potential for feeling. The film is all about change for women. It's very much a feminist piece but also we have hired all-women heads for every single department. In reference to the fashion line, we wanted to disrupt as many things as we could. Everyone has been talking about fast fashion, and we want to create the opposite — slow fashion. We also wanted to create fashion that is zero-waste, fair trade and Made in New York."
Intent on making a collection for women and by women, the trio held a focus group to see what women wanted before they sketched anything. Aware that fashion is the third-largest polluter behind oil and agriculture, Reiner said the average American throws away 68 pounds of clothes a year, according to the Council of Textile Recycling. With that in mind, she and her cofounders wanted to glean from participants what their favorite clothing items, body parts and fashion pet peeves were to try to avoid designing items that could potentially go to waste. Fit was a key concern, with adjustable waistbands and zippered sleeves being among the suggestions.
Shoppers will be able to order items the day after the show at the Caravan Stylist Studio in the Gregory Hotel. With 300 members of Ivy, the cross-disciplinary networking group being invited to the show, DeSola is hopeful that some will become clients. Shoppers will have the option of customizing such features as necklines and sleeves. "The idea is the customer is co-creator. That's the great thing — giving women a sense of ownership over their clothes and letting them create with us," Reiner said.
They decided to go with fabrics that suppliers already had too much of as a way to do their part to try and reduce waste. Cupro, for example, is a regenerated cellulose fiber made from cotton linter — the silky fibers that stick to the seeds of the cotton plant after it has been ginned. Leftover leather scraps will be used for some designs. An Oregonian artist will use rust to handpaint a red-carpet look for the collection. In addition, the leftover material from their own designs will go to the Brooklyn-based Weaving Hand, which will in turn create a new fabric that will be used for other items. The trio will also partner with Road Twenty-Two, a company staffed by women who were formerly incarcerated, to develop a T–shirt. Livari will provide Road Twenty-Two with organic cotton to produce the collection.
The Livari team is also in talks to use leather made from fish skins for one of the runway looks. In the village in Brazil where it is produced, the fish is first used for food. Villagers have been taught how to preserve the skin for use as a leather, which gives them another source of income, St. Bernard noted. "One of the owners of the company works in the village teaching the new skill."
Wearing a dress that belonged to her grandmother, Reiner made the point that reuse is not new. "People had to ration during times of war, make a new outfit from an old one and hobbies like knitting and quilting encouraged zero waste. We're really all about slowing things down and empowering women and the environment at the same time. When we create art at this time it can be very empowering because the politics of this moment can feel very disempowering," she said.
Before she started acting, Reiner worked as a fit model for Calvin Klein and Alfred Sung, modeled bridal and did runway work for Norma Kamali and others. "As a fit model, I saw a lot of lines being made," she said.
Developing one of her own and starting a new film project somehow dovetails with her creativity. "I play an artist in 'Egg.' Part of me is like, 'Oh my God, I'm doing too much. What am I doing?' On the other hand, the amazing thing about this project is the creation of this fashion line is creating a piece of art. It's been character research," Reiner said.
ALSO
Menswear forecast for spring/summer 2018: Striped and relaxed, with stormy weather on the way
Retail Happenings: The guy who brought you Alternative Apparel creates new gender-neutral clothing and body-care line
Zoe Saldana on family, her busy career, politics — and the future. 'I want my country to lose its fear,' she says
---