Where to find clam chowder fries, pizza dumplings and more hybrid foods you'll actually want to eat
The Margherita pot stickers at Orsa & Winston pack the flavors of a Margherita pizza in a smaller form.
If you've heard of the Cronut, New York City pastry chef Dominique Ansel's doughnut-croissant pastry, which he invented in 2013, you're likely aware of the hybrid food movement. It's a trend that could very well have started with Los Angeles chef Roy Choi five years earlier, when he decided to put Korean bulgogi on a tortilla and sell it from his Kogi BBQ truck. That desire to mash two craveable foods together continued in 2013, with Keizo Shimamoto's ramen burger, a patty enveloped by a bun made of pressed ramen noodles.
These were the pioneers who started a nationwide chain reaction, sending ripples of inspiration through kitchens around the country. Because when hybrid foods work, they tend to become phenomena. (When they don't, they really don't, and we'll leave it at that.) But the mash-up trend seems to be peaking, with hybrid foods popping up way beyond bakeries, food festivals, food trucks — and county fairs. Some of these are highly Instagrammable, but most are far from delicious. There's a doughnut shop in Mission Viejo putting chocolate doughnuts inside its breakfast burritos. You get the idea.
To help navigate this complicated landscape, here's a list of hybrid foods you'll probably want to try. And yes, they'll look pretty great in your Instagram stories too.
Lobster elote
Hop Phan, the chef behind the Latin-Asian fusion Dos Chinos food truck and stall at 4th Street Market in downtown Santa Ana, created what looks like something out of a Discovery Channel special. A couple years ago, Phan says he ran across an article about the increasing lobster population, so he decided to put lobster on the menu. But he wanted to do it in a way that would "look crazy when people carried it around," so he decided on the lobster elote. He splits and deep fries whole Maine lobsters, then tops them with garlic aioli, a mound of grilled corn, Monterey Jack cheese, fried shallots, blackened scallions, cayenne pepper and cilantro. It's everything you could ever want from elote, the classic Mexican street corn, and a Maine lobster bake, served in a disposable foil bowl. Grab a stack of napkins then go at this thing with your hands. And don't be afraid to lick the shell. 201 E 4th St. #139 Santa Ana, (714) 383-0414, www.doschinos.com.
Puffle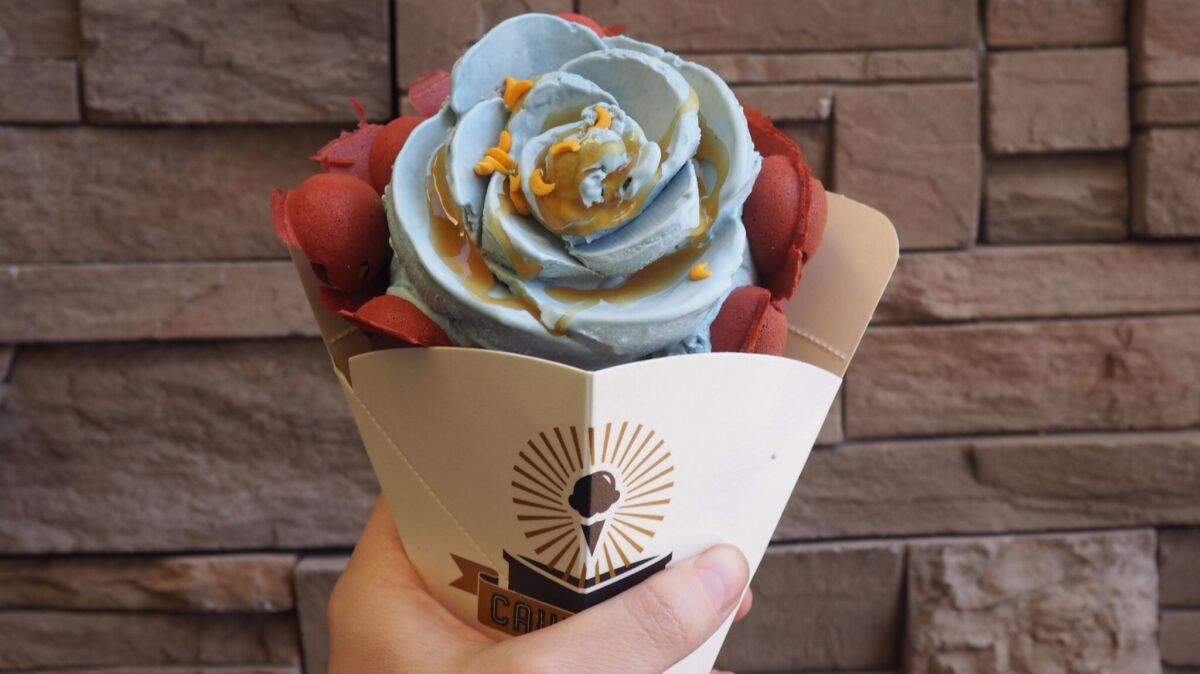 Part egg waffle, part waffle cone, the Puffle is the creation of Cauldron Ice Cream in Santa Ana. Inspired by the egg waffles found all over Hong Kong, this ice cream cone looks like edible bubble wrap. And the name could very well be a Pokémon character. The thicker cone is light and airy, and creates the perfect ratio of ice cream to waffle. It also comes in multiple flavors, including red velvet. Fill the cone with any ice cream at the shop, then add toppings. And if you request a rose, the person behind the counter will use a scoop to shape the ice cream into a flower. There's been a consistent line at the Orange County ice cream shop since they started serving the Puffle last summer. 1421 W. MacArthur Blvd., Ste F, Santa Ana, (657) 245-3442, www.cauldronicecream.com.
Chowder fries
Slapfish chef-owner Andrew Gruel is no stranger to extravagant dishes. On the menu at his many SoCal Slapfish locations (he also has plans to open restaurants in London and South Korea), are griddled beef patties with lobster meat and caramelized onions; fries topped with caviar; and fish tacos the size of hubcaps. But the one dish that seems to be on everyone's table is the chowder fries. It's a dish the company started serving on its food truck, and one that carried over when the first brick-and-mortar location opened in 2013 in Huntington Beach. It's a bowl of French fries covered in a blanket of rich New England-style clam chowder, full of diced potato and bits of clam. The fries are also showered with bacon. You'll want to use a fork for this one. Multiple locations at www.slapfishrestaurant.com.
Pizza dumplings
Chef Josef Centeno has a knack for incorporating varying flavor backgrounds into his cooking, at all six of his L.A. restaurants. It all started with the bäco, a flatbread he created at Bäco Mercat, the first restaurant in his growing empire, which opened in 2011. So it should come as little surprise that he's making something akin to Margherita pizza gyoza. "I really wanted to have fun with the Japanese influence of Orsa & Winston and what better way than to combine pizza and gyoza?" said Centeno. So he started making dumplings filled with burrata and tomato. The dumplings have that crunchy, lacy bottom layer all the best gyoza tend to have. And the luxurious burrata turns these dumplings into the fanciest iteration of pizza pockets ever. They are available at lunch, Tuesday through Friday, until they run out. 122 W. 4th St., Los Angeles, (213) 687-0300, www.orsaandwinston.com.
Cruffin pudding
Mr. Holmes Bakehouse built its entire business on the idea of hybrid pastries. When the first one opened in San Francisco in 2014, people lined up for something called a cruffin, a croissant-muffin hybrid covered in sugar. The bakery continues to create wacky combinations, including another hybrid pastry called cruffin pudding. Imagine a crumb cake, a croissant, bread pudding and a muffin all in one. And it looks like a popover, only made with chocolate and white chocolate croissant bread pudding, in the shape of a muffin. The cruffin pudding is topped with a vanilla crumble and a drizzle of white chocolate. Pull apart the Frankenstein pastry and you'll find certain bits are crunchy, flaky, and doughy, but it's all sweet. There's also a savory version called "garlic gorilla bread" made with croissant dough, garlic, Gruyère and chives. 111 S. Ave 59, Los Angeles, (323) 739-0473, mrholmesbakehouse.com.
Crö-Dough
Many bakers have come up with their own version of Dominique Ansel's Cronut, among them Hans Röckenwagner, the celebrated baker behind Röckenwagner Bakery. Made with Rockenwagner's croissant dough (the fat content was adjusted to make it crispier), the Crö-Dough is filled with pastry cream, the top is coated in a thick sugar glaze, and there's even more sugar around the pastry, much like the Cronut. You can pull apart the layers, savoring each one individually, if you can stand it. Most people finish this thing in a couple of bites. 12835 Washington Blvd., Los Angeles, (310) 577-0747, rockenwagner.com.
Elote pizza
Why not combine Mexican street corn with pizza? That's the question Rose City Pizza owner Brian Nittayo posed to his team one day at his pizzeria in Rosemead. He had first thought to start selling the corn on a stick with different toppings, but decided that turning it into a pizza was an even better idea. The pizza starts with a thin layer of dough and is then topped with mozzarella cheese, buttered corn kernels, Parmesan cheese, chili powder, a squeeze of lime juice, a drizzle of Sriracha aioli and cilantro. It's everything you love about elote, with extra cheese, on a crispy crust. 3588 Rosemead Blvd., Rosemead, (626) 280-8885, www.rosecitypizza.com.
Pho tacos
A bowl of pho and a plate of tacos are two of the most craveable foods. At Rakken Tacos, a small restaurant in a shopping center in Commerce, owner Ken Nguyen is putting the two together in his pho tacos, also known as phocos, which were created after a friend suggested the combination. Nguyen, who turned his 626 Night Market stall into a full-blown brick-and-mortar restaurant last February, simmers flank steak in a pho broth overnight, so it tastes of star anise, clove and cinnamon. The steak is diced, then piled onto a corn tortilla with some typical pho accouterments: shaved onions, bean sprouts, a drizzle of hoisin-Sriracha sauce. And there's just enough broth in the taco to give you the sensation of sipping a bowl of pho. 2444 S. Atlantic Blvd., Commerce, (323) 318-2588, www.rakkentacos.com.
Get our L.A. Goes Out newsletter, with the week's best events, to help you explore and experience our city.
You may occasionally receive promotional content from the Los Angeles Times.