(Kelsee Thomas / For The Times)
Even the coffee cups are black.
You step inside a coffee shop and are greeted not just with a sign that proudly declares "Black-owned" but also with an iconic R&B soundtrack that cycles through artists like Erykah Badu, Thundercat and Sade; local art that depicts the busiest avenues in Black L.A.; and a bustling scene of remote workers and neighborhood folks who, regardless of whether they showed up together, seem to quickly become acquaintances and spill into each other's tables.
Seven years ago, there was only one place like this in L.A. Today, there are more than 20 Black-owned coffee shops, shifting the coffee culture at large by centering community and reclaiming coffee's origins in Black, brown and Indigenous regions.
In the renaissance of Black-owned coffee shops, the responsibility to represent the communities they serve is evident, from the music selection to the decor to the baristas behind the counter. All these elements help create a welcoming space.
From downtown to Inglewood and as far as Garden Grove, Black-owned coffee shops are claiming their place in the city's stimulating scene.
And in many cases, the drinks themselves give a nod (and a dap) to the community to let them know this space is for them.
Amanda-Jane Thomas and Shanita Nicholas founded Sip & Sonder in 2017 out of a desire and need for a safe space for Black coffee lovers in Inglewood. Thomas highlights that the freedom to leave a string of cultural cues on the menu is one of the aspects that makes owning these spaces special.
"At every step that agency is so important, because the sum of all of that, it starts to move the needle," Thomas said. "In a vacuum, they seem just like, 'OK, this is one menu item in a coffee shop in L.A. in the country,' but it's meaningful."
Here are a few drinks that pay homage to Black culture in L.A. and worldwide:
Slauson Drip (Hilltop Coffee + Kitchen)
Hilltop Coffee + Kitchen, partially owned by "Insecure" creator and Inglewood native Issa Rae, has four spacious locations ideal for a day of productivity. On their menus you'll find the Slauson Drip, a drip coffee named after Slauson Avenue, a major thoroughfare through South L.A. with a history of greatness (and featured many times in Rae's L.A.-based shows). The drip is made with Tectonic Coffee Co.'s Slauson Signature beans with notes of caramel, cherry and almonds. Hilltop's seasonal Black Rose Latte features rose, activated charcoal and espresso to help get your mind right.
Hilltop also has Ethiopian Brew made with the eponymous beans, honoring owner Yonnie Hagos' Ethiopian heritage. He recalls his mother hosting Ethiopian coffee ceremonies at their home in Inglewood (more on this later).
4427 W. Slauson Ave., Los Angeles, instagram.com/findyourhilltop
What should we expect from a cup of coffee in Los Angeles? Almost anything, our critic learns.
Barry White (Hot and Cool/Crenshaw Coffee Co.)
While Hot and Cool rebrands under the Crenshaw Coffee Co. roastery, this oldie will stay golden on the new menu. Barry White is a fruity fusion that'll make you want to sing from the depths of your soul. Named after the Galveston, Texas-born, Watts-raised baritone, the latte is a mix of blueberry syrup, white chocolate and maple syrup, espresso and milk. The drink inspired the shop's limited R&B-themed menu, which also features a Maple Brown Sugar Latte, named after D'Angelo's "Brown Sugar" album.
4331 Degnan Blvd., Los Angeles, hotandcoolcafe.com
Cardi Rose (Sip & Sonder)
Eeeeoooowwww. Sip & Sonder's Cardi Rose is a lush and spicy mix like its namesake rapper Cardi B. Iced or hot, the rose cardamom espresso latte is earthy, floral and refreshing, keeping you grounded while kicking your inner savage into gear, okurr.
Also on Sip & Sonder's menu is the Onyx, a black latte made with activated charcoal and vanilla.
108 S. Market St., Inglewood, sipandsonder.com
Sis Saweetie Pie (Bloom & Plume Coffee)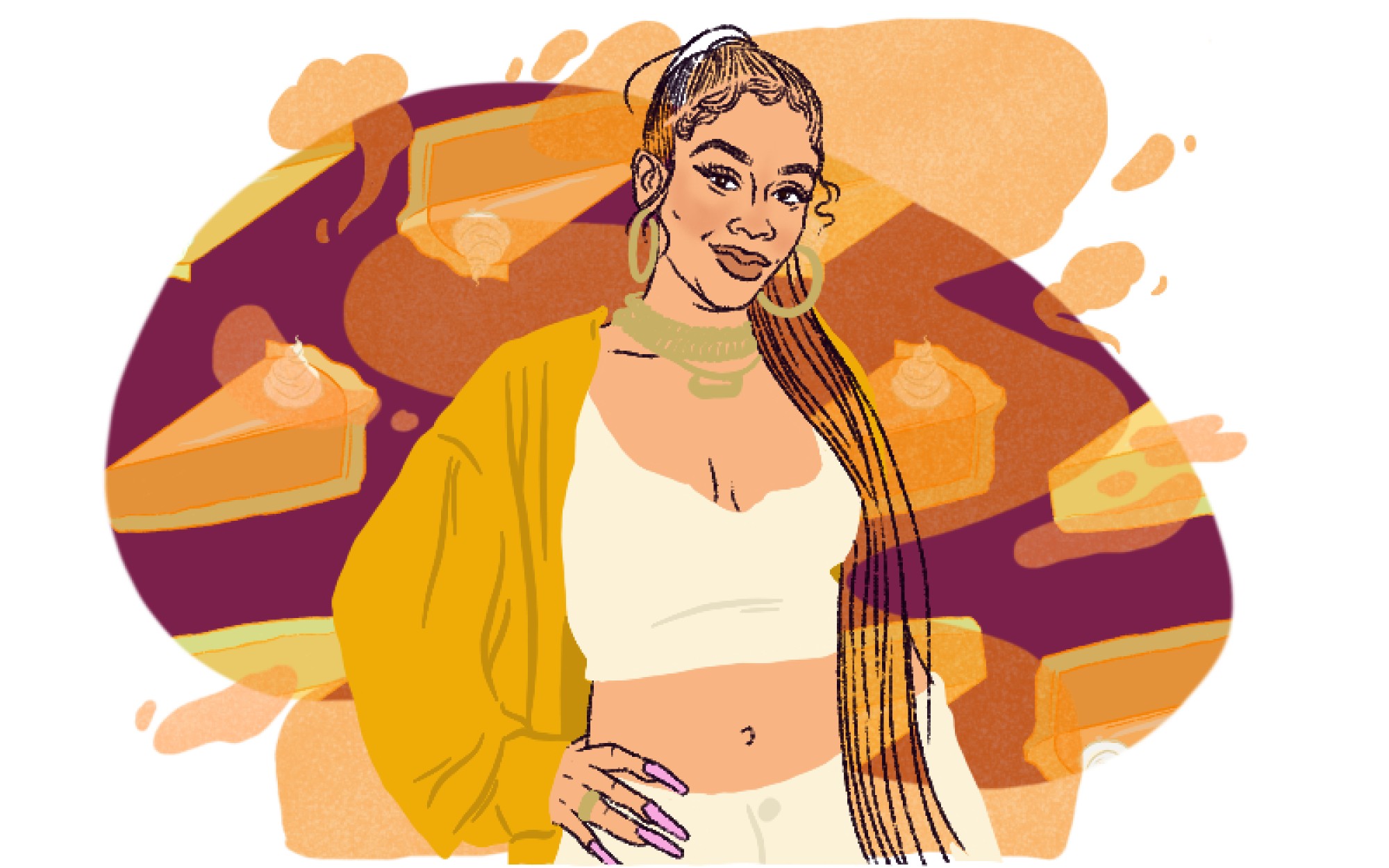 A warm sweet potato pie with a crumbly crust is a staple of Black American dinner spreads during the holidays. Bloom & Plume Coffee in Echo Park has put that warm, cozy feeling of your grandma's house in a cup with a homemade sweet potato purée, fall spice blend and espresso. Bonus, it's named after Oakland rapper and USC alum Saweetie. What makes sweet potato season so special is that it lasts only so long, so grab this seasonal drink before it's gone this spring.
1638 W. Temple St., Los Angeles, bloomandplumecoffee.com
The Hamilton (Lazy Rose Cafe)
This one's for the LAUSD kids. Alexander Hamilton High School is the namesake of the Lazy Rose's matcha caramel espresso latte. Erdavria Rose Simpson, owner of Lazy Rose Cafe, adds herself to the list of notable Black Hami High alumni with this latte. Hamilton boasts many of Black L.A.'s biggest stars from sports to politics as alumni, including Laila Ali, Syd, Kamasi Washington, Elle Varner, Kyla Pratt, history-making Mayor Karen Bass and Nipsey Hussle. Rep your school colors with this sweet green drink.
1113 S. La Brea Ave., Los Angeles, instagram.com/lazyrosecafe
Ethiopian Coffee Ceremony (Merkato)
This. This is the Blackest brew. A connective thread within the Black coffee community is honoring where its coffee beans come from: Black and Indigenous communities around the world. In Ethiopia, drinking coffee is an important tradition that symbolizes respect and friendship.
Merkato Ethiopian Restaurant and Market is one of a few restaurants maintaining this tradition in Los Angeles. When you order an Ethiopian coffee ceremony, the coffee beans are hand-washed and roasted in the restaurant on the stove-top. Once they've reached a medium roast, they're ground with a mortar and pestle, brewed and poured into a jebena coffee pot. The pot and ceramic cups are served on a tray with incense. Pour, serve and give reverence to the hands that brought this coffee to your cup.
1036 S. Fairfax Ave., Los Angeles, instagram.com/merkatorestaurant
Mamba Coffee Beans (Cafe Ruisseau)
In remembrance of Kobe Bean Bryant, Cafe Ruisseau, which opened in 2017, named one of its vibrant blends Mamba. Bryant created his Black Mamba alter ego, embodying one of the deadliest snakes, to keep his strength up during games while he was going through tough times. The beans — sourced from Ethiopia and Colombia — have a rich profile of dark chocolate, berries and apricot, creating a vigor similar to what Bryant brought to each game. Ruisseau also carries beans whose names highlight other iconic pieces of Black pop culture, including Miseducation, Illmatic, Love Jones and Black Star.
2834 Colorado Ave. Santa Monica, caferuisseau.com
Purple Rain (Undergrind)
Will we ever be as cool as Prince? Maybe not, but this comforting lavender tea (tea is a brew!), vanilla bean and steamed milk latte is a reminder to be like Prince in chaotic times: cool and laughing in that Purple Rain. Like the drink's namesake, the independent cafe isn't afraid to stand out with an array of flavored lattes along with a full menu of breakfast items.
2713 S. Robertson Blvd., Los Angeles, instagram.com/undergrindcafe
Food guides editor Danielle Dorsey contributed to this report.
Find the best cafes, freshest brews and your favorite beans in the coffee-shop capital of the world.
Get our L.A. Goes Out newsletter, with the week's best events, to help you explore and experience our city.
You may occasionally receive promotional content from the Los Angeles Times.