How likely are asylum-seekers from Central American caravan to win their cases?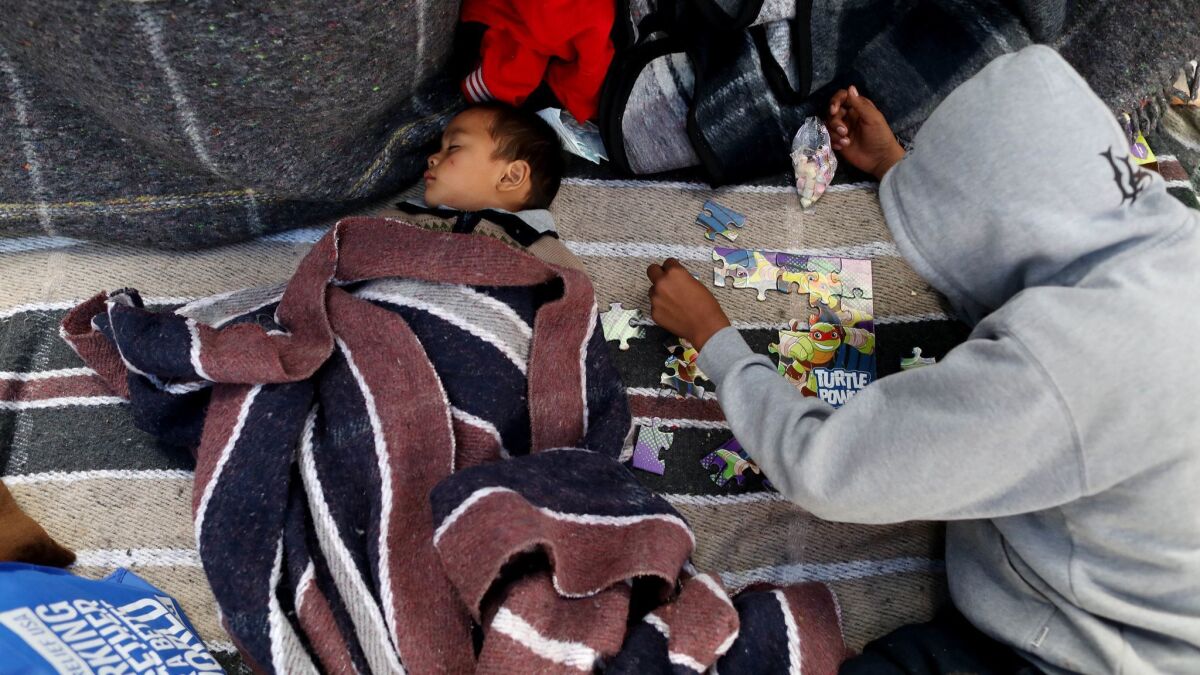 Reporting from San Diego —
As Central Americans from a migrant caravan made famous by President Trump's angry tweets begin entering the asylum process from the U.S. border, they face a complex legal battle that most who have tried in recent years from their countries have lost.
Just under 80% of the 15,667 asylum cases from El Salvador were denied from fiscal years 2012 to 2017, according to the Transactional Records Access Clearinghouse, a project with Syracuse University that monitors immigration data through public records requests. About 78% of the 11,020 Honduran cases and about 75% of the 10,983 Guatemalan cases were denied.
Those trends could change as case law established in the last couple of years has helped more Central Americans show how their stories line up with requirements for asylum.
"There's a steeper hill to climb, I think, in the Central American cases," said Dana Leigh Marks, a spokeswoman with the National Assn. of Immigration Judges. "They involve cutting-edge legal arguments. The case law is still evolving. Whether it's a liberal or a conservative trend, the reality is law is based on case precedent. The more precedent that builds and makes that principle clearer, the more established it's going to be and the more consistent it's going to be."
Under asylum law, people seeking protection must show that they have been persecuted or have a well-founded fear that they will be persecuted because of their race, religion, nationality, political opinion or membership in a social group.
Being afraid of general violence or rampant crime is not enough to win a case.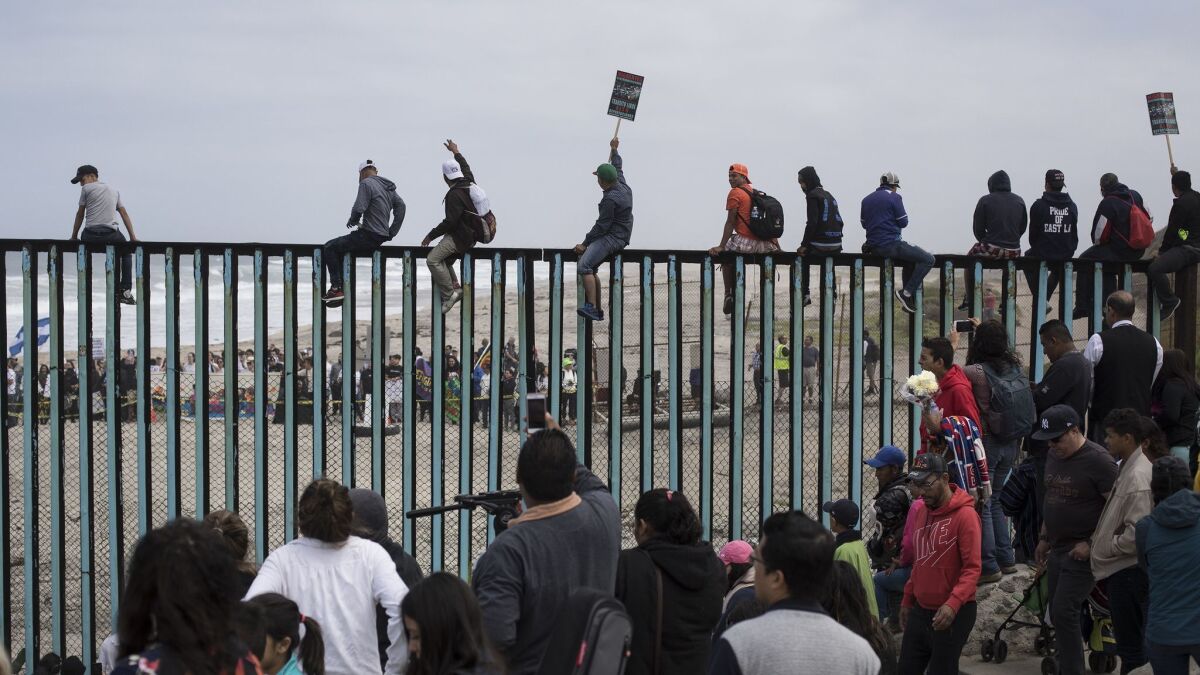 Some Central Americans have more traditional cases under the race or political opinion categories, but most are fleeing gang violence or domestic violence. Such cases tend to require asylum-seekers to show that the bad things that happened to them were because they are part of a particular social group.
More are winning their cases than before, according to Ginger Jacobs, an immigration attorney in San Diego, especially in the last two years.
Women who could show that they're being targeted because they are women have a better chance of winning their cases, Jacobs explained. This could include women who were gang raped or are victims of domestic violence.
People who can show they fear persecution because their family has been targeted also have a better chance of winning. Members of the LGBTQ community also have an easier time showing that they're members of a targeted social group.
Judges have started understanding, Jacobs said, how gang violence is intertwined with governments in the Northern Triangle — Guatemala, El Salvador and Honduras.
Having an attorney can also make a difference in how likely someone is to win a case.
About 95% of asylum-seekers from Honduras without attorneys lost their cases over the last six years, according to TRAC data. Of those who had attorneys, just over 70% lost. People from El Salvador and Guatemala have seen similar results.
For some countries, such as China, having an attorney can make a dramatic difference. Nearly 79% of Chinese asylum-seekers who didn't have attorneys were denied protection over the last six years, compared with just under 18% of those who did, according to TRAC data.
A TRAC report found that immigration judges from the same court often differ drastically. In San Francisco, where Marks hears cases, the highest grant rate is 97.1% and the lowest is 9.4%. In Los Angeles, the highest is 29.4% and the lowest is 97.5%. In San Diego, the high and low are 88.1% and 46.2%.
"Credible testimony alone can be sufficient if it's consistent with a country's conditions," Marks said. "That's part of why grant or denial rates among different judges vary so much. It's very hard to specifically pin down what is enough to meet your burden of proof."
Matthew Holt, a San Diego immigration attorney, explained that he thinks about Central American cases as "gang plus," meaning there's gang violence involved plus the person has a characteristic or took some kind of action to make him or her part of a protected group that is targeted by the gangs.
"The Central Americans we're seeing, they're children, youth, young adults, lots of females and small business owners," Holt said. "These are all these people that are trying to get ahead and they can't because the gangs in Central America are murdering them."
Two 2013 cases set precedents that have helped make cases for people who testified against gangs or worked to stop gang violence. Rocio Brenda Neriquez-Rivas witnessed gang members kill her father in El Salvador and testified against them. Then she fled to the U.S.
Courts at first denied her asylum claim, but a Ninth 9th Circuit decision found that someone who testified against a gang in court counts as a member of a social group.
Holt said attorneys and asylum-seekers have to keep fighting to make case law that protects the vulnerable, but he said he worries that the process would be too slow for many currently fleeing harm.
Not everyone who loses their asylum case is deported from the U.S. Many apply simultaneously for protection under the Convention Against Torture and withholding of removal, options that allow the person to stay in the U.S. but do not allow that person to get a green card, travel outside the country and return, sponsor family members or naturalize.
Less than 2% of Convention Against Torture applications were granted in fiscal 2016, according to data from the Executive Office for Immigration Review. About 7% of withholding cases were granted that year.
The stories shaping California
Get up to speed with our Essential California newsletter, sent six days a week.
You may occasionally receive promotional content from the Los Angeles Times.