Got a criminal record? L.A. might help you get into the pot biz — or ban you
Los Angeles could soon help people who were jailed for marijuana crimes get into the newly legalized pot industry, in a push to address the uneven toll of the drug war on disadvantaged communities.
But it would also shut the door to people who have committed many other offenses — including violent crimes or selling other drugs besides marijuana — barring them from getting marijuana licenses for years after their convictions.
The hotly contested regulations, expected to go up for a vote Wednesday, reflect the dilemma over who should profit as an illegal industry gains legitimacy at City Hall: As marijuana becomes a booming business, should the people who were once jailed for it be treated as victims or as scofflaws?
And should the marijuana business be open to other convicts as Los Angeles tries to smooth the way for men and women coming out of prison?
"If I've already done my time, what else do you want from me?" said Greg Akili, an activist with the Black Community Clergy and Labor Alliance. At a recent hearing, he urged lawmakers to remove the proposed restrictions, arguing, "You have an opportunity to open doors."
Others say it makes sense to limit who can get into the marijuana business. Pot shops must follow rules restricting what they sell and who they sell it to and "they can certainly make more money by breaking those rules," said Mark A.R. Kleiman, a public policy professor at New York University's Marron Institute of Urban Management. "You're better off if you have a somewhat law-abiding group of sellers."
The debate is playing out as Los Angeles lawmakers are trying to ensure that poor communities hit hardest by marijuana arrests can cash in on the impending legalization of recreational pot. In L.A., black people made up roughly 40% of cannabis arrests from 2000 to 2017, even though they make up under 10% of the population, according to an analysis commissioned by the city.
City Councilman Marqueece Harris-Dawson, who represents part of South Los Angeles, said that as a young man, his car had been searched for drugs so often that "if I ever even thought about being involved in cannabis ... I can almost assure you I would have been arrested and incarcerated."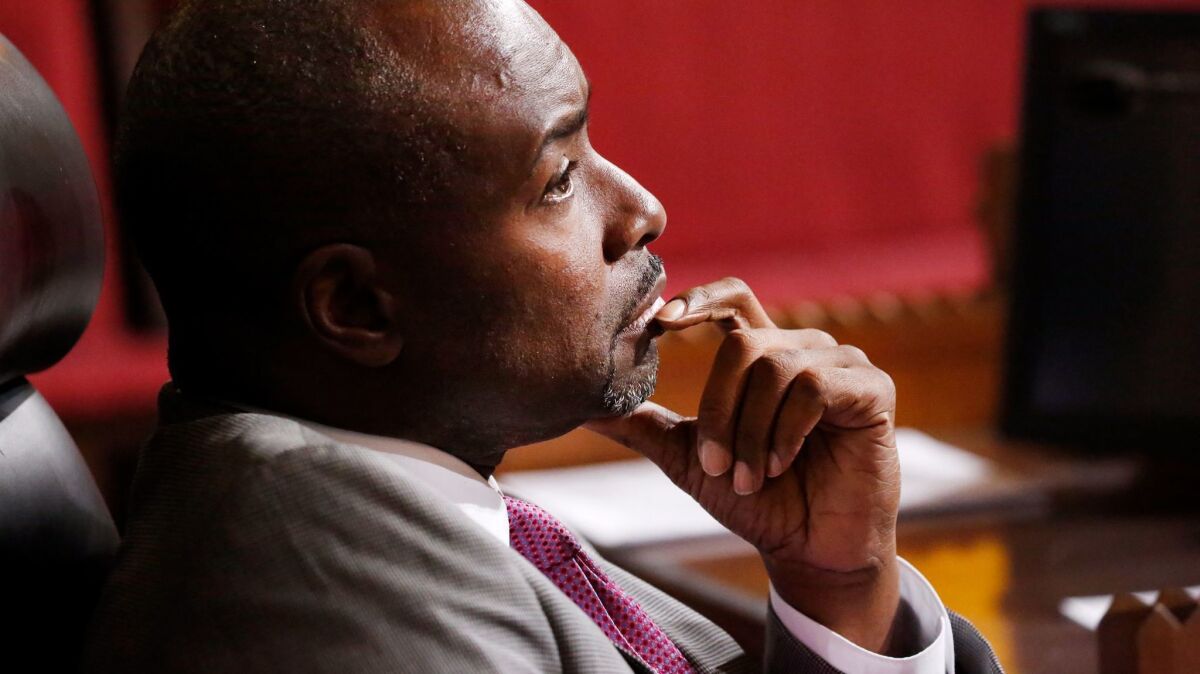 Harris-Dawson and other lawmakers have pushed for a "social equity" program that would assist disadvantaged entrepreneurs as they seek city licenses to grow, sell or process marijuana. The proposed program would help poor people who have lived in neighborhoods heavily affected by cannabis arrests.
It would also benefit people with low incomes who have been convicted of marijuana crimes now categorized as misdemeanors or infractions — an idea that has troubled some lawmakers. At recent hearings, Councilman Paul Krekorian has questioned assisting would-be-entrepreneurs who have broken the law, especially if they get any edge over other disadvantaged applicants.
Krekorian said he wanted to help affected neighborhoods, but "a single dad who has tried to raise his children in a neighborhood beset by drugs … shouldn't be put in an inferior position to the person in the same neighborhood that was dealing drugs."
City staffers said recently that they were still assessing who would be entitled to which benefits under the plan. Harris-Dawson said that although whole communities have suffered, "I'm not as impacted as the person who did two and a half years in jail for a marijuana conviction — who hasn't been able to get an apartment, get federal student loans or apply for public assistance."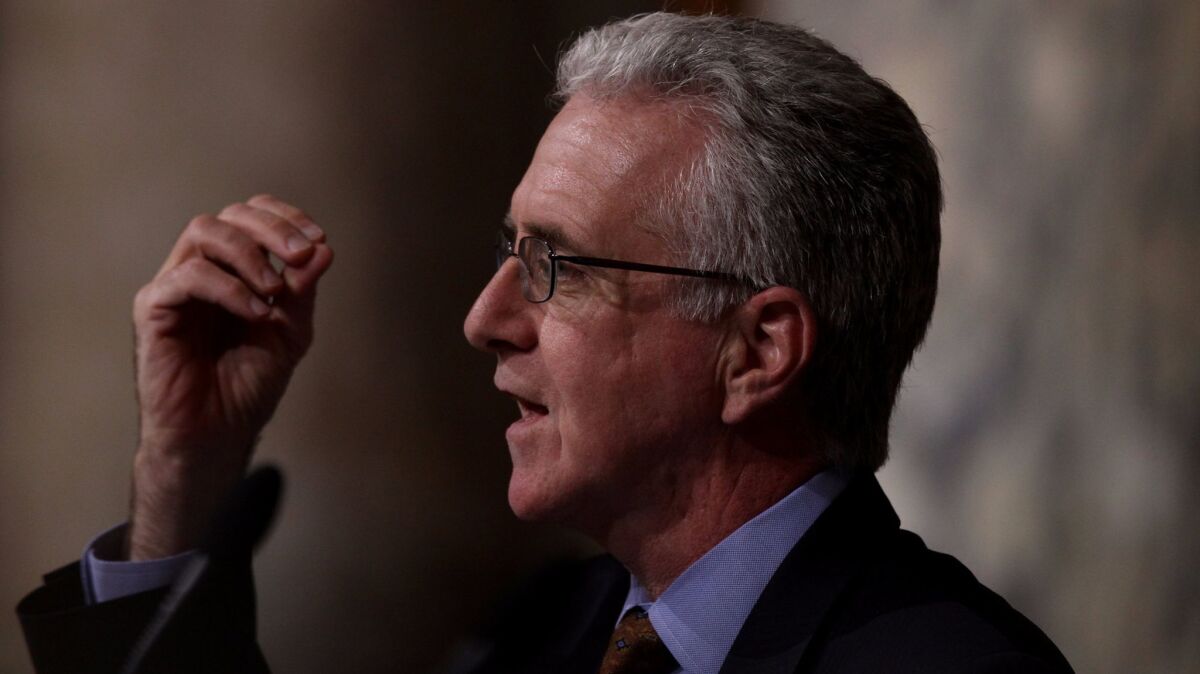 While L.A. might assist some convicts, others would not be able to get marijuana licenses for years. Under the proposed rules, people with felony convictions for selling, manufacturing or distributing illegal drugs other than marijuana could be frozen out for five years after their convictions, as could people who have sold alcohol or tobacco to children, distributed marijuana to minors, illegally used volatile solvents to make marijuana extracts, or flouted state or local labor laws.
People convicted of violent crimes, gun offenses, hate crimes and offenses against children, in turn, would be barred from getting such licenses for a decade. Under state rules, serious offenses could also block someone from getting the necessary state license for a marijuana business, although most drug crimes are not supposed to be "the sole ground for denial."
"I don't understand how we could even think for a minute that anyone who committed and was convicted of any one of these type[s] of heinous felonies should be in business with the city…. This is a business that the federal government still believes is a criminal activity and these people should not be allowed to participate," Sun Valley resident Mike O'Gara said at a recent hearing.
Who is barred from applying for a marijuana license?
Document
(c) A Person is ineligible to apply for a License in any of the following circumstances:
1. A Person holds office in, or is employed by, any agency of the State of California and any of its political subdivisions, including the City, when the Person's duties include the enforcement and regulation of Commercial Cannabis Activity or any other penal provisions of law of the State of California prohibiting or regulating Commercial Cannabis Activity.
2. A Person convicted of illegal volatile Cannabis manufacturing under Health and Safety Code Section 11379.6 for a period of five years from the date of conviction.
3. A Person convicted of violating any State or local law involving wage or labor for a period of five years from the date of conviction.
4. A Person convicted of violating any law involving distribution of Cannabis to minors for a period of five years from the date of conviction.
5. A Person convicted of conducting any illegal Commercial Cannabis Activity after April 1, 2018, for a period of five years from the date of conviction.
6. An entity that is incorporated outside of the United States.
7. A Person convicted of violating any State or local law involving distribution or sales of tobacco or alcohol to minors for a period of five years from the date of conviction.
8. A Person with a felony conviction for violating any State or local law involving the import, export, manufacture, distribution or sales of illegal drugs, other than Cannabis, for a period of five years from the date of conviction.
9. A Person with a felony conviction for violating any State or local law involving violent crimes, sex trafficking, rape, crimes against children, gun crimes or hate crimes for a period of ten years from the date of conviction.
Community activists counter that the restrictions will unfairly shut people out from economic opportunities after they have done their time. Because marijuana licenses will be in hot demand — and firms will be vying for limited space where they can open their doors — being shut out for a few years could prevent former inmates from starting pot businesses in L.A. at all, said Lynne Lyman, who ran the Proposition 64 campaign to legalize recreational marijuana across California.
"It perpetuates the discrimination in the criminal justice system and takes it into the economic system," said Lyman, director of strategy and expansion for A New Way of Life, which helps women re-enter their communities after imprisonment. "Here is this humongous opportunity … and it puts them at such a disadvantage."
Under the proposed rules, people with criminal convictions could still work for a marijuana business even if they cannot get a license themselves. In the past, Los Angeles leaders have pushed to dismantle barriers for former inmates: Last year, the council banned private employers from asking job applicants about their criminal history until they make a conditional job offer. Mayor Eric Garcetti enthusiastically supported that law and created an office to increase opportunities for people coming out of prison.
Garcetti spokesman Alex Comisar said the mayor believes the marijuana regulations "should be centered on keeping our communities safe, and creating a structure that allows Angelenos who have suffered under past cannabis policy and its enforcement to find new economic opportunities." When asked where Garcetti stands on specific aspects of the proposed rules, including restrictions on people with other criminal convictions, Comisar said "the mayor is considering this issue."
Keldren Joshua, who was released from federal prison last year, hopes he will not be shut out. He works as a courier picking up and dropping off meat samples for laboratory testing, but he imagines running a lounge for cannabis users, "an elite kind of club where you can come and relax."
"This is about to be legal in the state that I'm in," Joshua said. "Why can't I grow a successful business from it?"
Joshua, 46, was convicted of conspiring to try to distribute methamphetamine 11 years ago, long enough in the past that his crime would not exclude him under the currently proposed L.A. regulations. (He said he had little to do with the drug, but someone asked him for help finding it.) California Minority Alliance cofounder Virgil Grant, whose group supports minority participation in the marijuana industry, argues that L.A. should not only allow nonviolent drug offenders like Joshua to get licenses, but also assist them under the social equity program.
"When we talk about the failed war on drugs, it wasn't just the failed war on marijuana," Grant said.
Twitter: @AlpertReyes
The stories shaping California
Get up to speed with our Essential California newsletter, sent six days a week.
You may occasionally receive promotional content from the Los Angeles Times.